Caravan Migrants Heading Toward U.S. Launch Lawsuit Against Trump Administration Over Rights Violations
A dozen members of a caravan of Central American asylum seekers headed toward the U.S. border launched a lawsuit against President Donald Trump and his administration for threatening to stop them at the border and detain them in tent cities.
On Thursday, Trump said he planned to sign an order that he said would bar anyone caught crossing into the U.S. illegally from claiming asylum and would detain thousands in "massive cities of tents."
The announcement came as the president's administration mobilized military troops at the southwest border in preparation for the arrival of the thousands of caravan members traveling toward the U.S., with the first group of migrants still more than 800 miles away. The U.S. leader warned that if caravan members threw stones at troops, the rocks would be considered a "firearm" because "there's not much difference."
The lawsuit, which targeted Trump, Department of Homeland Security Secretary Kirstjen Nielsen, Attorney General Jeff Sessions and the DHS itself, as well as other agencies and officials within the department, claimed that Trump's threats were "shockingly unconstitutional," according to the filing, which was published online by BuzzFeed News.
Newsweek subscription offers >
It was filed in the U.S. District Court for the District of Columbia in a joint effort by three separate U.S. firms: McFadden & Shoreman in Washington, D.C., Nexus Derechos Humanos Attorneys in Atlanta, and Williams Oinonen LLC in Atlanta.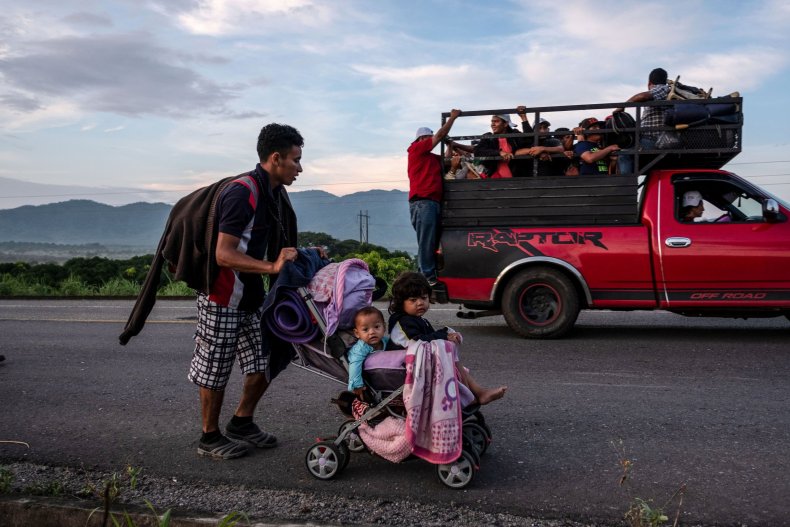 "President Trump continues to abuse the law, including constitutional rights, to deter Central Americans from exercising their lawful right to seek asylum in the United States, and the fact that innocent children are involved matters none to President Trump," the lawsuit stated.
It argued that if the Trump administration followed through on the president's threats, it would be violating the Fifth Amendment to the Constitution, including the due process clause, which plaintiffs said applied to everyone in the U.S., including those who arrive on U.S. soil to seek asylum.
Newsweek subscription offers >
Listed as litigants in the case were Maria Doris Pineda, Jasmine Ortega Sanchez, Francisco Javier Castillos, Holivia Adeline Castillos, Dina Ruc and Marta Lopez. They were also reportedly listed as filing the suit on behalf of their children, who were not named in the suit.
"Federal law enables migrants to apply for asylum in the United States," Mike Donovan, president of Nexus Services Inc., which funded the Nexus Derechos Humanos Attorneys law firm, said in a statement shared on Business Wire.
"President Trump and his administration have used 'increased enforcement,' like separating families and lengthening detention to violate migrant rights. Now, the President has sent soldiers to the southern border to stop legal immigration and legitimate asylum seekers," Donovan said.
Related: Border Troops Preparing for Threat of Armed, Unregulated Militias, Leaked Documents Show
Noting that militia groups, including far-right organizations, were also expected to be present at the border when caravans arrived, Donovan said, "the President's rhetoric has inspired gun-toting racists to flood the border with the desire to shoot and kill migrants, many of whom are women and children.
"The President is violating federal law, trampling the rights of Americans and legal immigrants to be free from use of the military for law enforcement, and has set up a potential catastrophe at the U.S.-Mexico border all in the name of white nationalism and with the objective of scoring political points," Donovan said.
"At Nexus we love the good people we serve who come to this country for a better life, and will stand with them against the hate of the Trump White House, he added.
Law firms McFadden & Shoreman, Nexus Derechos Humanos Attorneys and Williams Oinonen LLC have not immediately responded to Newsweek's request for comment.
Caravan Migrants Heading Toward U.S. Launch Lawsuit Against Trump Administration Over Rights Violations | U.S.