Caravan of People Seeking Asylum in U.S. Won't Stop Until It Reaches Border
The dwindling migrant caravan of Central Americans that prompted President Donald Trump to send the National Guard to the U.S.-Mexico border has pushed on past Mexico City, despite organizers announcing the capital as its last "official" stop.
Determined to make it to the U.S., at least 500 Central Americans are reportedly continuing the journey that started at the Guatemala-Mexico border, with the hope that safety will come in numbers.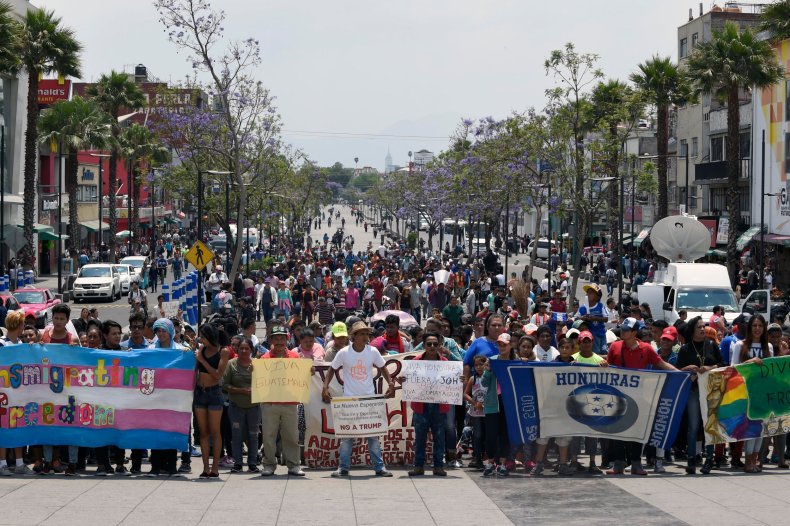 The caravan's numbers had swelled to include more than 1,000 people at one point, but many felt forced to abandon the crusade after Trump vowed to stop them from entering the U.S.
However, organizer Irineo Mujica announced in Guadalajara that as many as 500 migrants starting making their way north from Mexico City last weekend, riding trains toward the U.S. border, according to the Associated Press.
Mujica said members of the group decided to stick together, rather than travel solo on the final leg of the journey north, after some people who had gone ahead alone said they had witnessed kidnappings and had their travel papers torn up.
The remaining group is said to be traveling to Tijuana, where as many as half of its members plan to go to the border to request asylum in the U.S.
The majority of the people traveling with the caravan are Hondurans hoping to seek refuge in the U.S. from gang violence and instability in the wake of the re-election of President Juan Orlando Hernandez.
The caravan takes place every year around Easter to raise awareness around the plight of those seeking asylum. This year, however, it fell under the international spotlight when Trump learned of it and took to Twitter to express his outrage over the annual event.
The U.S. leader threatened the renegotiation of the North American Free Trade Agreement (NAFTA) if Mexico failed to stop the caravan and threatened in a tweet to withdraw U.S. aid to Honduras. He later applauded Mexico, however, for its immigration laws, after the numbers of the caravan began to shrink.
If the caravan does make it to the U.S.-Mexico border, members of the National Guard will be there to meet them, after Trump moved ahead on his plans to send as many as 4,000 troops. A number of states, including California, have agreed to send troops to the border, with Governor Jerry Brown ordering the deployment of up to 400 troops on Wednesday.