Here's How Service Members at U.S. Southern Border Will Celebrate Thanksgiving
President Donald Trump said Tuesday that the 5,800 active-duty service members deployed to the U.S.-Mexico border to prevent a group of nearly 3,000 Central American asylum-seekers from crossing into the United States were "proud" and "tough people" who don't need to be sent home to spend Thanksgiving with their families.
The troops would instead enjoy a Thanksgiving meal provided by the Defense Logistics Agency, and receive a possible Skype call from the president thanking for them for their service.
The Defense Logistics Agency announced Wednesday that it would ship 9,738 whole turkeys; 51,234 pounds of roasted turkey; 74,036 pounds of beef; 21,758 pounds of ham; 16,284 pounds of sweet potatoes; 67,860 pounds of shrimp; 81,360 pies; 19,284 pounds of cake and 7,836 gallons of eggnog to service members serving at the border and abroad.
"Many of America's military men and women are away from home this Thanksgiving, making sacrifices to secure our freedom and to protect our southern border," said Army Brigadier General Mark Simerly, the commander of troop support for the Defense Logistics Agency, in a statement. Those serving, he said, would receive "the very best Thanksgiving meal our country has to offer."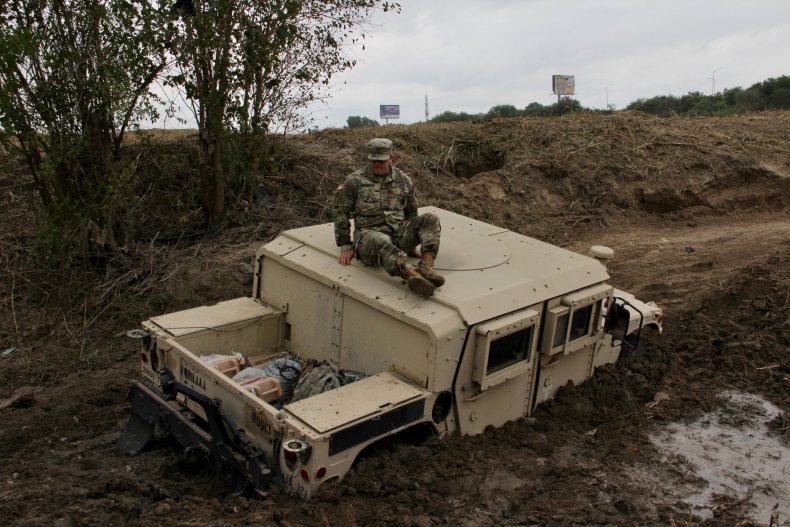 Troops along the border will have a "light duty day," meaning they will be asked to do little, if any, work. No service members, however, will be sent to their home bases or back home to their families for a Thanksgiving meal.
This Thanksgiving Day has become a politically charged holiday for America's elected officials, many of whom claimed troops were sent to the border as a stunt by President Trump to garner votes in the November midterm elections exploit fears about the migrant caravan making its way north.
Democratic Senators Patty Murray of Washington and Brian Schatz of Hawaii sent a letter to Defense Secretary Jim Mattis Monday urging him to send the troops home in time for the holiday.
"Our military personnel have real, essential duties to perform that are vital to our national security. Taking advantage of their loyalty and commitment to service for political gain belittles their sacrifices," the senators wrote. "We urge you to allow these service members to return to their homes in time to spend Thanksgiving with their families."
Senator Elizabeth Warren, a member of the Senate Armed Services Committee, tweeted that "Over 5,000 American service members may have to spend Thanksgiving on the southern border—instead of with their families." The Massachusetts senator and possible 2020 presidential contender continued: "Our troops and their families deserve better than to be used as props @realDonaldTrump. Let them go home."
The president will spend Thanksgiving at his Mar-a-Lago resort in Palm Beach, Florida.
Mattis, meanwhile, reiterated that the troops on the border were fine where they were. "We're a 365-day-a-year military. Rain or shine, light or dark, cold weather or hot weather—we have an all-weather force that's on duty 24/7," Mattis said during a Texas visit. "Drive around the Pentagon on Thanksgiving Day, and look at the number of cars in the parking lot of people who work right through the holidays."