Cardi B Screamed at Police Who Detained Her Husband Saturday
More details continue to emerge about rapper Offset's incident with Beverly Hills police on Saturday evening as new footage shows his wife, Cardi B, was also on the scene. The encounter saw Offset briefly detained by police, an irate Cardi B being held back, and her cousin arrested for weapons charges.
The wild night began when Offset was pulled over on suspicion of waving a gun as he drove through a rally supporting President Donald Trump. When police ordered the 28-year-old member of the hip-hop group Migos out of his orange Jeep, he began filming the incident on Instagram Live.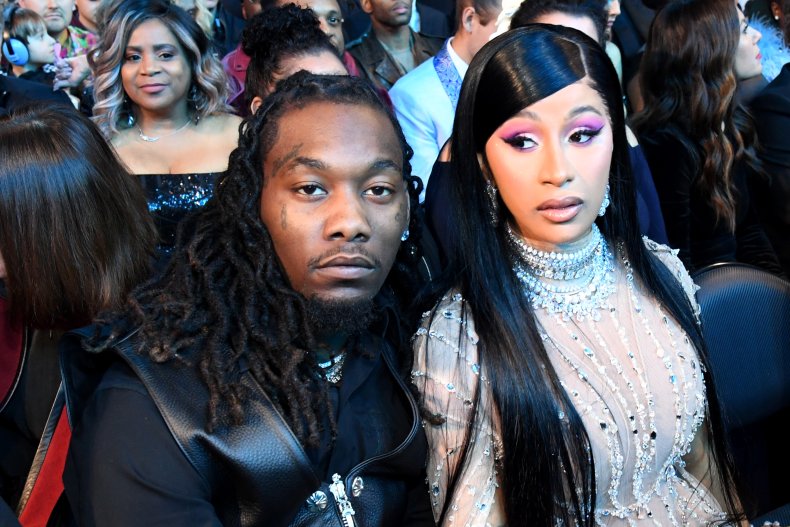 During Offset's video, he is seen refusing to get out of his car and telling the police: "I'm a f**king celebrity, do you know who I am? I'm Offset from Migos."
When an officer tells Offset there was a report that he was "waving guns at people," he told them Trump supporters had hit his car with a flag. (Cardi B is an outspoken Biden supporter.) He also threatened to sue the officers.
Offset's own Instagram Live video of the events has since been deleted, but it was captured in many places, like here:
Although he was briefly forced out of his vehicle and detained, Offset was eventually released by police, but not before Cardi B arrived on the scene in a separate vehicle--a black Rolls Royce--and began screaming at the officers. She was not seen in Offset's Instagram livestream, and her presence was unknown until fans posted cellphone footage of the ruckus.
"That's my husband! Why are you pointing a gun at him?" the Bronx-born Cardi B, also 28, yelled while being physically restrained by someone with her.
Offset's Instagram page features several videos of Cardi B arriving on the scene with the two of them tagged. Here's one from the fan account bardigangperiod"
When police begin leading Offset away, Cardi begins yelling, "No! This is crazy! My husband is not armed! My husband is not armed!"
Photographs next show the police officers questioning him next to a building. Soon, though, Offset was released without charge. However, another passenger in his Jeep, identified as Marcelo Almanzar was arrested for carrying a concealed weapon and carrying a loaded firearm in public. The 20-year-old Almanzar, who is Cardi B's cousin, was released later that night on $35,000 bail.
As a response to the incident, the Beverly Hills Police Department tweeted out the details of Almanzar's arrest, seen here:
Offset and Cardi B married in 2017, and they've separated and reconciled multiple times since. She recently filed for divorce in September, but then the couple were spotted dancing and kissing at her lavish birthday party in Las Vegas weeks later.