Cardi B and Five Other Stars Who've Opened Up About Postpartum Depression
Cardi B isn't sugarcoating her battle with postpartum depression. She opened up about how she experienced the condition after giving birth to her daughter Kulture.
Cardi B, 26, addressed her struggles with postpartum depression in a feature for the March issue of Harper's Bazaar, which was published Thursday. She revealed that the condition hit her abruptly.
"I thought I was going to avoid it," the rapper began. "When I gave birth, the doctor told me about postpartum, and I was like, 'Well, I'm doing good right now. I don't think that's going to happen.' But out of nowhere, the world was heavy on my shoulders."
Cardi explained how she doesn't feel fully recovered just yet. "For some reason, I still don't feel like my body's the same," she said. "I feel like I don't have my balance right yet. When it comes to heels, I'm not as good at walking anymore. I feel like I'm holding a weight on me. I don't know why, because I'm skinnier than I've ever been. But there's an energy I haven't gotten back yet that I had before I was pregnant. It's just the weirdest thing."
Most new mothers—an estimated 70 to 80 percent—briefly experience some form of the "baby blues," but postpartum depression is much more intense. Research by the U.S. Centers for Disease Control and Prevention indicates that one in nine American women experience symptoms of postpartum depression.
Symptoms of postpartum depression include, according to the Mayo Clinic, a depressed mood, severe mood swings, excessive crying, inability to sleep or sleeping too much, withdrawing from family and friends, hopelessness and severe anxiety.
"Postpartum depression," according to the Mayo Clinic, "isn't a character flaw or a weakness. Sometimes it's simply a complication of giving birth. If you have postpartum depression, prompt treatment can help you manage your symptoms and help you bond with your baby."
Cardi is far from the first celebrity to speak out about postpartum depression. Here are some other stars who have sought to reduce the stigma of the common condition by sharing their own experiences: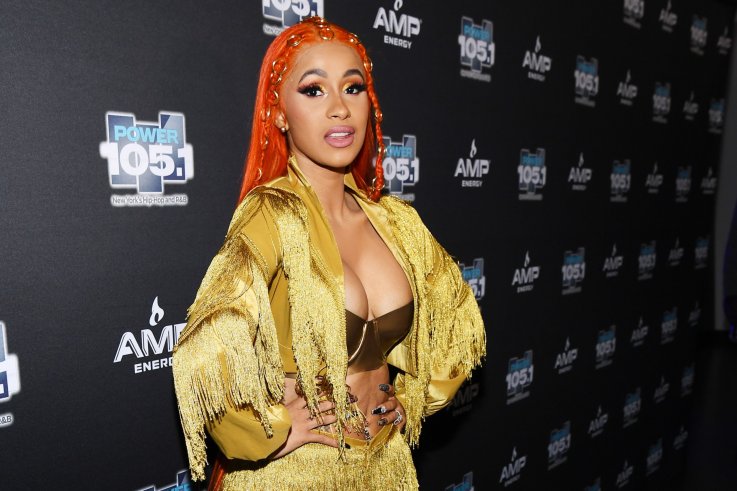 Chrissy Teigen
Chrissy Teigen told Glamour in March 2017 that she struggled with postpartum depression and anxiety after she and husband John Legend welcomed their daughter Luna Simone. She said the condition led her to abstain from wanting to leave her home. "When I wasn't in the studio [for Lip Sync Battle], I never left the house. I mean, never. Not even a tiptoe outside. I'd ask people who came inside why they were wet. Was it raining? How would I know? I had every shade closed," she said.
Serena Williams
After welcoming daughter Alexis Olympia with husband Alexis Ohanian in 2017, star athlete Serena Williams told Harper's Bazaar UK in July 2018 that "sometimes I still think I have to deal with it." She also suggested that "people need to talk about it more because it's almost like the fourth trimester. It's part of the pregnancy."
Sarah Michelle Gellar
Buffy the Vampire Slayer alum Sarah Michelle Gellar addressed her battle with postpartum depression via Instagram in May 2017, writing: "I love my children more than anything in the world. But like a lot of women, I too struggled with postpartum depression after my first baby was born. I got help, and made it through, and every day since has been the best gift I could ever have asked for."
Gwyneth Paltrow
While Goop founder Gwyneth Paltrow seems to have a remedy for everything these days, she still wasn't safe from suffering from PPD after giving birth to her son Moses. She described her former struggle to Good Housekeeping in 2011. "It was terrible. It was the exact opposite of what had happened when Apple was born.... I just thought it meant I was a terrible mother and a terrible person," she said.
Bryce Dallas Howard
In 2010, the Jurassic World actress wrote via Goop that it was "strange" to recall what she was like when she was battling postpartum depression. "I seemed to be suffering emotional amnesia. I couldn't genuinely cry, or laugh, or be moved by anything. For the sake of those around me, including my son, I pretended," she wrote.
Cardi B and Five Other Stars Who've Opened Up About Postpartum Depression | Culture