What Cardi B Has Said after Backlash over Her $88,000 Purse
Cardi B upset a lot of fans today when the rapper tweeted she was thinking about buying an $88,000 bag.
The "WAP" hitmaker defended her right to spend her hard-earned money and also spoke about her charitable donations, but was still urged to "read the room" by fans.
As 2020 has seen so many out of work due to the coronavirus pandemic, Twitter users found Cardi's—whose real name is Belcalis Marlenis Almánzar—musings over spending so much on an accessory a tough pill to swallow.
The drama began Sunday night when the 28-year-old took to social media to tweet: "Should I spend 88K for this damn purse? Omggg it's tempting."
The tweet was immediately condemned by legions of fans who suggested that Cardi should donate $88,000 instead.
"Donate 88k to a charity for people that need help right now," as one fan put it.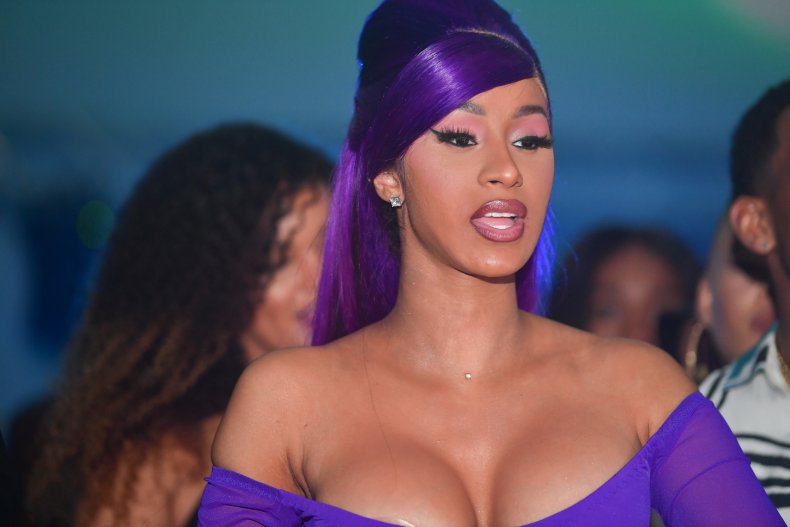 While another added: "It's your money and you earned it so do with it what you will, but maybe don't flaunt it while some of us are struggling, food bank lines stretch for miles, and many many people are being evicted due to loss of job/income."
"It's insensitive," said another. "Read the room. A lot of your fans are housing and food insecure. Do what you want with your money. Enjoy your wealth. We don't wanna see you flaunt it right now. It's just a lot right now. We're asking you to just be mindful."
Fighting the backlash, Cardi responded to say she donates a significant amount of money to charity.
"Go cry about it," she wrote. "I never seen u tweet about me when I donated a million dollar twice now you here. I didn't offended no body, didn't do nothing illegal. Im not going to apologize because I work my a** off and I ask MY FANS! Which ARE MY FRIENDS A QUESTION! Ya want to be hurt so bad."
In another tweet, she said she has donated two million dollars this year alone.
"I already donated 2 million dollars this year and I'm doing something very special in a another country that will be done with next year. What have you donated?" she said.
The rapper then started a call to action and said she would match her fans' donations to charities.
"Any charity or foundation drop your receipts under the comment I will match what you donated and match your donation to that same charity or foundation," she wrote. "Lets match energy."
She also questioned why she was receiving such harsh backlash.
"Ok guys I apologize," she tweeted. "There you happy ?! I don't see ya askin trump for a apology when he out here missing COVID meetings to play golf but."
Following the backlash, Cardi maintained that the uproar had convinced her to go ahead and buy the purse anyway.
"Definitely buying the bag now," she said before attempting to lighten the mood with: "Sooooooo......do ya want me to show ya the purse?"