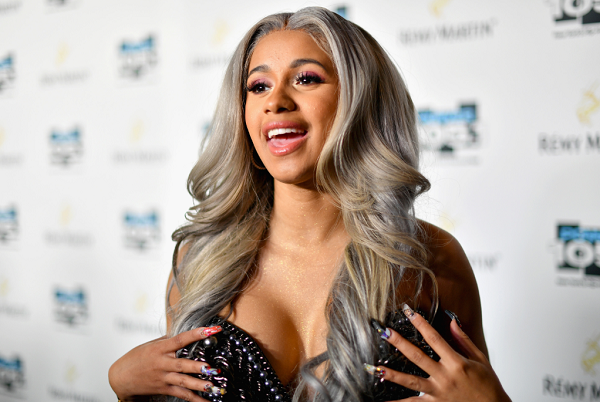 Cardi B made history Thursday, becoming the first woman to have five singles in the Top 10 of Billboard's R&B chart. And with that, Cardi surpassed Beyoncé for most tracks by a female artists on the same chart.
The Bronx rapper's latest single "Finesse," a collaboration with Bruno Mars, claimed the No. 1 spot on the January 20th list. Her other top ten tracks are "No Limit," featuring G-Eazy at No. 2; "Motorsport," a collaboration with Nicki Minaj and Migos, at No. 4; "Bartier Cardi" at No. 7 and Cardi's very first single, "Bodack Yellow," at No. 10.
In the R&B chart's 60-year history, Cardi is the first woman, and only the third artist, to have five singles appear within the top 10 in a single week. With "Finesse," she is now tied with Compton-born rapper Kendrick Lamar for most tracks on the same chart. In 2017, he had five singles within the R&B chart's top 10. Canadian rapper Drake currently holds the record, with eight tracks charting at once, in 2016.
Back in September, Cardi made history when she became the second unaccompanied woman to ever land a No. 1 single on the Hot 100 chart. "Bodak Yellow" remained in the top spot for six consecutive weeks. The only other female artist to achieve that was Lauryn Hill in 1998, for "Doo Wop (That Thing)."
As of January 10, "Bodak Yellow" had been certified four times platinum. The song has also been nominated for two 2018 Grammy awards: Best Rap Performance and Best Rap Song.
With "Finesse" currently at No. 3 on Billboard's Hot 100, Cardi's looking good for a second No. 1 single. As of January 18, Ed Sheeran's "Perfect" was topping the list for the sixth week in a row.