Cardi B Makes History Again After Landing Second No. 1 Hot 100 on Billboard Chart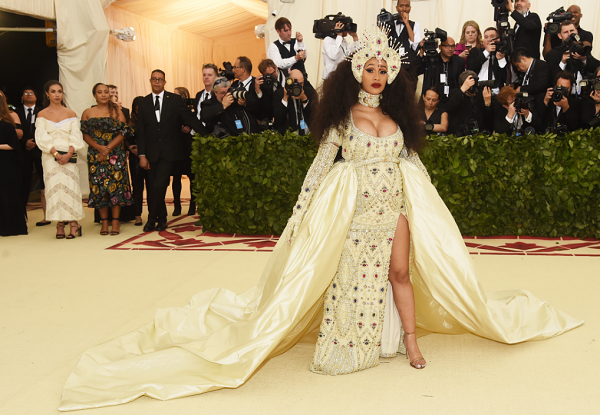 Cardi B did it again.
The Latina rapper, who blessed fans with the summer banger "Bodak Yellow" last year, claimed the summer was hers with another No. 1 spot on Billboard's Hot 100 chart. Cardi's latest single, "I Like It," featuring Bad Bunny and J Balvin, moved up to the top spot on Billboard's most popular chart Tuesday.
While a number of Cardi's songs have appeared on the chart, "I Like It" marks her second time topping the list. Her position on the chart is the first time a woman has scored two Hot 100 No. 1 singles.
When Cardi first snagged the No. 1 spot on the Billboard chart in October 2017, she made history by becoming the second solo female artist to achieve the feat. Lauren Hill was the first one to do so with 1998's hit "Doo Wop (That Thing)."
"I Like It" also marks the first time Bunny and Balvin have received No. 1 recognition on the Hot 100 chart.
The song appeared on Cardi's debut album, Invasion of Privacy, released in April, and was an instant favorite with fans. The half-Spanish record was a sample of the Pete Rodriguez's 1967 hit, "I Like It Like That." The song was reworked by Latino artists a number of times, most memorably in a 1997 cover—simplified to "I Like It"—by The Blackout Allstars. That version claimed the chart's No. 25 spot after its release, Billboard reported. Puerto Rican musician Tito Nieves also recorded a solo cover of the song, and "I Like It Like That" appeared in the 1994 movie of the same name, starring Jon Seda and Lauren Vélez.
In addition to being the first female artist to secure two No. 1's on the chart, the soon-to-be mother is the first artist to achieve the honor from a debut album since Macklemore & Ryan Lewis's 2013 alum The Heist. Both singles, "Thrift Shop," featuring Wanz, and "Can't Hold Us," featuring Ray Dalton, landed on the list that year.
Cardi B Makes History Again After Landing Second No. 1 Hot 100 on Billboard Chart | Culture