Cardi B Canceled? New Viral Video Sparks Twitter Debate About Her Tricking a Cheating Boyfriend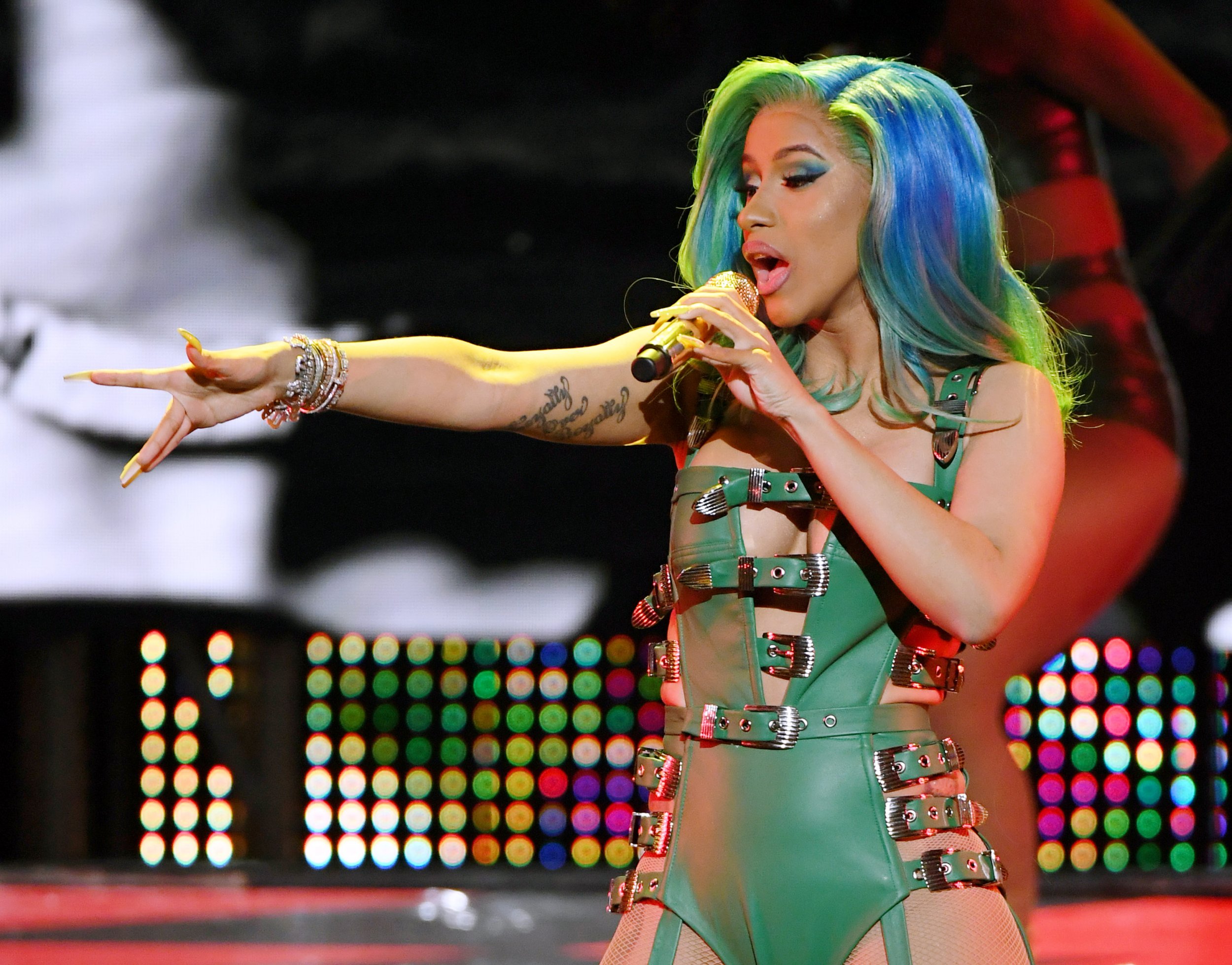 One day after releasing a statement saying she never claimed "to be perfect" when she used to be a stripper, another video of Cardi B was unearthed Wednesday and the second wave of uproar crashed.
It is not readily clear what year the video was filmed, but the viral clip shows the "Money" rapper speaking to the camera while in a car, detailing how she would scam a cheating boyfriend.
"If you cheat on me, I'll be like a'ight. I'ma take him out, we gonna get drunk, I'ma get him all perc'd up and everything," the Brox-native said in the clip. "Get him super twisted then bring a b**** around. We gonna have a threesome and when he wake up, he gonna be like 'what the f***' because the b**** was a t*****."
"Yeah, we had a threesome with a t*****," Cardi B continued at the time. "Yup, a t***** sucked your d***."
The initial video that started the backlash Sunday against the rapper was an unearthed Instagram Live, which featured Cardi B detailing how she would drug and rob men "to survive."
"I had to go strip, I had to go, 'Oh yeah, you want to f*** me? Yeah yeah yeah, let's go back to this hotel,' and I drugged n****s up and I robbed them. That's what I used to do," she said in the video at the time.
After the video was posted, some Twitter users began using the hashtag Surviving Cardi B, in reference to the Lifetime docuseries Surviving R. Kelly.
"I just don't understand how she can get away with ALL these crimes she did," one Twitter user wrote. "Really disgusting. Really sad."
Amid the initial controversy, the Bronx-native took to Twitter to brush off the backlash and made a joke of social media trying to "cancel" her.
"Okay I'm off Twitter for a few days," Cardi B tweeted, along with a kissing face emoji. "Have fun."
Despite the unbothered response Sunday, the rapper took to Instagram Tuesday to release a statement, prefacing that "all I can do now is be a better me for myself my family and my future."
"I'm seeing on social media that a Live I did 3 years ago has popped back up. A Live where I talked about things I have to do in my past," Cardi B began. "I never claim to be perfect or come from a perfect world with a perfect past. I always speak my truth [and] I always own my s***."
"I'm apart of a hip hop culture where you can talk about where you come from, talk about the wrong things you had to do to get where you are," the rapper continued. "I never glorified the things I brought up in that Live. I have never even put those things in my music because I'm not proud of it."
"I made the choices that I did at the time because I had very limited options. I was blessed to have been able to rise from that, but so many women have not," she concluded. "The men I spoke about in my Live were men that I dated, that I was involved with, men that were conscious, willing and aware. I have a past that I can't change, we all do."