Cardi B Celebrates End of Government Shutdown on Twitter After Colbert Petition for State of the Union Rebuttal Goes Viral
Cardi B responded to the end of the Government Shutdown with a brief comment in support of Democratic Speaker of the House, Nancy Pelosi. The rapper responded directly to a Twitter comment posted by surgeon Eugene Gu, which referenced a former comment from Cardi to conservative TV host Tomi Lahren.
"So basically, Nancy Pelosi dog walked Trump," Gu tweeted. Cardi responded: "Basically."
In mid-January, Cardi B posted a video with her take on the government shutdown. She detailed a fear for the country, with strong language and sincere emotion. Her point of view received backlash from Republicans, including Lahren, who responded to the video and Cardi's comments on Twitter. "Looks like @iamcardib is the latest genius political mind to endorse the Democrats," Lahren tweeted. "HA! Keep it up, guys! #MAGA2020"
Cardi replied: "Leave me alone I will dog walk you."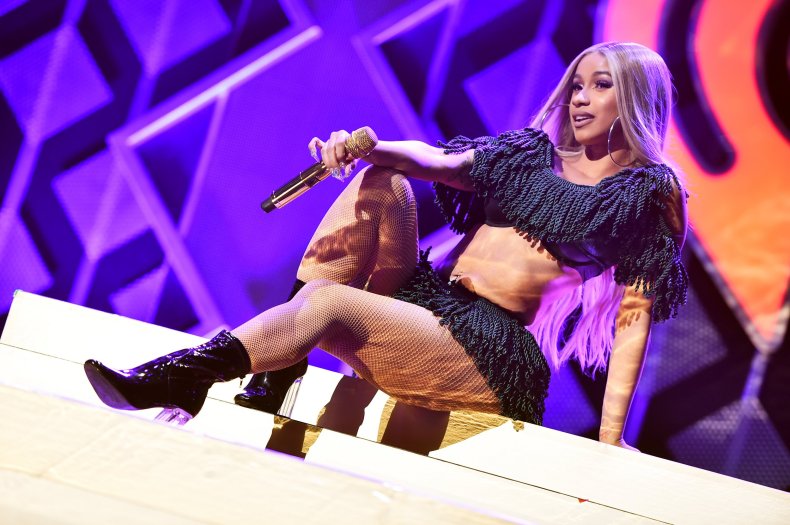 The comment, according to Urban Dictionary, means "to kick someone's a**." Lahren said she was greatly offended by the comment on Fox News Tuesday. "To put it simply, I saw that video that she had posted, and, you know, I implied that Cardi B isn't the person we should be taking our political advice from," Lahren said, as reported by Raw Story. "And instead of arguing about the merits of her political argument, she said that she was going to 'dog walk' me! Viewers can look up on Urban Dictionary what dog-walking someone means, but the point, simply, is to severely beat somebody up. So we go from a political disagreement to, 'I want to hurt you!'"
Gu, who Cardi retweeted Friday, shot to internet fame as a member of a group of Twitter users who sued President Trump for blocking them on the social media platform, arguing it constituted a denial of their First Amendment rights. A judge from the Southern District of New York ruled in their favor in May 2018.
Cardi B detailed the hate messages she'd received from conservatives since posting her first political comment. "All these conservatives been harassing me and telling me the most disgusting things these past few days," she tweeted on Tuesday. "Listen I'm not telling ya to turn liberal all I'm saying is to admit that your president is f***** up this country right now! Liberal or conservative we ALL suffer as citizens."
Others supported Cardi's political conversation. Since the comment, talk show host Stephen Colbert started a petition to ask Cardi B to conduct the State of the Union rebuttal on the government shutdown. The petition, which Colbert asked followers to sign by retweeting his tweet, has been shared on Twitter over 65,000 times.
The rapper responded to the petition on Twitter Friday with a series of laughing emojis. "why not ...I get straight to the point. Government shutdown over," she wrote.