Cardi B Compares Donald Trump to Bill Clinton: It's Clear He 'Has Sex With So Many Porn Stars'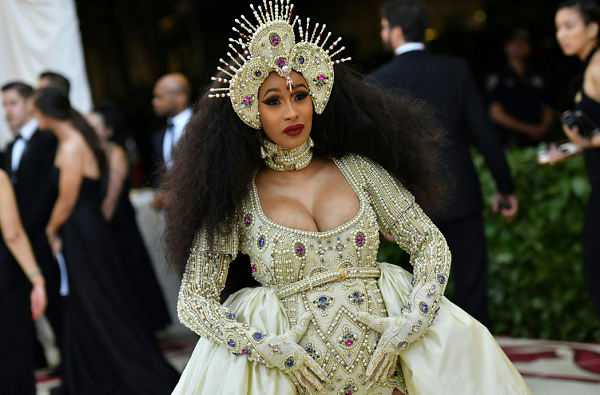 Remember back in 1998 when President Bill Clinton was almost impeached after denying having sexual relations with a woman who was not his wife? Cardi B does.
What Cardi doesn't understand, though, is why America's current president, Donald Trump, hasn't suffered the same intense backlash surrounding his alleged infidelities.
In a new interview with Rolling Stone, Cardi, who appears on the July cover with her fiancé Offset, bashed the 45th president, calling him harmful and suggested he too should be considered for impeachment for his allegedly naughty behavior.
"He has made divisions in this country—he almost made a crazy civil war between the blacks and the whites. He has proven himself to be a madman so many times, and proven himself to be disrespectful to women, and that still hasn't gotten him impeached," the 25-year-old said.
She added: "Clinton [was almost impeached] for cheating on his wife, and it's so clear that this nigga has sex with so many porn stars, and he's just been shown to be a dickhead, and it's like, 'Nope.'"
Although the House of Representatives voted to impeach Clinton on two out of four articles of impeachment, on charges of perjury and obstruction, in December 1998, the Senate acquitted him of both charges in February 1999. Clinton served his full term and left the White House in 2001.
Cardi was likely referencing Trump's alleged affair with adult actress Stormy Daniels, also known as Stephanie Clifford, who claimed she had a sexual relationship with the real estate mogul despite his marriage to Melania Trump. Although their fling reportedly took place years ago, Donald Trump's personal lawyer Michael Cohen paid her to sign a nondisclosure agreement regarding their affair ahead of the 2016 election, which was first reported by The Wall Street Journal in January 2018.
From calling the president "disgusting" to making him the butt of her jokes while co-hosting The Tonight Show with Jimmy Fallon, Cardi has spared no expense of Donald Trump. After Trump reportedly labeled El Salvador, Hati and African nations as "s***hole countries" back in January, Cardi suggested she was starting to hate him due to his inherently racist commentary.
"Trump is soo disgusting !! hate him Soo much. Im starting to hate him with a fucking passion," she wrote on Twitter.