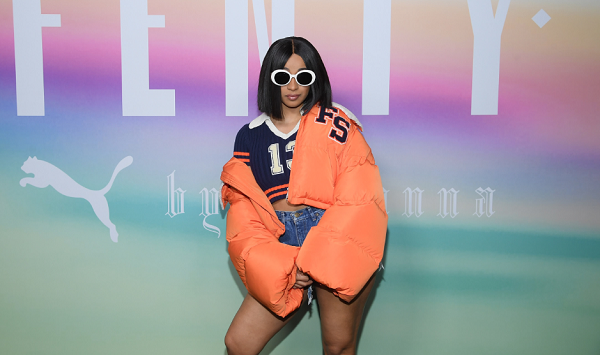 Cardi B woke up in a political state of mind on Thursday morning. The outspoken rapper, who recently snagged the Billboard Hot 100's number one spot from Taylor Swift, took to Twitter early to share some of her opinions of the "evil villain" otherwise known as President Donald Trump.
Stealing a move right out the president's playbook—he's known for going on Twitter rants at the crack of dawn—the "Bodak Yellow" rapper shared her determination that Trump is actually Dr. Evil, the bad guy in the Austin Powers trilogy, and posted a photo of the Mike Myers character.
She also suggested that Trump should be impeached for the havoc he's been causing, writing: "Bill Clinton got impeached for getting his dick sucked & this [carrot emoji] still president ruining the country in less than a year."
Fans of Cardi know that the Bronx native is never one to hold her tongue, and she's been particularly open about her views of Trump recently. In the aftermath of Hurricane Maria and Mexico's 7.1-magnitude earthquake, Cardi sounded off on the lack of attention Trump was giving to victims in need and condemned him for focusing more on NFL players' refusal to stand for the national anthem.
"Why is our president so concerned about what football players is doing when the goddamn world is going in shambles?" she said during a Monday interview with Billboard. "You got this man from North Korea that's talking about he's declaring war—which, I don't know, declaring war on who? Don't declare war on us. We don't want that beef."
Cardi, who publicly declared her support for former San Francisco 49ers quarterback Colin Kaepernick during the 2017 MTV Video Music Awards, also expressed her frustration with team owners and coaches taking so long to defend players who chose to kneel during the national anthem.
"It's just ridiculous. I feel like all these football team owners, they want to release statements now...and it's like, Colin Kaepernick, he still don't got a job," she said. "So what's really good? Ya'll wanna be releasing statements like 'We support this and that people.' No, not really, because if ya'll did, Colin would have a job right now. Like what's good? What's really, really good?"
"I want to tell the people don't be so hard on these players. These players, they're kneeling, they're holding hands, they're doing things—and it seems like sometimes it's not enough, like, 'Oh, if they really real about it, they would not play.' These people need their job too. Are you gonna pay them? You can't be really mad at the players. Be mad at these goddamn team owners."
As Cardi settles into superstardom, she seems eager to be using her platform to advocate for social justice issues. The former Love & Hip Hop star, who has more than 10 million followers on Instagram and 1 million followers on Twitter, recently targeted the NYPD for aggressive use of force on people of color.
Sharing her own recent experience of an officer grabbing her in a chokehold with 99 Jamz radio host Felisha Monet, Cardi said police brutality in America was a problem that really troubled her.
"It's not even about me. It's because NYPD is the biggest gang in New York," Cardi said. "And that really bothers me."