What Cardi B Said About Her 'Badass' Role in 'Fast & Furious F9'
Cardi B has spoken about her role in the upcoming Fast & Furious movie, saying her character is a "badass."
The latest in the saga F9 is due to hit theatres later this month and the rapper confirmed her casting in a brand-new featurette for the highly anticipated new installment.
The "WAP" rapper—whose real name is Belcalis Marlenis Almánzar—revealed that Vin Diesel himself reached to her to get her on board.
"He was talking about a role and I was like, 'It's freakin' Fast & Furious. Get me there! Put me on a plane!'" Cardi laughed in the featurette.
Cardi plays the role of Leysa, a character who is described as "a woman with a connection to Dom's past."
Diesel is reprising the role of Dominic Toretto and also acts as a producer for the franchise.
"I like the fact that I'm representing such a powerful strong woman," Cardi added. "She's just that b****... Leysa's such a badass."
"I remember when I saw Ludacris in Fast & The Furious, then to see Don Omar, it makes the hood have hope."
"Being around Vin, he's just so nice, so dope," she co adds in praise her co-star. "He makes you feel so comfortable. I'm just so excited."
The rapper joins an already stellar cast for the upcoming Fast installment—alongside Diesel, she will be joining John Cena, Charlize Theron, Nathalie Emmanuel, Ludacris and Michell Rodriguez.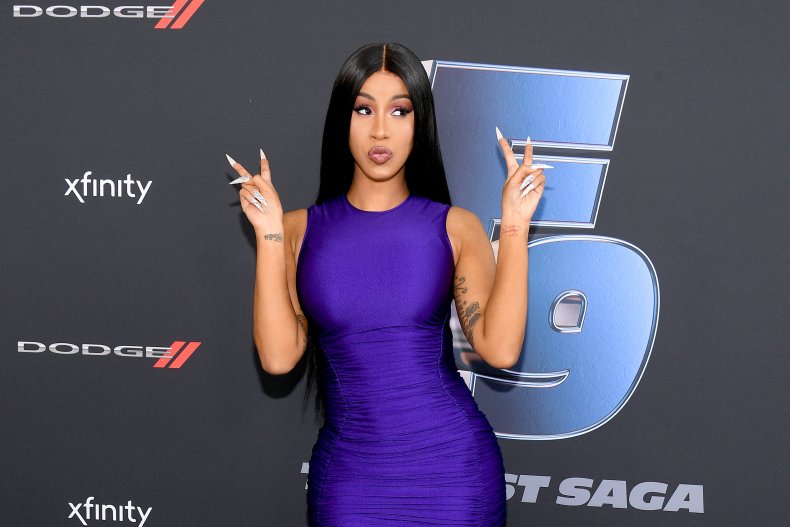 The synopsis for F9 reads: "Even as time moves on for Dominic Toretto (Vin Diesel), Letty (Michelle Rodriguez) and his son, little Brian, there is still a longing inside him for their past lives in the fast lane. With Han (Sung Kang) back in the fold, Dom and his crew will need all the help they can to square off against Dom's younger brother Jakob (John Cena), the most skilled assassin and high-performance driver they've ever encountered.
"He's come for revenge against his elder sibling with a a world-shattering plot. Jakob teams up with familiar foe Cipher (Charlize Theron) in their quest for vengeance against Dom and his family."
On Tuesday, Cardi tweeted her excitement for the film's release.
"I can't wait to watch Fast and furious 9," she wrote. "I haven't seen my scenes yet! That's the best part about it thooo watching the movie then you see yourself coming in.I'm sooo proud of myself. GOD IS GOOD ! Can I get a ALL THE TIME ? !!!!"
F9 is due for release on June 24.