Rapper Cardi B caused a stir on social media on Tuesday night when the rapper accidentally posted a topless photo on her Instagram stories to her millions of followers—90 million followers across Instagram and Twitter to be precise.
The "WAP" hitmaker was immediately trolled and defended after the leak, with the photo being shared hundreds if not thousands of times across Twitter and other platforms.
Cardi—whose real name is Belcalis Marlenis Almánzar—appears to have taken the mishap in her stride and addressed the accident to her followers Tuesday night, where the 28-year-old joked that it's not the first time her breasts have been public, as she used to work as a stripper.
Cardi took to Twitter to post a voice tweet addressing the photo.
"Huhhh. Lord. Lord, why the f**k you have to make me so f***** stupid and r*******? Why?" she prayed. "Why, why, why? You know what? I'm not even gonna beat myself up about it. I'm just gonna eat my breakfast.
"I'm just gonna eat my breakfast, right? I'm gonna eat my breakfast and then I'm gonna go to a party. Because I'm not even gonna think about it. I am not going to think about it, OK? No, I'm not. I won't. It is what it is. S*** happened."
She ended her rant on a note of acceptance, adding: "Um, f*** it. It's not even the first time. I mean, I used to f****** be a stripper, so whatever. Ay dios mio."
Addressing the fact that many people commented on the size of her nipples, Cardi replied to a fan: "I breastfed a baby for three months t****** got bigger so nipples got bigger."
The now infamous photo was shared following a night out with ex-husband Offset and friends at a strip club. She also recently celebrated her 28th birthday with a star-studded bash this week.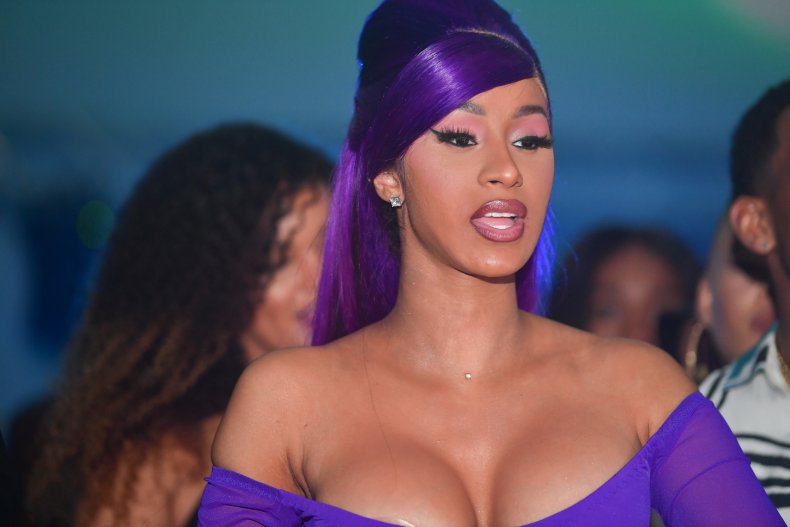 Cardi further explained how she managed to accidentally upload the picture on Instagram Live.
"I'm taking the f***** picture right? Then I f***** pressed and I'm seeing that it's loading and I'm like, 'Oh my god, Oh my god Offset, Oh my god, the picture's loading,'" she explained. "So I turn off my f***** phone so it won't load. And I'm like 'Yo check if the picture posted' and he's like 'Yo you posted a picture of the f****** t**!'"
She added: "I'm trying to turn the f****** phone on, by the time I turned the phone on and f****** deleted the s*** everybody and their mom saw my salami nipple f****** t*******, my big salami nipple t****** was all over the internet."
She went on: "I was a stripper and I was like f*** it, everybody saw my t*** all the time. I got some big ass nipples, that just came from motherhood."
The hashtag #BoobsOutForCardi began trending shortly afterward as legions of fans shared photos of their own breasts in support of the rapper.