What Does Cardi B Name Mean? 'Bodak Yellow' Rapper Explain's Stage Name's Origin to Jimmy Fallon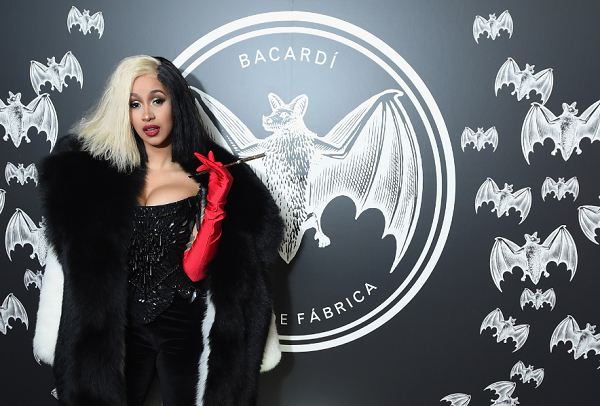 Cardi B finally revealed the history behind her famous moniker.
The rapper appeared on The Tonight Show Starring Jimmy Fallon on Wednesday and explained the origin behind her stage name. The Bronx native, whose birth name is Belcalis Almanzar, said the name "Cardi B" was inspired by the liquor brand Bacardi. "You know what, my sister's name is Hennessy, so everybody used to call me Bacardi," Cardi B said. "Then it was my Instagram name, Bacardi, Bacardi B. But for some reason, my Instagram kept getting deleted, and you know what, I think it was Bacardi that had something to do with it. So I just shortened it to Cardi B," she continued.
The adoption of the name clearly worked or the rapper, whose first single "Bodak Yellow" was certified triple platinum in November. The song has also landed Cardi two Grammy nominations for Best Rap Song and Best Rap Performance.
"Bodak Yellow" was released in June and quickly became the song of the summer. The record-breaking track was No. 1 on Billboard's Hot 100 chart in September, making Cardi the first solo female rapper to land the top spot since Lauryn Hill's 1998 hit single "Doo Wop (That Thing)."
That's not the only record the former Love & Hip Hop starlet has broken since "Bodak Yellow's" release. On Tuesday Cardi made history again when she became the first female rapper to see her first three singles land in the top 10 on the Hot 100 chart.
Cardi's most recent single,"MotorSport," moved up from the No. 15 spot to No. 6 on Billboard's latest Hot 100 chart, dated for December 30. The song, featuring rap group Migos and Nicki Minaj, follows Cardi's appearance on G-Eazy and A$AP Rocky's single "No Limit," which peaked at No. 7. "Bodak Yellow" had a three-week run in the No. 1 position, but fell to No. 11 on Billboard's newest chart.
"You wanna know something? I already feel like a winner," Cardi said. "I'm so proud of myself… It feels good because I really worked my ass off for it. And it's just like, 'Ah, it finally pays off. I've been proven.'"
The Latina has no intention of slowing down. While appearing on TheTonight Show, Cardi announced that her newest single "Bartier Cardi," featuring rapper 21 Savage, would drop on Friday. Joked Cardi, "I named it 'Bartier Cardi,' because I don't want Cartier to sue me."