Cardi B Joins Jennifer Lopez, Lili Reinhart, Constance Wu & More In Vengeful Strippers Flick, 'The Hustlers at Scores'
Seeking a Friend for the End of the World screenwriter, Lorene Scafaria is working on a new movie, according to a Deadline report. Inspired by a 2016 New York Magazine article, The Hustlers at Scores​ will tell the story of a group of vengeful strippers looking to turn on their Wall Street Clients.
The star-studded cast was announced Tuesday and includes Cardi B, who was a stripper herself before she became a household name following the release of "Bodak Yellow" in 2017.
Cardi B—Belcalis Marlenis Almánzar—is not only known for her larger-than-life personality, but also for her openness about her past. Born in the Bronx, the now 26-year-old began stripping to escape domestic violence.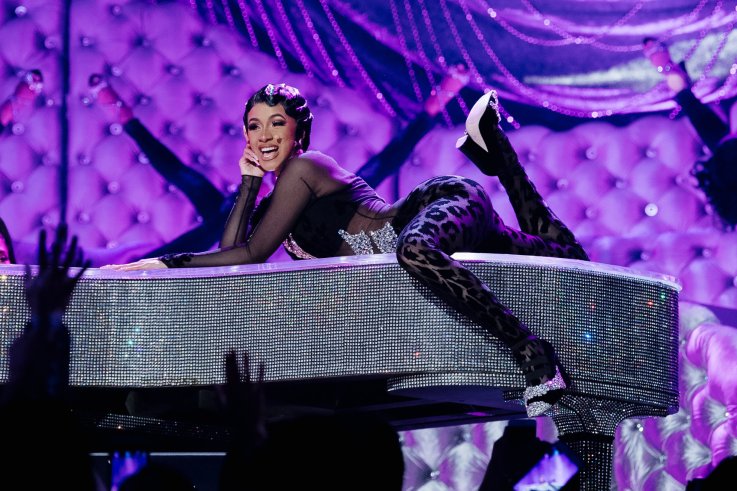 "People say, 'Why do you always got to say that you used to be a stripper? We get it.'" the Invasion of Privacy rapper said to Cosmopolitan in 2018. "Because y'all don't respect me because of it, and y'all going to respect these strippers from now on."
Since then, the Brox-native released her first studio album and winning multiple awards, including a Grammy for Best Rap Album. Clearly successful in the rap world, the 26-year-old looks to be making a jump to the big screen and will be joined by Jennifer Lopez (Second Act), Constance Wu (Crazy Rich Asians), Lili Reinhart (Riverdale), Keke Palmer (Pimp) and Julia Stiles (10 Things I Hate About You).
The film is currently in pre-production, according to IMDb, but will begin shooting Friday. No release date has been announced. STXfilms is producing alongside Lopez, Elaine Goldsmith-Thomas and Benny Medina—the three of them previously collaborated with the production company for the 2018 rom-com Second Act.
"We could not have asked for a more exciting or talented lineup of performers to join our cast," Adam Fogelson, Chairman of STXfilms, told Deadline. "STX is thrilled to reunite with Jennifer, Elaine and Benny to bring this unexpected, entertaining and often shocking story to the big screen for audiences worldwide."
"I'm thrilled to have the opportunity to work with this dynamic group of women," Scafaria added. "We're grateful to have assembled such a powerhouse cast and can't wait to start filming at the end of the week."
Cardi B Joins Jennifer Lopez, Lili Reinhart, Constance Wu & More In Vengeful Strippers Flick, 'The Hustlers at Scores' | Culture