Cardi B Leaks Fake Sex Tape on Instagram Live After Offset Cheating Rumors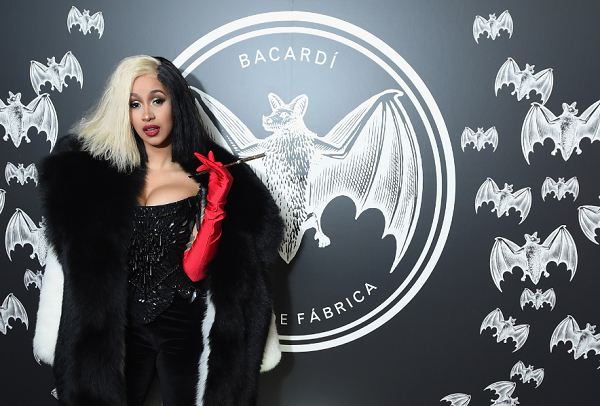 "Bodak Yellow" rapper Cardi B seemingly did not mind cheating rumors about her fiancé, Offset. In a move to apparently prove she was unfazed, Cardi B posted a video on Friday that looked like a leaked sex tape. According to her rep, however, it was just a scam.
"The 'sex video' isn't real ... it was all a joke," TMZ wrote on Tuesday, citing a rep for Cardi B. "We're told they weren't actually banging, and were fully clothed in the video."
The video was first posted to the rapper's Instagram live. She said, "I don't got no more in me left. You gotta give a whole hour." Offset was shown behind her in the clip.
Cardi B later explained her cavalier attitude. "I'm just going to make things positive out of a bad situation," she tweeted. "People keep saying I need to bleach down there..NOPE ! If God gave it to me nice and brown it's going to stay nice and brown," she added in a now deleted message.
Last week, rumors swirled that Offset cheated on Cardi B after a naked video of him surfaced. A woman was with him in the clip, but it didn't look like the famous rapper, leading to the infidelity accusations.
Cardi B didn't confirm it was her in the footage, but she didn't do much to dissuade the gossip either. "People keep posting the nude videos of me like if i wasn't a stripper before. You know there's videos of me stripping with my titties & ass out on YouTube already right," she tweeted on Monday. "Anyways i know i know i got a nice body right."
Overall, Cardi B was less worried what people said about her relationship, and more focused on the success of her new hit. She wrote on Instagram Monday, "HIP HOP ITUNE CHARTS .Cardi all over that .Thank you guys ...Make sure you get BARTIER CARDI."
Offset, who is a member of the rap trio Migos, proposed to her in October with an 8-carat diamond ring. "I just want to go to sleep and wake up and make sure this ain't a dream. Thank you God for all these blessings. Thank you babe @offsetyrn God really sent you to me," she wrote on Instagram at the time.
The rapper, whose birth name is Belcalis Almanzar, explained to Jimmy Fallon on Wednesday where she got her stage name.
"You know what, my sister name is Hennessy, so everybody used to call me Bacardi," Cardi B said. "Then it was my Instagram name, Bacardi, Bacardi B, but for some reason, my Instagram kept getting deleted, and you know what I think it was Bacardi [the alcohol company] that had something to do with it. So I just changed it to Cardi B."