Cardi B, Missy Elliott and Other Celebs Defend Lizzo Amid Racist Abuse Controversy
Cardi B has come to Lizzo's defense after the singer opened up about receiving racist abuse online following the release of their joint single "Rumors."
Lizzo—whose given name is Melissa Viviane Jefferson—shared a tearful Instagram Live this weekend, bemoaning the hurtful backlash she received from trolls.
"People who have something mean to say about you, and for the most part it doesn't hurt my feelings, I don't care," the 33-year-old "Juice" singer said. "I just think when I'm working this hard, my tolerance gets lower, my patience is lower. I'm more sensitive, and it gets to me."
Cardi then took to Twitter to address the issue, and sharing Lizzo's video to her 18.7 million followers, she posted: "When you stand up for yourself they claim you're problematic & sensitive. When you don't they tear you apart until you crying like this.
"Whether you skinny, big, plastic. Remember these are nerds looking at the popular table."
The "WAP" rapper also reminded fans that "Rumors" is performing successfully in music charts and blasted those who called Lizzo a "mammy"—a racist caricature that depicted Black women as subservient maids to white families.
"Rumors is doing great," Cardi added. "Stop trying to say the song is flopping to dismiss a woman emotions on bullying or acting like they need sympathy. The song is top 10 on all platforms. Body shaming and callin her mammy is mean & racist as f***."
In her Instagram Live, Lizzo continued: "'I'm seeing negativity directed towards me in the most weirdest way. People say s*** about me that just doesn't even make sense.
"It's fatphobic, it's racist and it's hurtful. If you don't like my music, cool, if you don't like 'Rumors' it's all cool, but a lot of people don't like me because of the way I look and I'm like... Anyway, I'm just having one of those days where I don't have no time. I think I'm just overwhelmed."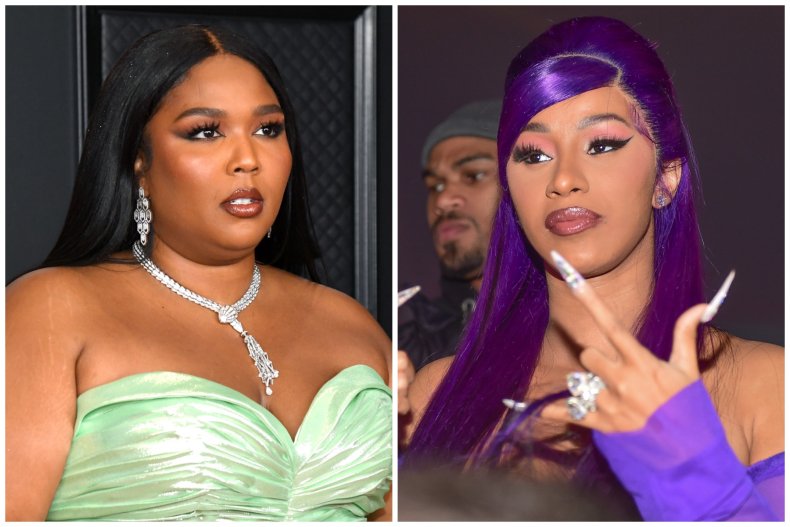 She added: "Y'all doing this black women over and over and over again, especially us big black girls. When we don't fit into the box that you want to put us in you just unleash hatred onto us. it's not cool."
A host of famous faces have since defended Lizzo publicly and condemned those who spewed negativity towards her.
Singer Chloe Bailey tweeted: "I'm so proud of you @lizzo people are gonna talk, but you have power in your voice. thank you for inspiring me."
While Lizzo shared a note sent to her by Missy Elliott that reads: "Once every few decades, someone breaks the mould. And you are one of those people. Continue to shine and be blessed through you next journey."
Jameela Jamil of The Good Place condemned Twitter for allowing such negativity to fester.
"This app has spawned, encouraged and celebrated the most depraved, dehumanized and depressing side of human beings," she said. "It's not FUNNY that you're hurting some innocent cheerful musician's mental health. It's not going to take back the pain of whatever your school bullies did to you."
The former TV presenter added: "When I don't like a song, I just... DON'T LISTEN TO IT AGAIN. When I don't like a person I MUTE THEIR NAME. It's that simple. Stop announcing to the world that you don't have a life or any humanity by making these attacks so personal because everything isn't designed for YOU."
Singer Bella Poarch added: "Sad to see society and the internet come together to try and take down people, especially such positive leaders and role models. This is the part that jades me about the world. We'll never appreciate greatness until it's gone. @lizzo."
Lizzo later took to Twitter to add: "Loving yourself in a world that don't love u back takes an incredible amount of self awareness & a bull**** detector that can see through ass backwards societal standards... if u managed to love yourself today I'm proud of u. If u haven't, I'm still proud of u. This s**** hard."