Cardi B's 'Money' Video Confirms She's In The Illuminati, According to Some Fans: How The Rapper Once Responded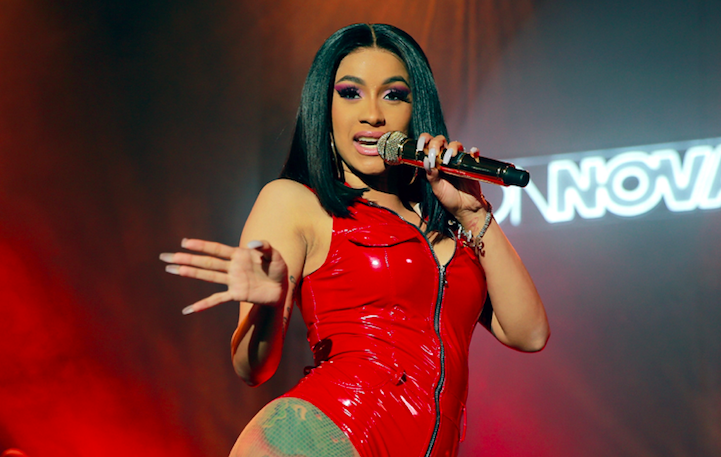 For various reasons, most people were shocked when rapper Cardi B released her (not safe for work) video on Friday for her new single, "Money." While most fans supported the video, saying it solidified her as an icon, some accused the Bronx native of being in the Illuminati. She joins the likes of Jay Z and Beyoncé, who have long been accused of being in the satanic cult.
Conspiracy theorists claimed the imagery in the video hinted toward being in the Illuminati, like the black-and-white pattern outfit she's wearing in the beginning, the design on her hands while she's playing the piano and the triangle makeup on one of the strippers. Triangles and contrasting shades, like black and white, are symbols that some associate with the secret society.
A YouTube clip claiming the "Money" video is "Freemason porn" has more than 13,000 views. Cardi's original video had garnered nearly 12 million views and amassed almost 80,000 comments by Saturday evening.
It's not the first time Cardi, whose birth name is Belcalis Almanzar, has been suspected of being in the secret society. Though some netizens are convinced, Cardi denied that she was a part of the cult, taking to Instagram in March to set the record straight.
"I don't understand how you mother f***ers see artists every single day, like busting their ass—I bust my ass every single day, every day, every day—but you y'all want to blame the success on mother f***ing Illuminati. You wear a checkered shirt, 'Illuminati.' Triangle, 'Illuminati,'" she said at the time.
The idea behind artists allegedly being in the Illuminati is that they sold their souls to the devil, so that's why they have success, fame and riches. Cardi, 26, revealed that's not true; she worked hard for everything she has, thanks God regularly for her accomplishments and would never turn her back on Him.
"Do you know if I spend my money tomorrow I ain't gonna have shit, eh? Do you know if I stop doing music, if I stop working, tomorrow, if I be like, 'I don't want to work no more,' my shit will go in the garbage," she said.
"Shut the f*** up with this shit," the rapper said at the end of her one-minute social media video. "I pray to God every single day for me to be at where I'm at. So why, if I'm at where I'm at, that's when I'm gonna stop f***ing with God?"
Cardi ended her post with a clear message: "F*** Satan. F*** you and that dumb ass shit. Get out of here with that."