Cardi B Pleads Guilty in 2018 Strip Club Brawl, Will Do Community Service
Cardi B is in the clear.
According to a statement from her representative on September 15, "Cardi B accepted a plea agreement from the Queens County district attorney's office regarding a 2018 Strip Club Incident. The original indictment included 12 charges, including two felonies. She has pled guilty to two misdemeanor charges and has agreed to perform community service. The remaining 10 charges were all dismissed."
Back in 2019, a grand jury indicted the musician on multiple charges, including reckless endangerment and assault, for an August 29, 2018, incident at Angels Strip Club in Flushing, Queens. Cardi allegedly threw a bottle and hookah pipes at two bartenders, sisters Jade and Baddie Gi, and instructed members of her entourage to attack them. The fight reportedly revolved around Cardi's accusation that one of the bartenders was having an affair with her husband, Offset, of the group Migos.
Prosecutors initially charged her with a misdemeanor, and she turned down a plea deal. The case then went to a grand jury, which returned an indictment that included felony charges and could have seen the superstar going to prison for up to four years. She will have to perform 15 days of community service by January 2023. She must also reportedly pay the victims' court fees and, by order of protection, stay away from them for three years.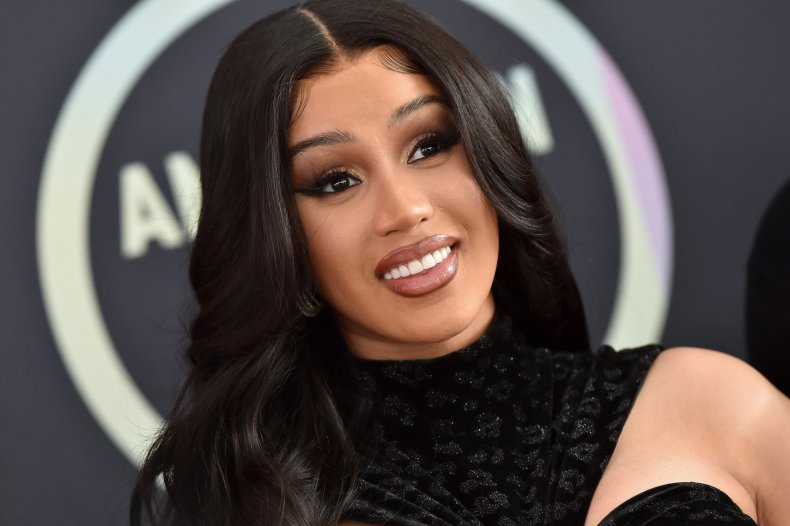 With Cardi in court were reportedly two co-defendants, Jeffrey Bush and Tawana Jackson-Morel. Bush will serve six months in jail for his part in the assault.
Through her rep, Cardi, 29, told Newsweek, "Part of growing up and maturing is being accountable for your actions.
"As a mother, it's a practice that I am trying to instill in my children, but the example starts with me. I've made some bad decisions in my past that I am not afraid to face and own up to. These moments don't define me and they are not reflective of who I am now. I'm looking forward to moving past this situation with my family and friends and getting back to the things I love the most—the music and my fans."
Cardi posted on her Instagram photos from inside and outside the courthouse on the 15th, with the caption, "Everyday the sun won't shine, but that's why I love tomorrow." In the pictures, she could be seen wearing a white sheath dress and sparkly earrings, and rocking her signature long nails.
Newsweek has reached out to the Jade and Baddi Gi for comment.