Cardi B Hilariously Responds to Pregnancy Rumors on Instagram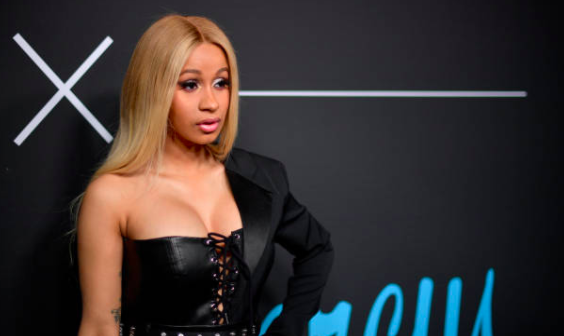 Cardi B isn't pregnant—and she made sure to clear up the rumors with a bit of humor. The "Bodak Yellow" rapper originally penned her message in the beginning of February, but it was unearthed by Josh Ostrovsky on his popular Instagram account, @thefatjewish, which boasts more than 10 million followers.
Cardi B had responded to an Instagram user who claimed she was secretly pregnant like Keeping Up With the Kardashians star Kylie Jenner, who didn't confirm she was expecting until three days after the baby was born.
"Is there maybe a Kylie Jenner secret that we need to know lol," the netizen wrote under the rapper's February 2 video. "Just asking."
That's when Cardi B fired off her hilarious response, saying she wasn't pregnant—just gaining weight. "No bitch I'm just getting fat," she wrote. "Let me fat in peace."
Ostrovsky was a fan of Cardi B's response, saying, "'Let me fat in peace' is my next tattoo." The post was liked more than 184,000 times hours after it was posted.
On Friday, her fiancé Offset shut down speculation about the rumored pregnancy. "I'm only a father to three," he told reporters in Beverly Hills, according to BET. "I don't know what the hell you're talking about."
The gossip was perpetuated by TMZ, who reported on February 14 that "members of her team told people during Super Bowl weekend." They claimed a source said she was three to four months pregnant and didn't want to drink or being a "party atmosphere" during Super Bowl weekend.
Before the pregnancy gossip swirled, Cardi B battled rumors she made a sex tape with Offset. "I'm just going to make things positive out of a bad situation," she tweeted in December. "If anybody watch the live from last night they can see from beginning to end that I was talking then this guy came behind me and started fake dry humping me. Jesus Christ we both had pants on!"
Two days before, the Migos rapper was accused of cheating on her. "I'm going to make a decision in my own times with my heart and mind," she wrote in a now-deleted tweet from January. "I don't need to be rushed or be told what to do. It's my life! I belong to me not the world."