Right-wing provocateur Tomi Lahren picked her latest contrived fight -- this time with Bronx-born hip-hop star Cardi B -- Sunday, sparking an argument over racism and "blind" support of President Donald Trump.
The two 26-year-olds, Lahren and rapper Cardi B, born Belcalis Marlenis Almánzar, took to Twitter Sunday in a bizarre political exchange sparked by the "Bodak Yellow" rapper's Instagram rant against Trump and his shutting down of the government to fund a border wall Thursday. Lahren, who has picked fights with anyone she has felt might garner her attention, pointed out to her 1.25 million Twitter followers early Sunday morning that Cardi B is the "latest genius political mind" to back Democrats, later labeling her "moronic."
"Looks like @iamcardib is the latest genius political mind to endorse the Democrats. HA! Keep it up, guys! #MAGA2020," Lahren, a frequent Fox News commentator, remarked earlier this week. "Leave me alone I will dog walk you," Cardi B responded, using a phrase frequently associated with beating someone up.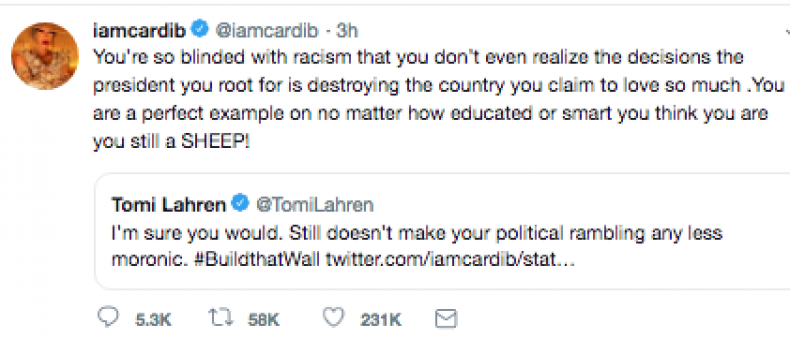 Cardi B's Instagram video post last week which ignited the odd couple's feud read, "I just wanna remind you that it's been a little bit over three weeks. Trump is now ordering … federal government workers to go back to work without getting paid. This s**t is really f***ing serious, bro. This s**t is crazy. Our country is in a hellhole now — all for a f**king wall."
Lahren lashed out at the Bronx-born rapper in an attempt to stay relevant. "I'm sure you would. Still doesn't make your political rambling any less moronic. #BuildthatWall," Lahren responded Sunday. "You're so blinded with racism that you don't even realize the decisions the president you root for is destroying the country you claim to love so much .You are a perfect example on no matter how educated or smart you think you are you still a SHEEP!" Cardi B responded soon after.
To fill out the millennial beef, 29-year-old New York Democratic representative Alexandria Ocasio-Cortez weighed in Sunday, advising Lahren not to "mess with Bronx women."
The Twitter replies reflected the widely divided views of each figure's fanbase, with Cardi B's more than 4.6 million followers ridiculing Lahren as ignorant, bigoted and craving any type of attention. Meanwhile, Lahren's fanbase accused Cardi B of being a "hypocrite" and having to sell her soul in order to maintain her B-level celebrity status among conservatives.
"Im paying about 4 million in taxes this year so most likely I am Paying for your insurance ....That's if your favorite president don't take my tax money for his wall Mr white bread," Cardi B responded late Sunday afternoon to a "White Bread" Twitter account that demanded the rapper for his insurance.
The Twitter spat is hardly Lahren's first, having picked a fight in November with conservative figure Candace Owens over Kanye West's support of the president. Owens labeled Lahren a "vile human being" and desperate for attention.