Cardi B Reportedly Slams UFC Fighter Who Compares Her to Andrew Tate
Cardi B hit back at former UFC fighter Jake Shields who compared her to controversial influencer Andrew Tate.
MMA athlete Jake Shields took to Twitter last week to publicly defend Tate who was banned from Facebook and Instagram and in doing so made a disparaging comparison to the "WAP" rapper.
"People are freaking out about young boys looking up to Andrew Tate but totally fine with young girls looking up to Cardi B and the Kardashians," Shields tweeted.
He continued: "Tate's Main message is stop being lazy and making excuses and go work hard and get in shape and make money. Cardi's Is go do drugs, f*** random men and go through life as a brain dead Moron."
Tate, a former Big Brother contestant is widely known on social media for his controversial ideas, which have often been labeled as "dangerous" and "misogynistic."
Cardi B—whose given name is Belcalis Marlenis Almánzar—responded to Shield's Twitter thread on Saturday in a now-deleted post, which was screenshotted by Entertainment blog The Neighborhood Talk.
"I'm married, I don't smoke weed, I don't pop pills, I don't do coke," Cardi wrote. "I'm a mom of 2 kids and I do a lot of charity work ... but hey let me put cardi into it to defend a man who defend misogyny and rape."
Newsweek has contacted representatives for Cardi B and Shields for comment.
Tate was banned from Instagram and Facebook for what Meta called a violation of its policies.
A Meta spokesperson confirmed to Newsweek that Tate is no longer allowed to use either social media platform as a result of violating company policies, citing Meta's guidelines on "dangerous individuals and organizations."
He has become an icon for hypermasculinity, gaining millions of followers across platforms and fans from men's rights activist groups and far-right influencers in the process.
In other videos, podcasts and interviews over the years, Tate has drawn criticism for his comments surrounding his treatment of women. In one video uploaded to YouTube by Barstool Sports, Tate said he needs to have "authority over women."
"If I have responsibility over her, then I must have a degree of authority," he said, adding later, "You can't be responsible for a dog if it doesn't obey you."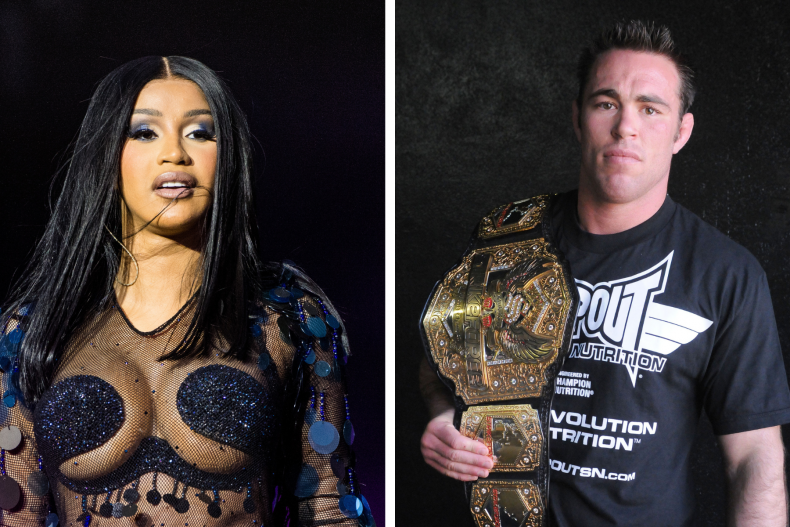 He has also made comments on hitting women, calling female self-defense "bulls**t" and saying that "women can't fight."
In 2017, Tate caused outrage by saying women "must bear some responsibility" if they're raped, at the height of the #MeToo scandal.
In a statement to NBC News, Tate said he is a "successful coach" who has also made "many videos praising women" and who plays an "online character."
He added: "It has nothing to do for hate for women. It's simply about good and bad people. My mother is my hero."
Newsweek has contacted Tate for comment.