Woman in BLM Mask Responds With Cardi B Lyrics to Man Reading Her Bible Verse
A woman turned to the great book of Cardi B to respond to a man berating her with bible verses.
A series of Tik Tok videos captured evangelist Flip Benham, leader of the North Carolina-based anti-abortion group Operation Save America, reading bible verses to women outside of a clinic on Tuesday. Meanwhile, another man was spotted pacing the street with a sign that read, "THOU SHALL NOT MURDER."
One pink-haired woman sporting a Black Lives Matters face mask offered the men a message of her own and recited lyrics to Cardi B and Megan Thee Stallion's record-breaking new single, "W.A.P."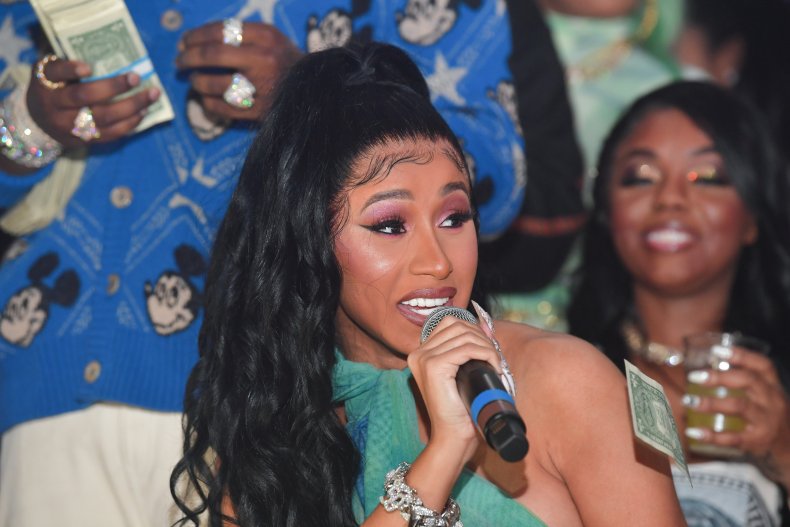 "Get a bucket and a mop for this wet a** p***y. Beat it up, catch a charge, extra large and extra hard. Put this p**y right in your face, swipe your nose like a credit card," the woman said.
Benham continued to read passages from his open bible, but that only made the woman recite the explicit words more eloquently.
Although the evangelist was unmoved by the woman's performance of "W.A.P.," the song ruffled the feathers of conservatives all across the country from the moment it first released on August 7. Republican politician and House candidate James P. Bradley was among the many to call the song a disgrace on social media and condemn Cardi and Megan for being bad role models.
"Cardi B & Megan Thee Stallion are what happens when children are raised without God and without a strong father figure. Their new "song" The #WAP (which i heard accidentally) made me want to pour holy water in my ears and I feel sorry for future girls if this is their role model!" he wrote.
Conservative talking-head Ben Shapiro also staunchly opposed the hypersexual, even reading a censored version of the lyrics on an episode of The Ben Shapiro Show—although he admitted that questioning the graphic connotations of the song was misogynistic.
Despite the controversy surrounding the hypersexual lyrics, "W.A.P." continues to dominate the Billboard charts. The song peaked at No. 1 on the Billboard Hot 100s chart released on August 17 after it drew a record-breaking 93 million U.S. streams in the first week of its release. The single maintained its position at the top of the chart for the second week in a row, Billboard reported on Tuesday, and it's steadily increasing in popularity in other countries as well. "W.A.P." landed the No. 1 spot in Australia on Monday.