Cardi B to World Leaders Amid Ukraine Crisis: 'Stop Tripping About Power'
In the days leading up to the Russian invasion of Ukraine and Vladimir Putin's declaration of war against the bordering nation, rapper Cardi B offered her opinion on the then-impending crisis in Eastern Europe.
Prompted by fans to comment on Ukraine, the "Up" artist posted a video to her official Twitter account explaining her stance on current global tensions. Posted on Feb. 22, the video has been more than 800,000 times.
"I actually want to say a lot of things but I'm just going to mind my business because sometimes I feel like I have such a big platform that if I don't say the right things I might get killed," the 29-year old told her 21.9 million Twitter followers.
"I'm really not on NATO's side, I'm really not on Russia's side," she continued. "I'm actually on the citizens' side. Because at the end of the day the world is having a crisis."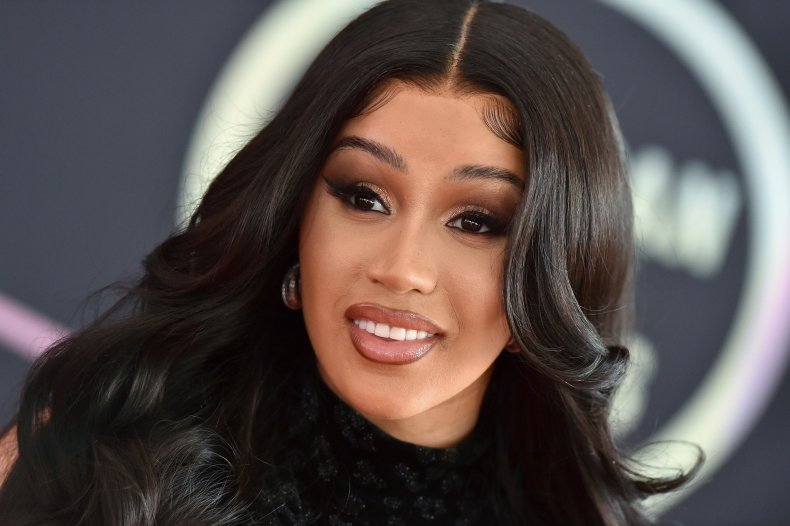 Responding to a separate tweet reading: "wonder what @iamcardib thinks about this whole Russia thing," the rapper relayed the same message and voiced her concern for the Ukrainian people.
"Wish these world leaders stop tripping about power and really think about whose really getting affected (citizens)," she wrote in a tweet which has received more than 16,000 likes and 5,000 retweets.
"Besides the whole world is in a crisis," she added. "War, sanctions, invasions should be the last thing these leaders should worry about."
Following Putin's declaration of war on Feb. 23, which Ukrainian President Volodymyr Zelenskyy said left 137 dead (including 10 officers), the United States levied a series of strict sanctions against Russia.
Earlier today, President Joe Biden announced a second round of sanctions against Russia during an address at the White House.
Aimed at freezing multiple large-scale financial assets located within the U.S., Biden said the additional sanction are intended to "squeeze Russia's access to finance and technology for strategic sectors of their economy," and "impose severe costs on the Russian economy, both immediately and over time."
Cardi B, who spoke out against former president Donald Trump on countless occasions, also commented on rapidly-increasing global inflation rates in her Feb. 22 video.
"There's inflation not only in America, but everywhere in the world. It's really hard to get the economy back up," she said. "There's is so much...backed up. China's not really messing with us so a lot of things are behind. A lot of goods are behind."
"And this sh*t just made it way more complicated," she concluded. "I'm just really annoyed by this and I really wish that all world leaders right now just really come with a logical conclusion."
Along with sanctions from the U.S. and other NATO members, the Ukrainian president ordered a "broad-based mobilization," according to CNN.
Ordering the "conscription of conscripts, reservists for military service, their delivery to military units and institutions of the Armed Forces of Ukraine," Zelenskyy's mobilization will reportedly prevent Ukrainian males between 18-60 years old from leaving the country.
"In particular, it is forbidden for men aged 18-60, Ukraine citizens, to leave the borders of Ukraine," read a statement issued by the State Border Guard Service. "This regulation will remain in effect for the period of the legal regime of martial law."