Cardi B's Boots Mocked Ahead of Community Service—'Camel Toe Shoes'
Cardi B has been mocked on social media for her choice of footwear as she completes community service over an assault at a New York City strip club.
Back in 2019, a grand jury indicted the "WAP" hitmaker, who was born Belcalis Marlenis Almánzar, on multiple charges, including reckless endangerment and assault, for an August 29, 2018, incident at Angels Strip Club in Flushing, Queens.
Cardi B, 30, allegedly threw a bottle and hookah pipes at two bartenders, sisters Jade and Baddie Gi, and instructed members of her entourage to attack them. The fight reportedly revolved around Cardi's accusation that one of the bartenders was having an affair with her husband, Offset, of the group Migos.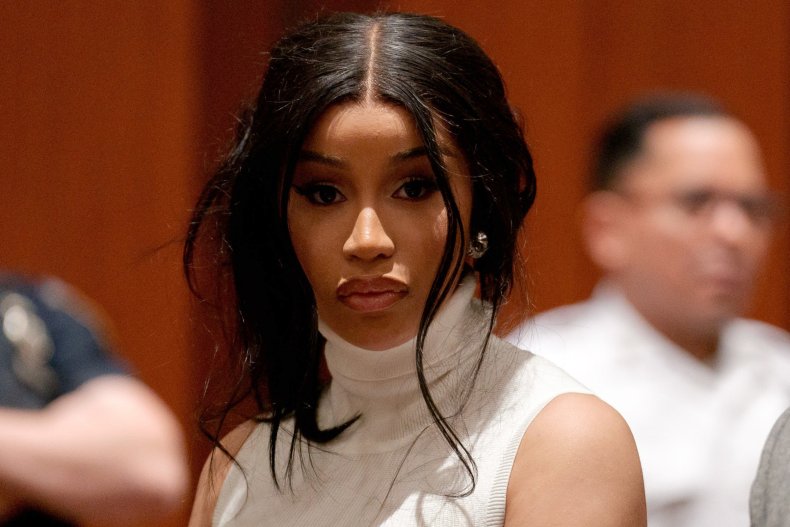 Prosecutors initially charged her with a misdemeanor and she turned down a plea deal. The case went to a grand jury, which returned an indictment that included felony charges and could have seen the star going to prison for up to four years.
In September, she accepted a plea deal for two misdemeanors, with her legal team saying in a statement that the "original indictment included 12 charges, including two felonies. She has pled guilty to two misdemeanor charges and has agreed to perform community service. The remaining 10 charges were all dismissed."
The "Up" rapper was initially ordered to perform 15 days of community service by January, though this deadline was last month extended to March 1 after she failed to clock any hours. She must also reportedly pay the victims' court fees and, by order of protection, stay away from them for three years.
With Cardi B now carrying out her mandated community service, the star has taken to Twitter to share photos of herself ahead of stepping out on each day.
On Wednesday, she shared posted a mirror selfie on the platform, alongside the caption: "On my way to serve some community service time .....DONT COMMIT CRIMES!" In a February 21 post, she implored her followers to "obey the law."
In the photo, the star was seen decked out in an ensemble that included a pink novelty beanie hat, black leggings and a beige jacket over a white tee. She also toted a pink tweed Chanel bag.
However, it was her pair of pink leather Maison Margiela Tabi Toe ankle boots—which retail for just under $1,000—that caught the eyes of Twitter users, who described the footwear as "camel toe shoes."
Noting that Cardi B had worn a white version of the same boots, one Twitter user wrote to the star that her "camel toe shoes always making an appearance for your community service."
Pointing out Cardi B's extra-long fingernails, another commented: "Community disservice with those nails and camel toe boots."
"To say: I did community service in metallic camel toe boots is so wild and not on any bingo card you [could] imagine," said another.
"I'm taking all your moose boots. Enough is enough," tweeted another fan, who posted a photo of reality TV star NeNe Leakes with her back turned to the camera.
Meanwhile, a host of other fans praised Cardi B for her choice of ensemble, with one writing that "this has to be the first pair of tabi boots worn to community service, an innovator."
Branding Cardi B an "icon," another commended the New York native for "serving looks even in community service."
At the time that her plea deal was announced, Cardi B told Newsweek, through her rep: "Part of growing up and maturing is being accountable for your actions.
"As a mother, it's a practice that I am trying to instill in my children, but the example starts with me. I've made some bad decisions in my past that I am not afraid to face and own up to.
"These moments don't define me and they are not reflective of who I am now. I'm looking forward to moving past this situation with my family and friends and getting back to the things I love the most—the music and my fans."