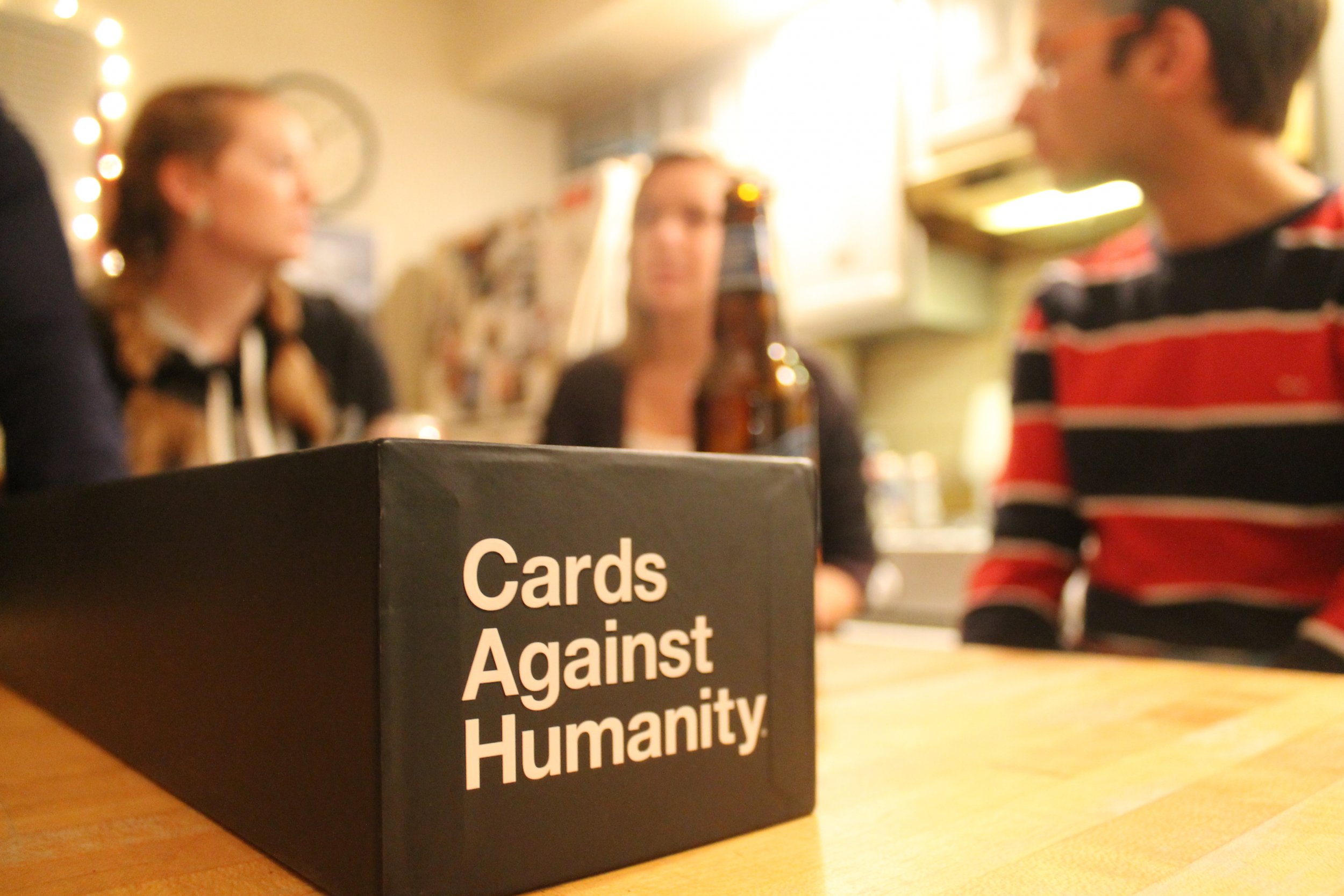 Updated | The makers of the raunchy game Cards Against Humanity said Thursday they have decided not to destroy Pablo Picasso's Tête de Faune. In December, they invited people to vote online to determine the work's fate, saying they would either donate it to the Art Institute of Chicago or shred it into 150,000 pieces and distribute them to the participants of their Eight Sensible Gifts for Hanukkah event.
As part of a gallery exhibition that opened for its first full day on Thursday, the creators announced that 71.3 percent of voters said they should donate the Picasso and 28.7 percent said they should cut it.
They announced the decision on a placard at the City Gallery in the Historic Water Tower, in Chicago, which is hosting an exhibition on Cards Against Humanity. The exhibition is open through May 22. The Picasso is on view in the exhibition.
"We came up with the idea of purchasing a priceless piece of art, cutting it into 150,000 peices and sending one to each of our subscribers. The idea was funny to us for several reasons. First, it is a total misunderstanding of what it means to own and appreciate art in a practical way. And second, fine art is one of the only shocking things to destroy," the placard read.
"For me, the happy ending is being able to donate, to get this Picasso that was in a private collection and pool together all the resources of all the subcribers to a Hanukkah thing and donate it to the museum," says Max Temkin, co-creator of Cards Against Humanity. "It's clearly the responsible thing to do." Around 50,000 people voted, he says.
Temkin says he has been in talks with a curator at the Art Institute, which has some logistical requirements for donations. "I think we're sort of at a point where everyone on our side and on the Art Institute's side is optimistic that it can be added to the museum's collection." They chose the Art Institute, he adds, because he and the other creators are from Chicago and grew up visiting the museum.
The Art Institute was not immediately available to comment.
How did Picasso's 1962 linocut Tête de Faune wind up in such uncertain hands? Some reports have said the piece appeared to have sold at auction in Switzerland in June for $13,876. However, Picasso reportedly made 50 versions of the work, and the version that most likely went to the Cards Against Humanity people came from the R.S. Johnson Fine Art gallery in Chicago, where the game has its headquarters.
The gallery had a version of Tête de Faune until about three months ago, when it was sold for $55,000, says Eric Leech, the gallery's assistant director. Leech would not provide information about the buyer except to say that a middleman was involved. "The buyer actually made us kind of keep it secret. So he didn't want anything being said about it," Leech says. "We actually don't know his name…. We actually weren't told anything about the buyer."
That middleman, according to a source with deep knowledge of the sale, was Tanner Woodford, executive director of the Chicago Design Museum. Woodford has previously worked with Cards Against Humanity on a special "design pack" version of the game, the proceeds of which went to the Design Museum.
"The idea for the Design Pack came from a conversation that I had with the founder of the Chicago Design Museum, Tanner Woodford," Temkin told Fast Company in July. Also in July, Woodford told the Chicago Tribune in July that he and Temkin were friends.
Speaking with Newsweek, Woodford would not confirm he was involved in the sale and directed press inquiries to Cards Against Humanity.
Temkin says he doesn't know how they acquired the work, except that it was from a Chicago gallery. "I honestly have no idea. That was delegated to someone else in the company. Someone showed us a picture of a Picasso and was like, 'Is this good?' And we were like, 'Yeah, let's get it.'"
The gallery has many other Picasso works. Tête de Faune is a print on paper made with a linoleum block. It measures 530.25 square inches, which means each of the 150,000 pieces would measure 0.0035 of a square inch, or 2.26 square millimeters.
Learning of the Cards Against Humanity plan for the first time, Leech says, "I know the owner of the gallery would certainly be upset with the ultimate conclusion of the piece to be cut up." The gallery owner was unavailable for comment.
"It's such a strange time to be doing something like this when there's so much violent destruction of cultural property going on all over the world," says Nora Lambert, a doctoral art history student at the University of Chicago and curator of the 2014 exhibition Picasso Prints: Myths, Minotaurs and Muses at the Philadelphia Museum of Art.
Lambert says Picasso often borrowed forms from classical art and mythological creatures, such as the faune. "Starting around the '20s he really had this career-long obsession with classisism," she says. "It's a theme that he revisited throughout his life." The exhibition she curated featured works in which he depicted himself as a minotaur.
John Szoke, who owns a gallery with some 500 Picasso works on paper, says he has previously owned versions of Tête de Faune. "He had the faune very much in his vocabulary and he used it in many different ways…. It is an important one, it's technically very innovative, it's a large one and it's a very successful one," he says of the linocut.
Szoke says when gallery owners sell their works, there's nothing they can do to protect them from proposals like Cards Against Humanity's. "During life and people moving and things happening, artwork is getting destroyed as it is. We don't need people playing games with it…. That's infantile."
Would Cards Against Humanity really have destroyed the artwork? "If it was that clear of a vote," Temkin says, "I'm pretty sure we would have cut it up and sent it to people.... Certainly it would have been wildly unpopular so I'm glad we didn't have to do it."
The Art Institute of Chicago has several hundred works related to Picasso and hosted a Picasso exhibition in recent years. In fact, it is the first art museum in the United States to present Picasso's work, according to the museum's website.
The plan to shred the Picasso was part of Cards Against Humanity's Eight Sensible Gifts for Hanukkah, which invited participants to pay $15 for eight surprise gifts. Any participant could vote on the fate of the artwork online, from December 26 to December 31.
The article has been updated with quotes from Max Temkin.