Care Can't Wait and Neither Can Our Economy | Opinion
A quiet rage is growing, a desperation is deepening and a need for change is rising. Just when many of us thought the worst was behind us, the rampant spread of the Delta variant of COVID-19 is causing many hospitals to be at or near capacity. The crisis is driven by a huge spike in severe COVID-19 cases among people who have not been vaccinated. Outbreaks in elementary schools are already widespread as kids are going back to class before vaccines are available to their age groups in communities where the contagion is spreading fast. Child care centers and schools are still struggling to stay open in the midst of this pandemic. And parents—particularly moms upon whom the unpaid labor of caregiving primarily lands—are filled with despair, worry, exasperation and even rage.
It goes without saying: These feelings are justified.
There's no single public policy that will solve the slow-rolling crisis families faced before the pandemic that now has turned into a runaway train wreck; but a combination of policy solutions that are in the reconciliation package that Congress is moving, along with the infrastructure package, will go a long way toward building a care infrastructure that helps our families, our economy and our country in both times of crisis like this one and also in times of opportunity.
That set of policy solutions includes national universal policies relating to child care, paid family and medical leave for when an urgent health crisis strikes or a new baby arrives, living wages for care workers, home- and community-based services, a path to citizenship for essential and care workers, access to unbiased health care and more.
Moving these policies forward in tandem, as is currently proposed in the reconciliation package before Congress, is crucial. Passing them together would help lift public health by giving more people access to health care and time to heal so as not to prolong the pandemic. It would create millions of good care jobs, enable moms and people doing the daily work of "momming" to work, and it would significantly boost our families' and our nation's economic security.
It would also help combat systemic inequalities experienced by Black, Indigenous and people of color. To that end, data shows that investments in policies like universal paid leave and child care—especially in ways that include provisions such as job protection, progressive wage replacement, non-discrimination protections and more—will help stop systemic inequalities. For instance, child care right now is least affordable for Black and Latinx families with low incomes; Native American and Latinx communities are more likely to live in child care deserts; and Asian American and Latinx children have particularly low levels of access to child care subsidies. This needs to change.
Building a care infrastructure would be no small boost for our nation. A recent study found that finally building a care infrastructure would lift our country's long-term real GDP growth by 10-15 basis points. Studies also show access to paid leave when illness strikes significantly lowers COVID transmission. We also know that a full 32 percent of women ages 25 to 44 who were pushed out of jobs were pushed out simply because they didn't have access to child care; the employment gains from building a care infrastructure would be highly significant.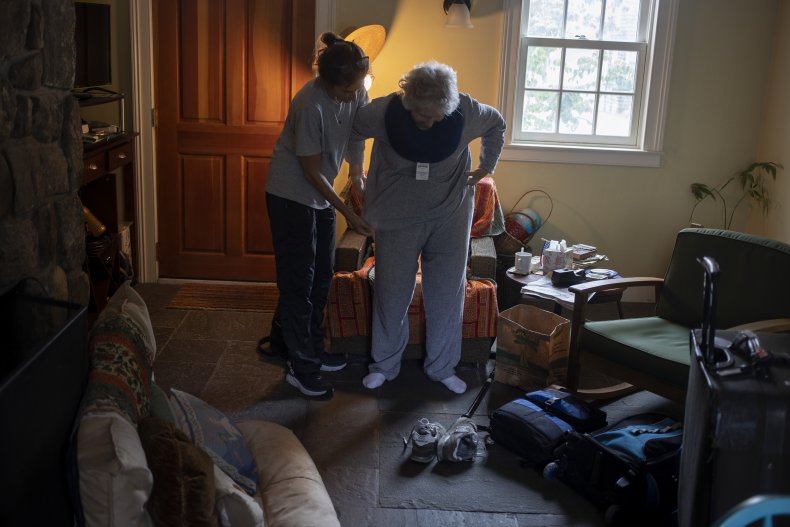 Solutions like those in the reconciliation package that Congress is moving along with the infrastructure package right now are desperately needed. Moms—particularly Black, Indigenous women and moms of color who have experienced compounded health and economic harms in the pandemic—have been disproportionately pushed out of much-needed jobs in no small part because our nation has yet to build a care infrastructure like most other industrialized nations. This has put women's labor force participation at a 30-year low, setting back gender and racial equality.
Just as we need to build bridges and roads to drive on to get to work, we need to build a care infrastructure so parents can go to work, so children can thrive, so care workers can earn living wages and stay in their profession, so our economy can grow—and importantly, so we can better get through this pandemic together.
Given what's at stake, it's not surprising that polls show real people, and real voters, across the political spectrum—Republicans and Democrats alike—widely back this set of policy updates. Support for paid leave, for instance, is so strong that one recent poll found 84 percent of Senate battleground voters, including 96 percent of Democrats, 81 percent of Independents, 74 percent of Republicans and 74 percent of Trump voters support paid leave, with 76 percent of voters wanting it passed now in the infrastructure legislation.
Unprecedented numbers of moms are rising to support building a care infrastructure. For instance, MomsRising members, who live in every state in the nation, have already made over 630,000 constituent contacts through phone calls, petition signatures, sharing their stories, holding local events and more to help push building a care infrastructure forward—and will keep the pressure on until these policies pass.
Moms will surely remember which elected leaders stood up for our families, our economy and our public health at this moment when our nation is in crisis; just as they will remember who did not.
The quiet rage, the exhaustion, the anger and the desperation of moms across the nation is being channeled to call for the action and change we need. Now it's up to Congress to listen, to follow the lead of moms, dads and people of all political parties and finally build the care infrastructure we all need.
After all, care can't wait and neither can our economy.
Kristin Rowe-Finkbeiner is the executive director of MomsRising, the online and on-the-ground organization of more than 1 million mothers and their families.
The views expressed in this article are the writer's own.