Care Can't Wait | Opinion
There are moments that can truly change the course of our lives.
One of those moments is upon us. We are finally talking about care as infrastructure with investments to match. In this moment, we can truly begin reimagining what care in America could look like for millions of working families, for our children and for our older adults. We are on the verge of finally catching up to so many other countries who already invest heavily in care and whose people and economies reap the rewards of that investment.
We cannot let that moment slip away. Despite overwhelming evidence that care fuels our economy and that American families desperately need this help, care has somehow been tagged as "social" or "human" infrastructure and been omitted from the bipartisan infrastructure agreement. We now depend on other legislative options to ensure that an investment in care is made, in tandem with the broader infrastructure bill. This simply must happen.
Care is infrastructure. Period. What more proof do we need than what has happened under the weight of the pandemic? Over the past year, nearly 3 million women have been pushed out of the workforce due to caregiving responsibilities. Many more have shifted their roles or hours, costing them opportunities for promotion or advancement.
Pre-pandemic, women were the majority of the workforce for the first time since 2010. Today, women's labor force participation is at its lowest since 1988. That slide not only creates less inclusive and equitable workplaces, but an economic burden as well. In just one year, women lost more than three decades of progress in pay equity, hurting families and communities.
The pandemic has also shown racial and economic divides when it comes to work and care. Women of color, particularly Black and Latinx women, make up the majority of the caregiving workforce and have felt these harms the most.
The cost of the caregiving crisis is not just felt by workers. Businesses and economies bear the hidden costs as well. One-third of U.S. employees have left a job due to an unmet caregiving responsibility. With this turnover, absenteeism and reduced productivity all due to care challenges, businesses lose billions annually.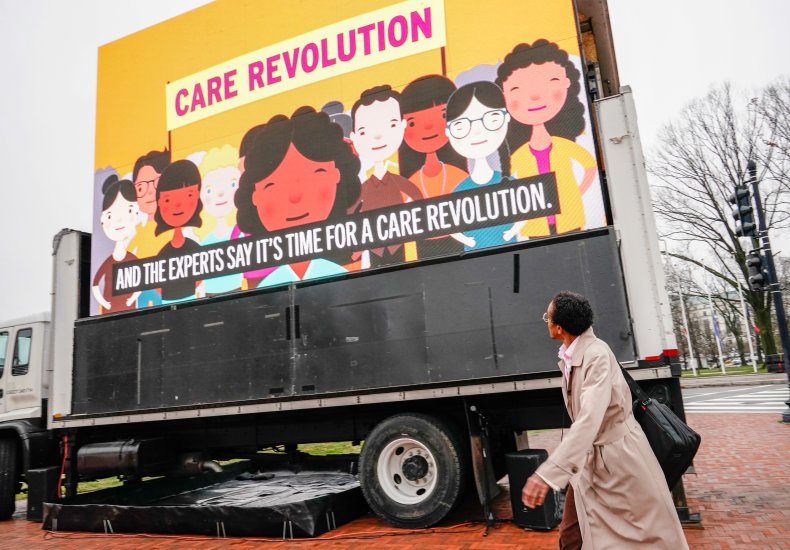 When surveyed, most employers guessed that just a quarter of their employees had caregiving duties. The reality? Three in four report having caregiving responsibility. The vast majority of workers are caregivers and most of us will need care at some stage of our lives.
Yes, we need roads and bridges and tunnels and yes, it's true that our interstate highway system was built mostly in the 1950s and '60s. But that's also the last time there was any real attention paid to our care infrastructure. And back then, most moms stayed home with the children, dads worked 9-5, single-parent households were far rarer and life expectancy was shorter.
It is absolutely correct that our failing physical infrastructure impacts our economy and makes us less competitive globally. But so does our failed care infrastructure, and perhaps even more so. American working families are our nation's greatest capital. They need a deep and resourced care infrastructure that provides the support, flexibility and accessibility that works for them and investment in wages and workforce development to ensure we have the professional caregivers we all need.
How we make that happen is going to depend on everyone stepping up. Caregiving can no longer be seen as an individual responsibility. It is clear from this last year that the failure to support caregivers has a devastating economic impact that hurts us all. As employers prepare to welcome back their staff, businesses must evaluate the policies and practices that support a culture of care in their workplace. Indeed, companies that care are companies that succeed.
This is also the responsibility of government. As the country continues to build back better, we must not only think of infrastructure as the roads and bridges that create economic opportunity. We need all our workers bringing their skills and talents to the table, not choosing between a paycheck and their families. Our economy requires robust infrastructure that centers this reality and the role of caregivers through investments in paid leave and childcare. While these provisions are not included in the proposed bipartisan infrastructure bill, it is imperative that they be included in the final package that is enacted by Congress.
The care economy is the American economy. It is our economic backbone that most take for granted until it is gravely hurt. It's clear the last year has been nothing but chronic pain. It's time for businesses and governments to invest in caregiving infrastructure. Care can't wait.
Tina Tchen is the president and CEO of TIME'S UP Now and the TIME'S UP Foundation.
Tim Allen is the CEO of Care.com.
The views expressed in this article are the writers' own.