10 Companies That Are Hiring Like Crazy in February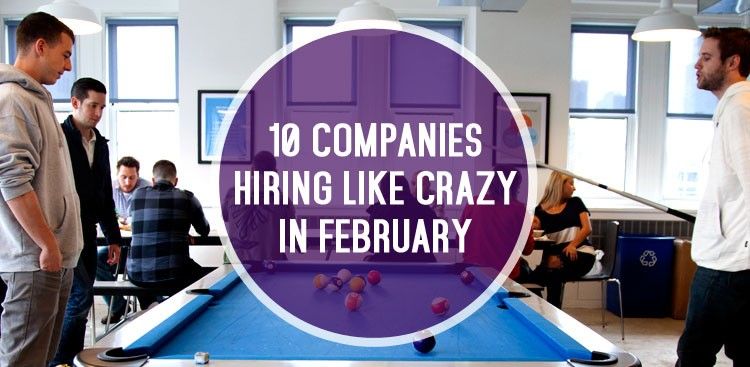 We rarely think of people looking for a job as "lucky." The job hunt is draining, stressful, and often discouraging. But guess what: All of the professionals searching for their next positions right now are seriously lucky, because we've got 10 companies we'd kill to work for (ahem, if we didn't love our jobs at The Muse so much)—and they're all hiring like crazy right now.
1. SendGrid
It's a little unbelievable how happy SendGrid's employees are. Or maybe not so unbelievable: SendGrid, an email delivery service built by developers for developers, says "employee happiness is the fabric of our culture."
That translates to frequent free lunches at local popular restaurants, company-wide trips to exotic Mexican locales such as Cabo San Lucas and Puerto Vallarta, complimentary ski passes, Kindles, fitness event entry fees, birthday and anniversary presents, flex schedules, a generous vacation policy, tuition reimbursement and money for professional development courses, and monthly stipends for your cell, commute, and gym costs. Whoa.
"We have such an awesome culture that it makes coming to work a breeze," says Nicole Ryder, executive assistant to the CEO and events marketing coordinator. "I guess when you do what you love, you don't feel like you're working."
Ready to join? SendGrid has lots of open positions—especially in engineering!
2. Quantcast
Quantcast helps its clients understand and reach their target audiences with digital marketing. That means data, and lots of it—the company has 15 data centers around the world. Since this is a fairly new industry, Quantcast is growing quickly.
What does that mean for Quantcast employees? Major, major opportunity.
"We're at that really exciting size where the team is big and there's a lot of opportunity, but you also still have the ability to have a huge impact on the product," says Erica Weiss Tjader, head of user experience. Nikita Lytkin, lead modeling scientist, says there are "a lot of opportunities to develop technical and leadership sales." He mentions one example: weekly study sessions. They're "a great opportunity for the person who is presenting to take their time and dig into new areas that they're curious about."
Quantcast is hiring across all departments, making "lots of opportunity" even more applicable.
3. Yext
Yext has mastered the "work hard, play hard" balance. Everyone is really into their jobs—for example, the engineering team is always having friendly competitions to see who can come up with the quickest and most innovative solution to a technical problem.
"One of the things that makes Yext unique is that everyone here truly believes in what we're doing—that our product can make our customers' lives better," says Diana Barris, marketing coordinator.
Just a hunch, but this company-wide enthusiasm may have helped it land on Forbes' Most Promising Companies list in both 2014 and 2015.
After finishing work on their cutting-edge products, the Yext team loves to let loose. After the marketing team unveiled the company's major rebranding campaign, there was a huge office party complete with custom-made ice cream sandwiches for everyone. There's also a karaoke machine, a kegerator, and lots of fun ativities outside the office.
4. Zappos
"Culture is Zappos' number one priority; colleagues choose to spend time with one another on the weekends," says Kyle Kelly, manager of business development and analysis. They don't just hang out together. Employees have helped each other pack, move, and settle into new apartments—that's how you know it's real.
While these friendships extend beyond the office, they're formed at the many activities Zappos has for its team. There's Zalloween, a golf charity fundraiser with lots of flip cup, friendly rivalries, and fun and creative fashion shows, where employees model their latest Zappos purchases (think cordless drills).
Interested in joining the team?
"A person that exhibits Zappos culture is open-minded and very willing to learn," says Susan Hinton, a senior front-end developer. "The ideal candidate is humble and knows what he or she is capable of and where they want to be."
5. Outbrain
If you've got a case of wanderlust, you'll be excited to hear Outbrain is hiring. Outbrain is the world's largest content discovery platform—and its global status means the company has offices around the world.
Those offices, by the way, are gorgeous. Even though Outbrain has outposts in the U.K., Australia, Israel, and the U.S., it's never wanted to feel like a stuffy, corporate company. The team prides itself on the unique and homey environment of every office. No matter where you work, you'll feel like a local. You'll get to visit other places, too. To keep the community feel strong, Outbrain offers its employees the chance to visit a different office for one week.
The company is looking for employees across a range of departments, so check out the open jobs to become Outbrain's next globetrotter!
6. HZDG
HZDG is a full-service integrated marketing and communications company with lots of freedom. Its clients come from a range of industries—from food and beverage and real estate to hospitality and retail—which means the team has the freedom to always work on something new and challenging.
"Every day at HZ is an adventure," says Kirsten Quisenberry, a designer. "Mix some crazy, lovable characters with exciting projects and cool clients—then let the creative hilarity ensue. It's a magical combination."
Employees also have the freedom to celebrate everything. We do mean everything. There are the standard holiday parties, of course, but there are also "Summer Fridays" and HZDG band performances. There's the freedom to wear whatever you want—the company just wants its team happy and comfy!
"I love what I do, I love the people I work with, and I love the people that I work for," says Glenn Watts, chief operating officer. "To me, this isn't just a job, it's a second family. I truly still love coming to work every day."
7. Social Tables
Social Tables, which provides diagramming and guest management software to the hospitality and events industry, attracts really cool, multi-faceted people. Our proof: Employees have established a bunch of clubs so they can socialize and share their common interests, which include running, trying out restaurants, and going on "adventures." (Color us intrigued.)
"I don't come to an office with all of my co-workers every day; I come to an environment that's innovative with my friends," says Jesse Breaux, a business development associate.
This collaborative, not competitive vibe extends beyond the company's walls. "For our engineering team, we very much believe in sharing and collaborating with other companies and individuals out there who are also trying to solve these same problems," says Rohit Kalkur, a software engineer.
Who wouldn't want to join such a supportive environment?
8. Lithium
Lithium's technology allows companies to create tailored community platforms on their web and social properties. "We have an environment where people are playing with things and trying things and experimenting—and I think that's a great part of our culture," says Ross Biestman, vice president of sales in the west.
As Biestman said, the company's employees definitely get to exercise their creative sides—and they also get to exercise their fun-loving sides. The office has game night almost every day of the week, with employees challenging each other to everything from video games and pool to puzzles and ping-pong. There's also a TV room, for watching on-screen games; an on-site gym, used as training for games (okay, and just plain working out); and a meditation room, where team members can relax and rejuvenate.
The company has a ton of jobs it needs to fill, so put on your game face and apply today.
9. Main Street Hub
At Main Street Hub, a company that helps local businesses grow their reputations and customers, every work victory is celebrated.
For example, senior marketing consultant Stephanie Bodie and her team recently received an awesome happy hour get-together at Chelsea Pier for their hard work. And after each sale, associates run through a Tunnel of Success. High fives are always flying, and throughout the day, motivational announcements are made over the PA system. "The best part about the culture at Main Street Hub is that we're always elevating each other," says Zach Bouaziz, team lead.
There's also a big emphasis on promotion within the company. Main Street Hub offers an accelerated career path that allows sales reps to be promoted two times a year—offering increases in compensation and stock options and perks like inbound leads, gym memberships, transportation, bonuses, and an invitation to Main Street Hub's annual sales conference in Austin.
Before you get promoted, you have to get hired—so apply for one of the company's many open roles.
10. Bookspan
At Bookspan, you'll have an unlimited number of opportunities to develop your skills and your career. Employees say there's an endless flow of ideas in the office—and management is always willing to listen.
Plus, at Bookspan projects are company-wide affairs, which means your potential won't be limited to your department. Team members are constantly coming into contact with a diverse range of other people, which keeps them challenged, stimulated, and successful.
"The ideal Bookspan candidate will find a problem no one is actively working on, investigate it, and find a solution," says Thomas Wong, a software engineer.
The company is looking for new hires in almost every department, so figure out where you'd fit and then start sharing your ideas.