10 Companies With Unusual but Incredible Perks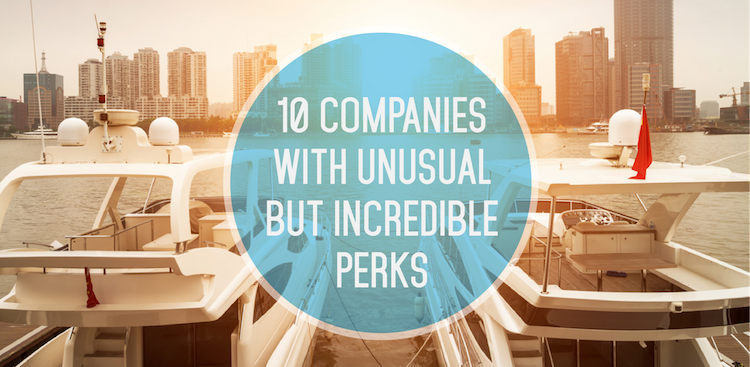 Workplace perks have recently surged in popularity—and rightfully so. After all, we're spending more and more time working these days, and perks and benefits can make a big impact on our in-the-office happiness.
But, when almost every company tries to promote a fully stocked kitchen, full medical coverage, and subsidized gym memberships, making distinctions between company benefits can be pretty difficult.
Thankfully, there are a handful of companies that have strayed from office culture norms and boast unusual but seriously awesome perks. Forget about coffee machines and yoga classes, and think along the lines of massages, free Fitbits, and even a company boat.
1. iCracked
iCracked makes repairing, selling, and protecting iDevices easier—whether that's iPhones, iPads, iPods, or something else. Launched by college students who couldn't afford to fix their broken iPhones, the company offers its services through a network of more than 3,000 mobile iTechs who travel to iCracked's global customers.
Located next to a communal dock, iCracked gives its team full access to the company yacht. Employees take it out to relax on the water and enjoy the lush views in Redwood Shores. Apart from that, iCracked provides catered meals for employees, so you don't have to worry about packing a sack lunch ever again.
2. Boost Media
Boost Media is on a mission to optimize digital marketing platforms for leading brands around the world. By creating, testing, and optimizing digital advertising across search, social, and display media platforms, the company gains unique insight into specific types of ads that work with each audience.
If you're looking for perks like awesome retreats and festive celebrations, Boost Media has got them. The company is currently planning an Earth Week-themed trip, on which employees will go camping and participate in beach cleanups. If that doesn't attract you, Boost Media hosts legendary holiday parties that include beer pong tournaments you don't want to miss—the winner is awarded a championship belt, after all.
3. Bigcommerce
To say that Bigcommerce is rapidly expanding would be an understatement. Since 2009, the company has acquired over 55,000 clients in 150 countries, hired over 370 employees, and raised $75M in venture capital. Bigcommerce is committed to providing small businesses with access to software resources that were previously available only to large companies.
Apart from the usual fully stocked kitchen, subsidized gym memberships, and quarterly hackathons, the company offers in-office yoga and massages. And, for those of you who prefer to participate in mental exercises rather than relax your body, Bigcommerce's offices have games rooms equipped with an Xbox and a PlayStation.
4. OwnLocal
OwnLocal is hustling to preserve the print media industry. Whether it's local newspapers or other traditional media outlets, OwnLocal enables these platforms to offer sophisticated digital advertising via innovative and cutting-edge products.
Instead of "Work Hard, Play Hard," OwnLocal's office culture is summed up by the motto "Work Hard, Reward Hard." Employees are taken on exciting quarterly outings (most recently a deep-sea fishing expedition to Galveston, Texas) where they bond over delicious meals. Apart from that, OwnLocal is big on the healthy lifestyle and provides every new employee with a Fitbit upon his or her arrival.
5. Reebok
A top global fitness brand notorious for challenging convention, Reebok designs athletic footwear, apparel, and accessories to support active lifestyles. The company is dedicated to keeping fitness exciting, and this mission is evident in the perks offered to Reebok's team.
Being active is more than a hobby for the company's employees—it has become a lifestyle. A lot of the action happens in the CrossFit Box, where around 600 employees work out every week between 6 AM and 6 PM. Reebok also hosts Campus Fitness Days, which include plenty of exercises such as hiking, dancing, and yoga.
6. Radius
Radius provides the best software platform for B2B marketers to understand and reach more than 20 million small and mid-sized businesses in the U.S. By combining a real-time data set with enterprise software, Radius makes it way easier for marketers to identify, target, and engage with customers. The company's clients include the likes of American Express and Home Depot.
A subsidized gym membership is only one of Radius' many ways to keep you healthy. Employees partake in after-hours games of soccer, basketball, and even roller derby. And, if you don't like sports, you can bond with the Radius team at movie nights on Wednesdays or at weekly gatherings of both online and board games.
7. Lyft
Lyft is revolutionizing the way people get to places. Users download the Lyft app, request a ride, and get picked up by a friendly driver—all within a few minutes. The startup believes that transportation can bring people together and is working on using its product to build stronger communities.
You know it, I know it—transportation can be a huge pain. Working at Lyft could alleviate that pain, since employees are given $100 of free Lyft credit each month. Apart from that, fresh and healthy lunches are provided five days a week. Oh, and don't forget the startup's most sacred tradition—Bagel Wednesdays.
8. Sourcegraph
Sourcegraph, a code search platform, is transforming the way today's programmers search, explore, and review code. With its open-source library, Sourcegraph gives software developers the resources to find the right code at the right time—and simultaneously makes code rewrites a thing of the past.
Perhaps the most interesting perk at Sourcegraph is its regular meetups with programmers in Silicon Valley. Since the company is expanding its community into San Francisco, Sourcegraph organizes these get-togethers for the purpose of allowing its team to develop relationships with new software engineers who are thriving in tech.
9. PetPlus
On a mission to make caring for pets as easy as loving them, Petplus provides members exclusive access to discounts on everything from pet medications to vet visits and pet supplies. Owners, breeders, and local pet stores have full access to wholesale prices once they join the membership service program.
Holiday parties are big at PetPlus—and you can even win money at some of these parties. At the company's Halloween party, for instance, the winner of the costume competition receives cash prizes. Even without monetary rewards, however, the PetPlus team enjoys the lavish Christmas party and the annual "Worksgiving" dinner.
10. myWebRoom
Personal experience is key at myWebRoom, a platform that lets users bookmark websites, discover content, and share their finds through a customized visual interface. Users express themselves by adding trendy furniture, cutting-edge technology, and awesome artwork to their rooms. The best part? All of myWebRoom's virtual products can be purchased in the myWebRoom Shop.
In addition to unlimited vacation and full medical coverage, myWebRoom organizes team-building events, such as the group cooking class that everyone in the company recently went to. Besides that, late night meals and rides are provided for all employees.