10 Companies That Want to Hire You Now (and Feed You Good Food!)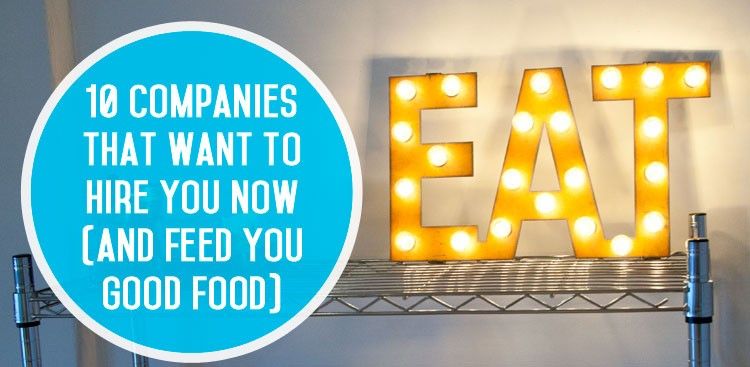 You've heard of food perks before, but have you heard of companies hosting chili cook-offs, taking the team to Napa Valley wine tastings, or offering $500 a year for every employee to attend cooking classes?
We didn't think so.
Check out these places where the company culture is either partially—or completely—defined by employees' love for food. Best of all? They're all hiring right now.
1. Cover
Founded in New York in 2013, Cover's mission is to provide diners an easy way to pay for their meals at restaurants. Cover is as simple as downloading an app and letting the restaurant know you'll be paying through it. The company has expanded from New York to San Francisco and currently has partnerships with over 100 restaurants.
The shared interest that brought all of the employees to Cover is, of course, food. Office foodies meet frequently to go out for lunch or dinner at one of Cover's amazing partner restaurants—conveniently doubling up on work and play. Apart from that, Cover initiates its new hires by dining at restaurants large enough to fit everyone. These occasions give the team a chance to simultaneously introduce new employees to great camaraderie and great meals.
2. GlobalGiving
GlobalGiving is committed to helping people solve problems in their communities by helping people with Earth-changing ideas raise the money they need to make those changes happen. Since 2002, the organization has helped raise more than $65 million from more than 266,000 donors—and has supported more than 5,700 projects in over 120 countries.
"My favorite thing about GlobalGiving is our love of food," shares Champion for Customer Bliss KC Ellis. According to Ellis, the company regularly hosts competitions like chili or Mexican cook-offs and has even held a "food truck contest" where employees hunted down their favorite DC food trucks and brought back a dish so everyone could vote on an ultimate favorite.
3. Fishbowl
A restaurant marketing platform, Fishbowl addresses key industry challenges from getting guests to come out and eat to social media publishing and engagement to analytics. With its innovative technology and talented marketing specialists, Fishbowl serves a client roster of top industry brands like Cold Stone Creamery, IHOP, and Cinnabon.
Located in the Old Town Alexandria area of Virginia with over 4,000 restaurants, Fishbowl caters to any foodie's heart. And, if co-workers aren't feeling up for leaving the office, Fishbowl hosts enough bagel Fridays, parties, and events to keep everyone feeling full. Employees' love for food-oriented gatherings doesn't stop over the holidays, as team members hold annual Thanksgiving potlucks complete with pilgrim costumes.
4. TNTP
TNTP is on a mission to end educational inequality by ensuring that all students get excellent teachers. TNTP helps schools, districts, and states grow and hold on to great teachers and build systems that prioritize effective teaching in every classroom. Since 1997, the organization has recruited and trained close to 50,000 teachers and catalyzed large-scale reform through acclaimed studies.
Training and Instruction Manager Joe Baker shares that one of his favorite TNTP traditions is the office's penchant for potlucks. Joe loves getting to contribute to TNTP's food festivities, and he particularly loves the Brooklyn office's annual holiday bakeoff. Last year, Joe entered his homemade bourbon pecan pie. Although he didn't win, Joe is doubling his efforts to take home this year's prize.
5. Blinds.com
The largest online provider of custom window treatments in the world, Blinds.com is on a mission to become the global leader in selling complex, configurable products on the web. Launched with humble beginnings in founder and CEO Jay Steinfeld's garage in 1996, Blinds.com has grown by leaps and bounds over the past 15 years and has recently merged with The Home Depot.
Perks at Blinds.com include Fresh Fruit Mondays and plenty of parties with cake and candy bowls. Every Friday, for instance, Blinds.com's team gathers for the weekly all-hands called "Say Jay." Say Jay is not only an effective way to promote open communication, but it's also a great excuse to celebrate weekly accomplishments over cake.
6. Bionest Partners
Founded in 2003, Bionest Partners is a strategy consultancy company specializing in the life sciences. Bionest assists clients big and small—from startups to mid-sized biotech companies to big pharma firms. The company's expert consultants advise clients on strategic, financial, and operational issues around the world, with international teams located in Paris, London, San Diego, Tokyo, and Munich.
In order to keep its consultants connected, Bionest Partners hosts weekly "BLTs"—or Bionest Lunch Talks—for co-workers to get to know each other better over good food. During these lunches, employees put on interesting, informative talks about different industry topics and get the opportunity to share their expertise. In other words, food at Bionest is closely tied to community building and engaged learning.
7. Lyft
Lyft is a friendly, affordable ride whenever you need one. Users download the app, request a ride, and get picked up by a friendly driver—all within minutes. The company believes that transportation brings people together and is revolutionizing the way individuals get from point A to point B.
Lyft provides fresh and healthy lunches for employees five days a week, and it's a given that the kitchens are always stocked with delicious food and drinks. And, because Lyft wants happy users, happy drivers, and a happy team, every Thursday team members head to the brewery across the street to celebrate the end of the work week. Oh, and the team's most sacred tradition? Bagel Wednesdays.
8. Pinsight Media+
Powered by Sprint, Pinsight Media+ is a mobile media company committed to connecting brands and mobile users with valuable information. The organization does this through a variety of mobile advertising, mobile commerce, analytics, offers, and other premium services. The Pinsight Media+ team also works directly with brands, advertisers, and app developers to reach more than 50 million customers.
Located in downtown Kansas City, the Pinsight Media+'s headquarters is a uniquely designed space boasting meeting rooms surrounded by glass panes. Its office, however, wouldn't be complete without the fully stocked kitchen that always provides unlimited snacks and treats. Employees see the never-ending supply of food as a major factor in making the Pinsight Media+ office a warm, family-friendly environment.
9. PayPal
PayPal is revolutionizing the future of payments around the globe. It's the safe and secure service allowing users to send money and accept payments via online and mobile platforms. With the company's growing network of worldwide partners, more and more brick-and-mortar businesses are allowing customers to leave their wallets at home and pay for goods using PayPal products.
Inside PayPal's office, the cafeteria serves fresh organic food every day, and grocery shopping can be done onsite at the farmer's market every Wednesday. Busy working parents especially enjoy these perks, and software development director Aanan Contractor shares that working at PayPal makes her life significantly easier because of them.
10. ZeroCater
A catering concierge service, ZeroCater coordinates meal deliveries from amazing food vendors to hundreds of companies. Taking every team's dietary needs and budget restrictions into account, ZeroCater fine-tunes menus to suit unique palates and partners with the best local restaurants, caterers, and chefs to ensure food always arrives on schedule.
To help other companies plan and execute the perfect menus, ZeroCater looks for one quality above all else in its team—an obsession with food. Employee benefits are, therefore, quite food-centered. They include everything from daily catered lunches to outings like wine tastings in Napa Valley. Oh, and every employee receives a $500 annual allowance to attend cooking classes. It's quite clear that the foodie love permeates all aspects of ZeroCater's company culture.
Want to see how your company can be featured on a list like this? Email sales@themuse.com.