13 Companies That Love Summer Just as Much as You Do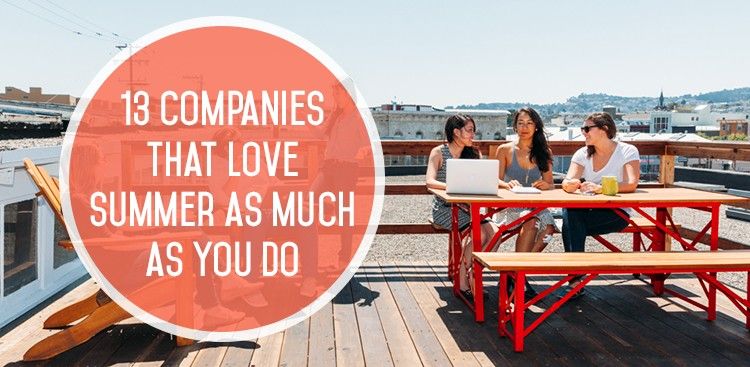 After a long, gloomy winter, there's nothing better than three months of bright blue days, barbeque parties, beach trips, and pool fests. Oh yeah—except Monday through Friday, we're only dreaming of all those awesome summer perks, because we're still at our desks, shivering in the blasting AC.
But if you work at one of these 13 companies, you won't have to miss out on all the warm-weather fun. Check out their awesome summer policies and programs (ice cream trucks! European getaways!) and then apply to join in on the fun; they're all looking for new people to join their teams now!
1. Eventbrite
Eventbrite is the global marketplace for live events—so it's hardly surprising employees are always getting opportunities to mix business with pleasure. Summer is "Festival Season," which means the team is being deployed all over the world to help out with (and of course, enjoy) some of Eventbrite's biggest events.
Getting to travel to cool places with your colleagues to see your hard work in action? Awesome. Taking party buses from the office to attend events like Makers Faire and Bottle Rock? Awesome. Building your career in the process? Most awesome of all.
2. Hotwire PR
Hotwire is one of the fastest-growing PR and communications agencies on the planet. And it's based in two of the most innovative, creative cities on the planet: NYC and San Francisco.
However, if you work for Hotwire, those aren't the only sweet destinations you'll frequent. Every summer, the entire team flies to Europe for a company bootcamp—past host cities have included London, Paris, Munich, and Madrid. Culture, bonding, and brainstorming in an exotic locale? It doesn't get much better than that.
3. Twice
Imagine sitting at your desk at Twice, the online marketplace for secondhand clothes, when you hear the familiar jingle of the ice cream truck. Then the CEO says, "Surprise! Have some ice cream on us." That's right—Twice hired ice cream trucks for spontaneous visits to the office and warehouse last summer.
They were so popular, the company is doing it again this year. And we should mention this isn't your basic cone. Nope, Twice springs for gourmet dessert, treating the team to ice cream tacos, hand-crafted organic soft serve, and more.
4. Balsam Brands
When you're an e-commerce site whose main product is amazingly realistic Christmas trees, having a holiday party in December can mess with your busiest season.
Instead, Balsam Brands has a Christmas in July dinner for all of its team members and their plus-ones. One year, the party took place on a dinner cruise in the Bay; another year, everyone went to Giants game; and another, employees loosened their belts a lot to enjoy a high-class Italian meal.
And this summer, the company is holding its first-ever employees-only sample sale. It's literally Christmas in July.
5. Boost Media
Boost Media is a crowdsourced creative optimization platform. Actually, it's the only crowdsourced creative optimization platform, which means every day, its employees get the opportunity to change what online advertising looks like. They've had a lot of wins lately, so management treated everyone to a summery Boost Media Luau.
Boosters showed up at the CRO's home in their best Hawaiian ensembles. Not only was there a trophy for the most authentic outfit, there was also basketball, bocce ball, ping-pong, corn hole, and even a pig on a spit.
6. The Standard
The question is not what fun summertime perks The Standard employees enjoy—it's what fun summertime perks they don't enjoy.
This boutique hotel chain throws pool parties at its LA location, hosts paddleboarding and sunrise yoga at its Miami location, and offers beer garden visits and poetry readings at its New York City spots. And that's the short list.
It's no wonder Jessica Fiorio, Associate Director of Sales, says, "To work here as a staff member is almost as fun as it is to stay here as a guest."
7. Shutterstock
Each summer, Shutterstock holds a legendary White Party. But to be fair, this media company's bashes are year-round. We're talking holiday celebrations around the world, like Ugly Sweater Parties in Germany and ice skating outings in London. There's also daily gaming competitions (sometimes friendly, sometimes fierce), weekly happy hours, and after-work karaoke.
"We also have free food, free massages—the massages are my favorite," adds Fatima Bocoum, an account executive for Shutterstock's French market.
So while Shutterstock definitely belongs on the list of companies that love summer as much as you do, let's face it—it also belongs on the list of companies that love life just as much as you do.
8. Core Digital Media
One of the main reasons Core Digital Media is an industry leader in direct-response marketing? Its dynamic culture and flexible employees. One of the changes team members have had no trouble adapting to is the company's summer schedule. For the third year in a row, employees are working nine-hour days Monday through Thursday and leaving at noon on Friday. Pretty sweet deal.
And for the athletes (and aspiring athletes) out there, you'll be happy to hear Core Digital Media also has a dodgeball and kickball tournament that's enthusiastically attended.
9. Hudl
It's no surprise that Hudl, an online platform that coaches and players use to collaborate, has a sports-themed summer program. One special Friday during the summer, employees take off work to compete in the "Hudl Open" golf tournament.
The winner gets an awesome trophy—and of course, bragging rights.
But Hudl co-workers aren't just competing in sports events. They're also watching them. One of the many perks of working at the company is receiving two annual free tickets to see one of Hudl's partners on the field.
10. Genesys
This customer service solutions company has a very full summer roster for its workers. If you're a Star Wars fan, you'll be pumped to learn that Genesys' Daly City location is holding a Star Wars movie series to celebrate the new Star Wars: Episode VII - The Force Awakens.
There are also regular summer happy hours. And lastly, the team members are proud of their participation in the Tour de Cure, a June bike ride put on by the American Diabetes Association.
11. Zoosk
At Zoosk, the number one online dating app on the market, employees celebrate summer with picnics and potlucks. But really, it feels like summer 365 days a year. Not only is the team based in the beautiful (and temperate!) city of San Francisco, but the office policies really promote a relaxed, casual working environment.
Thanks to the open invitation to bring your dog to work and the foosball tables, ping-pong tables, and a diner-themed kitchen, tackling your projects will feel more like play than work.
12. Mutual Mobile
This innovative tech agency has a cool summer tradition: beach volleyball tournaments. You'll definitely enjoy digging and spiking all over the sand—or, you know, soaking up the sun on a nearby towel, if that's more your style.
But it doesn't matter whether you're a hard-core volleyballer or not. The employees at Mutual Mobile are super diverse—from their backgrounds, skill sets, experiences, and yes, athletic capabilities—but they're united by a passion for tech and a desire to be on the cutting edge. If you can say the same about yourself, you'll definitely love working here during every season!
13. Nitro
More than 50% of Fortune 500 companies rely on Nitro's super cool software. And COO Gina O'Reilly credits that to the team's dedication to their mission. "We're genuinely trying to make people's lives easier with the products and solutions we offer," she says.
What does that have to do with summer? Well, with its "Nitro Gives" initiative, the company is taking its world-improvement focus to the beach. Employees get the chance to participate in fun yet productive beach clean-ups. And there are many more volunteer opportunities to come!
Want to see how your company can be featured on a list like this? Email sales@themuse.com.