13 Companies That Will Help You Seriously Grow Your Career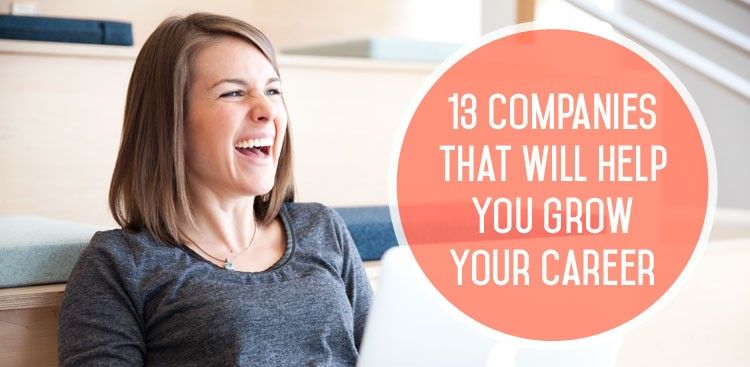 Companies committed to their growth strategies are exciting. But what's even more exciting is when companies believe that employees' individual growth is just as important. After all, when employees have the support they need to become their best selves, they're even more inspired to advance the company, and everyone wins.
Whether you're a new grad looking for a first job that will jump start your career or someone who always wants to keep reaching for the next level, below are companies that offer training programs, positions with growth potential, and other professional development opportunities to help you be the best you can be.
Oh, and great news: They're all hiring right now.
1. Networked Insights
Marketing analytics company Networked Insights offers entry-level openings in departments ranging from engineering and marketing to finance and product management. Whether you're interested in the software engineer position, the configuration associate analyst gig, or another role completely, Networked Insights' employee-centric culture provides plenty of opportunities for growth.
2. Bridgespan
At Bridgespan, a strategy consulting firm that works with nonprofits, no day at work is ever the same, with employees playing versatile roles and applying different skills to accomplish extraordinary tasks. And, because employees are eager to step up and take action that could potentially change the world, they're always developing new skills.
3. Bozzuto
The entry-level positions available at real estate services company Bozzuto will develop your skills in fields ranging from customer service to public relations. You'll gain invaluable business and customer relationship-building experience that will help you grow in the real estate and hospitality industries—making the possibilities for professional development endless.
4. Eventbrite
Personal growth is closely linked with company growth at Eventbrite, the online marketplace for live events. That's because the company empowers its employees to be ownership driven and ties individual goals to the broader organizational mission. Hence, opportunities to learn and share new dynamic experiences with co-workers make every day at Eventbrite an adventurous journey to becoming your best possible self.
5. General Assembly
As a global education company, it's not surprising that General Assembly provides its employees with opportunities to keep getting better. Its full-time team members can take any part-time course or workshop for free and even have the opportunity to teach classes on their own. With a social, friendly culture, employees play the roles of both students and instructors in the classroom.
6. eMarketer
Constant learning is ingrained in the eMarketer culture, with reading as an essential practice. To remain well positioned as the go-to company for digital expertise, eMarketer's CEO passes around highly recommended books and thought-provoking business bestsellers for teams to read and be inspired by.
7. Ideal Properties Group
"Ideal Properties Group is really good at taking people who have no sales or real estate background and helping them discover how to best do this job," shares real estate broker Andrew Westphal. The company prides itself on creating a solid, hands-on, and truly useful training program that helps hone employees' budding sales skills.
8. TripleLift
TripleLift is serious about fostering a community of learners. Every week, the company holds a Tech Trek where co-workers share new projects they're currently working on. The reason? TripleLift wants to give employees a platform to teach each other what they're doing, so they have constant access to new information and the teachers become subject experts.
9. Bitnami
With over 100 server applications and dev stacks available in a convenient one-stop shop, Bitnami has become a key hub for tech enthusiasts everywhere. Some advice for those looking to join Bitnami's energetic team? Office manager Miranda Myerholtz shares that an eagerness to grow is essential—and that applicants should expect to go beyond job descriptions and develop professionally by learning new tasks and working across teams.
10. Conversant
Conversant is a media company that facilitates online advertising through the power of personalization, and it currently has openings for plenty of entry-level positions for you to launch your career and grow in your field. Whether you'd like to develop your sales skills as an account executive, increase your programming proficiency as a publisher integration engineer, or develop your expertise in operations as an associate system support specialist, there's bound to be a position for you.
11. OwnLocal
OwnLocal, the digital ad agency for local media, wants its employees to be their best. The company strongly encourages employees to take on new tasks, and it always supports them taking time to learn from each other. OwnLocal's main goal is ensuring that team members acquire skills they can use throughout their careers and offers many programs—including a monthly book club—to support that goal.
12. TNTP
For site manager Sara Bokhari, one of her favorite parts of working for educational organization TNTP is training people to become better teachers. Last summer, she worked with 25 new hires with the NY Department of Education and spent two weeks orienting and arming them with teaching skills. Bokhari loves that TNTP is a place where, as long as you're passionate about education and willing to work hard, you can thrive.
13. HBO
HBO takes learning quite seriously. Through its Learn@HBO Program, the company offers a wide selection of courses as well as partial tuition coverage for full-time employees hoping to continue their education. Employees are always encouraged to take educational field trips and learn new technology with fellow co-workers.