Caregivers Stole War Hero's Medals, Jewelry From Vulnerable Adults
Two women preyed on a 91-year-old widow to steal jewelry valued at nearly $12,000 bought by her late husband and also swiped a dementia sufferer's rare WWI medals.
Kirsty Wallis, 35, and Angela Lawrence, 48, scammed the retiree inside her home at night after breaking into her key safe.
After escaping with the widow's beloved gifts worth 10,000 British pounds (nearly $12,000) from her late husband, they fraudulently used her bank card to buy chocolate and wine.
The pair committed their crime after Wallis targeted another client suffering dementia, stealing his father's rare WWI medals, then selling them as scrap metal.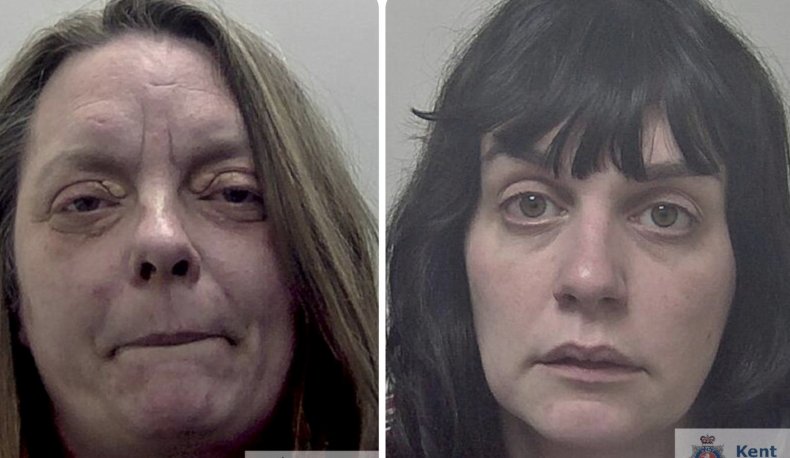 Dressed in her caregiver uniform, Wallis crept into Gladys Spratt's home one night in Ashford, Kent, in southern England, in October 2019.
The elder Spratt was woken up and became confused by Wallis' and Lawrence's presence, as she only has daily visits from the care company.
But mother-of-three Wallis lied, claiming that the police had asked her to pay the visit after a disturbance in the area.
Spratt noticed Lawrence picked up her dressing gown and placed it over a bag which she kept next to her bed.
The next morning, Spratt discovered her bank cards, bus pass, and jewelry had disappeared.
A police investigation revealed that moments later, Lawrence used Spratts' bank card to buy fuel, wine, and chocolate at a gas station around 20 miles away.
That same afternoon, Wallis received 150 British pounds (about $179) for scrap gold and silver from A Simmonds jewelers just 15 miles from the scene of the burglary.
None of the jewelry has been recovered by police.
During the subsequent probe, officers discovered an antique dealer's receipt in Wallis' car for medals, coins and cutlery sold for 45 British pounds ($53).
The medals were originally awarded to S. A. Benson for his heroics during WWI and later passed down to son Eric as heirlooms.
But after Eric developed dementia, Wallis became his caregiver and then stole them from his home in Canterbury.
Both defendants were jailed Thursday for a combined sentence of more than four years for burglary and theft at Canterbury Crown Court.
Eric's niece Christine told the court in a victim impact statement: "Memories and thoughts around our aunty and uncle are tarnished by the selling of our grandfather's medals.
"Our memories of him are now carrying the thoughts of this crime."
The Benson family appeared in the public gallery to learn Wallis' fate.
Sitting side-by-side in the dock, Wallis and Lawrence cast their eyes to the floor throughout the hearing.
But Judge Catherine Brown ordered the thieves to look her in the eye as she delivered her remarks.
She told the defendants: "Many elderly people really resent the point when they need strangers to come into their homes, and offenses like this are just the sort of offenses that increase the concern.
"These were despicable and heartless crimes committed against two elderly and vulnerable people."
Handing down a sentence, the judge dismissed Wallis' claims that she was remorseful as "self-pity."
She told Lawrence the remorse she had shown since her offending had been "limited."
Wallis, of Herne Bay, Kent, was handed a sentence of two years and six months after previously pleading guilty to burglary and theft.
Lawrence, of Ashford, Kent, was sentenced to a year and nine months in prison after previously admitting to burglary and fraud.
Their friends and family in the public gallery appeared visibly distraught and could be heard gasping moments after the sentences were delivered.
Ian Bond, representing Wallis, argued she was remorseful, entered an early guilty plea and had described her own behavior as "disgusting."
He said she voiced anxiety about the welfare of her children if she was jailed but conceded she was unable to fully compensate her victim financially for the stolen items.
Wallis resigned from the care company for which she worked in October 2019.
Kerry Waitt, representing Lawrence, said the defendant felt a "great sense of shame" and regarded herself an otherwise "honest and law-abiding citizen."
He told the court Lawrence's involvement had brought about a "stain on her character."
Constable Adam Pope, Kent Police's investigating officer, said after the hearing: "The theft of these items from victims who were vulnerable due to their age was a gross breach of trust by these women, one of whom had been paid to care for the elderly.
"I would like to praise the alertness of the victim who was woken in the middle of the night, and whose assistance has helped bring these offenders to justice.
"Kent Police takes burglary extremely seriously and investigators will work through all lines of inquiry to bring thieves before the courts."
Produced in association with SWNS.
This story was provided to Newsweek by Zenger News.