I'm living with Rosemary Raymond in Charing, a beautiful village in the south-west of England.
I came to Rosemary's home for just two weeks initially, but then the COVID-19 pandemic hit, and we realised that my staying for the 12 weeks—the length of time that the U.K government recommended "extremely vulnerable" people like Rosemary to stay at home— would be safer for her, so I agreed to stay on.
I spend part of the year in Ibiza assisting with hospitality and fundraising events. It's seasonal, so when things get quiet there, I come back to England and work as a live-in carer. It's a job I've been doing on and off for the past five years.
Obviously I am working as a carer for Rosemary, but I'm a companion too. Right from the word go, I didn't want this to just be a carer situation, because we both needed a friend. We are everything to each other at the moment.
So we sat down and had a chat. I thought the best way to deal with it was to suggest we create a really harmonious situation between ourselves and have a bit of fun with it. It's a long time to spend together, and as Rosemary is 96-years-old and is vulnerable, neither of us knew what would happen, or whether she would get ill.
So we just decided to just take every day as it comes. That's where cooking different dishes from around the world came in. Rosemary has a really pretty little garden but she can't go outside at the moment. I love to cook and thought it would be a lovely idea to bring the flowers inside and onto our plates.
The first global dish I created for Rosemary was moussaka—a Greek dish. There were some lovely blue irises in the garden which made me think of the sea, and the Mediterranean. And I also made the plate for the moussaka look Mediterranean with the irises. And then I made an Indian dish—going to India is on my bucket list—a very mild curry with mango chutney, and I picked an orange flower from the garden to go with that.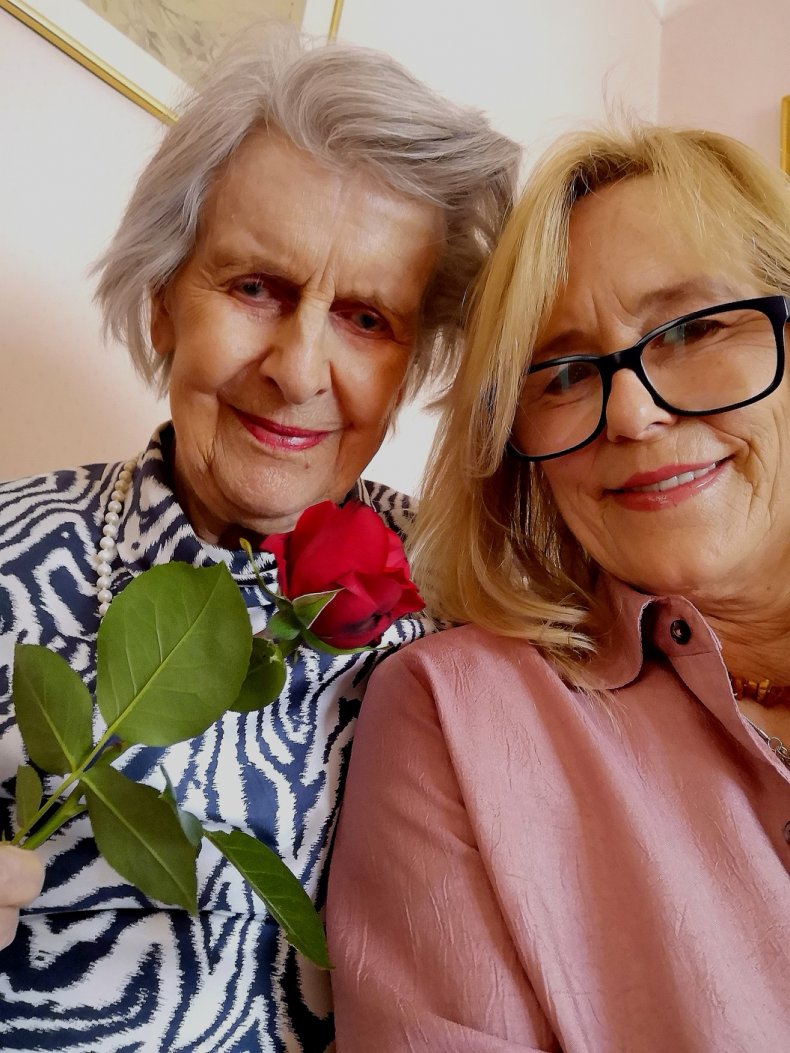 We've had chilli con carne, which is said to come from Mexico, and we've had fish dishes from Spain, with roasted tomatoes. Whatever flower has popped up in the garden that day inspires the dish and will also go on the plate. We don't eat the flowers though!
She knows that I'm creating in the kitchen while she's relaxing and reading the paper, and when I serve her lunch, we can chat about it. It gives us something to discuss every day. She might have been to that country and have a story about it. So it will jog her memory and she'll tell a story attached to the dish or flower. It's been a lovely experience and I'm really grateful to be able to do that for her.
Rosemary has been a very giving person all of her life, and she's been through hardships. She was a nurse working at St Thomas' Hospital in London during World War Two, and survived the Blitz. She was also a Reiki practitioner which is something I am interested in, and a marriage guidance counsellor. She brought up three lovely boys, Crispin, Jeremy and Giles, and though her husband passed away in an accident some time ago, she is now a grandmother too.
It took a while for us to realize that Rosemary's daily life would change quite a bit. She has some amazing friends in the village here, who she'd normally see. But they've been posting cards through the letter box, and have helped us with shopping. One good friend comes to the window to visit and assist Rosemary with her embroidery. We are surrounded by kind, helpful people. They have been amazing.
I feel Rosemary is handling this lockdown situation really well, and I think it helps that we keep things light-hearted.
She'll want to watch her TV, and we'll chat about the paper together. We've got a really good routine. We know the times when we want to rest, and when we don't want company. It just balances and it works. We eat chocolate too, lots of chocolate.
Rosemary's son sent us a massive box of lovely chocolate, and I got into melting it down and making shapes; towers and love hearts.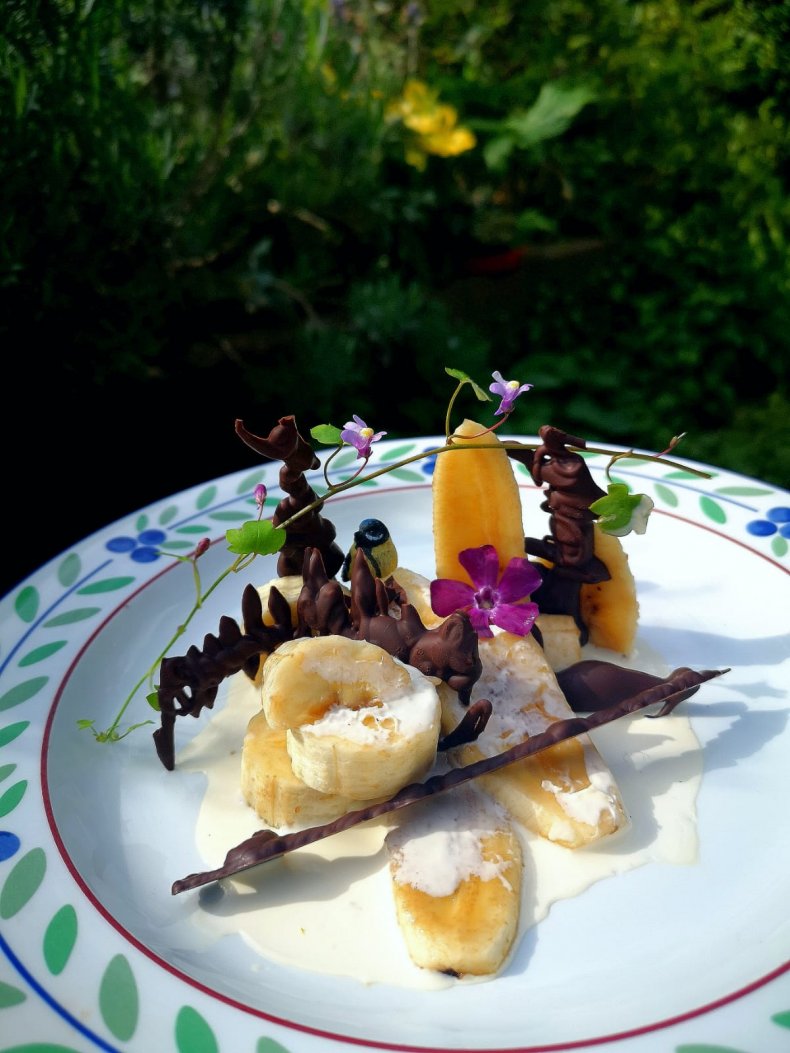 I am being overly caring. Rosemary has had a hip replacement, so I am a little concerned about getting her outside into the garden, in case she falls. But she sits right beside the window.
I have to prepare myself, because if Rosemary did get the virus, she wouldn't be able to see her family, it would just be me. I did find that aspect of things quite hard as I would be the last person that she would see, but I got over it quite quickly because she's not showing any symptoms.
I feel like I've also gotten used to lockdown now. Obviously I'm missing my friends and family, but in my spare time I design and create silk dresses. I have family and friends who are constantly calling, but the rapport that I have with Rosemary is all I need to be honest.
It's so important to have each generation in your life, and keep that balance. Older people have all had busy lives—they've had babies, held down jobs, and created homes. Just because people who are much older are not able to do as much now, it doesn't mean they never have. It's important to maintain seeing them as a whole person, not just as an elderly person who has nothing to give.
Elderly people have plenty to give; they have wonderful stories and have had full lives to talk about. And they've been through an awful lot more than we did, so I have a huge amount of respect for the elderly.
I think sometimes the younger generation rush too much, and they don't necessarily give the older generation much thought. But I think it's just a wonderful job, to care for somebody. To try and make somebody else a bit happier. Rosemary has had quite a life, she's an amazing woman and a very good friend. She's very well loved, and she's very loving, kind and considerate.
With the job of caring for an elderly person, anything could happen, so you are on high alert the whole time. That's why we have two weeks off after each two week live-in shift. Because you are on duty, all day and all night, every day.
It has been hard in some ways, but I am managing it properly, and after I have had time off I will definitely come back and care for Rosemary again. I would be very happy to take Rosemary for walks around her stunning little village, in her wheelchair of course, which she jokingly calls her "pram".
Every single day, Rosemary thanks me from the bottom of her heart. She says when I'm here she feels ok, and that's what we as carers are trying to do.
She holds my hand, she looks at me and says "thank you for everything you've done for me today." When you get that, what else would you want to be doing?
Julie Riddell works part-time as live-in carer, and is placed with clients by Consultus Care and Nursing. She also spends time in Ibiza each year, gathering inspiration for art projects and assisting with fundraising events.
The views expressed in this piece are the writer's own.
As told to Jenny Haward