Aircraft colossus Airbus has announced plans to convert the luggage storage areas of its planes into sleeping and recreation areas for passengers.
Airbus is partnering with Zodiac Aerospace to develop dedicated sleeping modules which are interchangeable with luggage containers. According to a joint press release, the companies say the plan will offer travelers better value and choice.
The modules could also have recreational areas including children's play pens, lounge rooms and conference facilities.
The press release explained that aircraft cargo floor and loading systems would not be affected by the addition of passenger modules, as they would sit directly on top of it. It added that the modules could be quickly swapped out during a typical airport turnaround.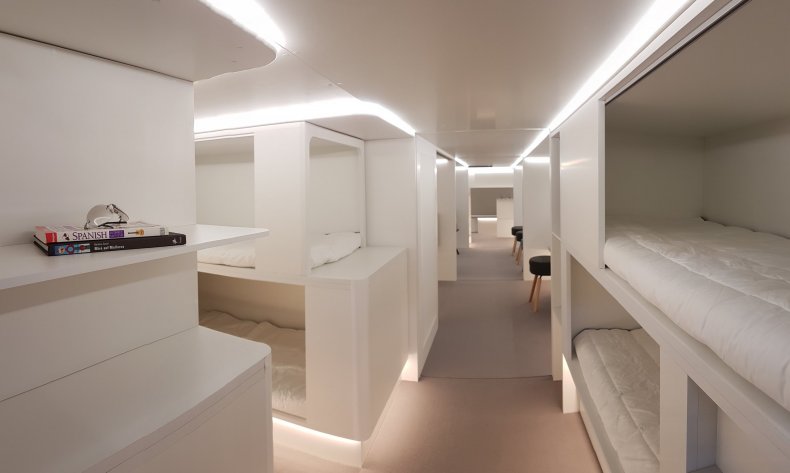 Airbus hopes the new compartments will be available on its A330 wide-body jets from as soon as 2020. The company is also looking into fitting them into A350 XWB airliners.
The plans are "a step change towards passenger comfort," according to Geoff Pinner, head of the Airbus cabin and cargo program. "We have already received very positive feedback from several airlines on our first mock-ups."
Though the exact nature of the compartments will be decided by airlines, the Airbus-Zodiac press release included several suggested mock-ups. They included a standard lounge with seating space and refreshments, a "kids and family zone" play area and a conference room with screens covering the walls. One even included a medical center.

Due to safety regulations, the berths will only be available for some parts of a flight. "The modules would not be occupied during takeoff or landing," Airbus spokesman Martin Fendt told USA Today. "These underfloor sleeping berths would be aimed more towards economy class market, and would be available for a lower price for a passenger than a premium class flatbed seat."