Cargo Ship Carrying Luxury Cars to Be Towed to Bahamas as Fire Subsides
A cargo ship in the mid-Atlantic near Portugal's Azores Islands is expected to be towed to the Bahamas as a result of a fire that has burned for nearly a week.
Portuguese Air Force helicopters evacuated 22 crew members last week from the Felicity Ace, which has been on fire for six days. The 650-foot vessel is set to be towed after two ocean tugboats helped put out the fire, with two more tugboats on the way, the Associated Press reported.
The cargo ship was traveling from Germany to Rhode Island carrying about 4,000 luxury cars estimated to be worth $400 million. The cars included Volkswagen-owned brands such as Lamborghini, Porsche, Audi and Bentley, including several electric models, the Guardian reported.
The fire broke out Wednesday near the cargo deck where the vehicles were stored. By the time the alarms went off, there was too much smoke to figure out where the fire started, said port of Horta harbormaster Captain Joao Mendes Cabecas, on the Azorean island of Faial, according to AP.
The cause of the blaze is still unknown, although there are theories it was due to the lithium batteries in some of the electric vehicles, AP reported Cabecas said. The lithium batteries were "keeping the fire alive," Cabecas told Reuters.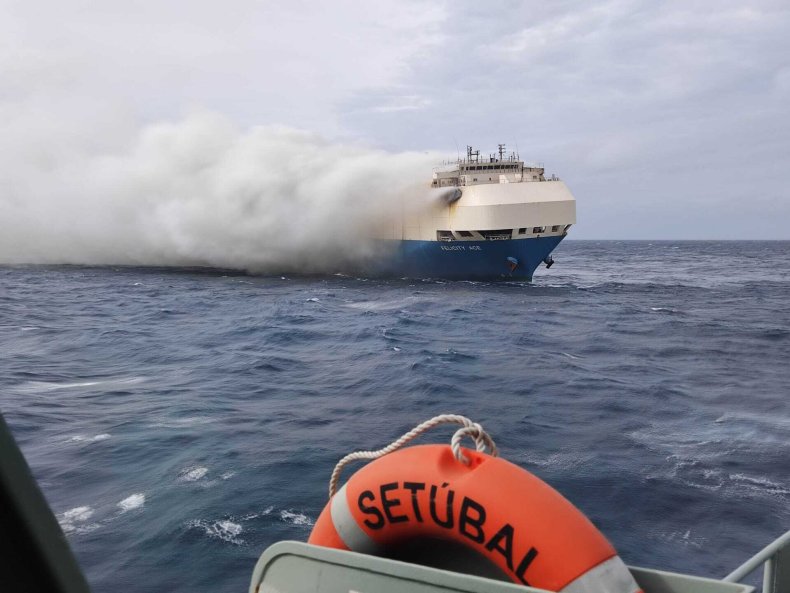 The fire could be extinguished only from the ship's exterior by trying to cool down its structure since it was too dangerous to try and go on board. The challenge with putting out the fire was that water does not stop lithium-ion batteries from burning, Cabecas told Reuters.
As of Tuesday, the flames could no longer be seen from the outside and Cabecas said salvage crews hope to be able to hook up a towline to the ship Wednesday, before it is expected to be brought to the Bahamas, AP reported.
The ship's operator, MOL Ship Management (Singapore), said there was no oil leakage from the fire and the vessel remains stable. When the ship is safe to board, there will be an assessment of salvage plans, the company said in astatement Tuesday.
Insurance experts at Russell Group told the Guardian on Monday that they expect the fire to result in at least $155 million in losses for Volkswagen. The car company said it is trying to get more information about the incident.
This isn't the first time Volkswagen has lost vehicles from a cargo ship at sea. In 2019, the Grande American was carrying more than 2,000 cars, including Audis and Porsches, when it caught fire and sank, Bloomberg reported.
Update 2/22/22, 10:23 a.m. ET: This article was updated with additional information.