Of Carhops and Cafeterias: 'To Live and Dine in L.A.' Tackles California's Historical Grub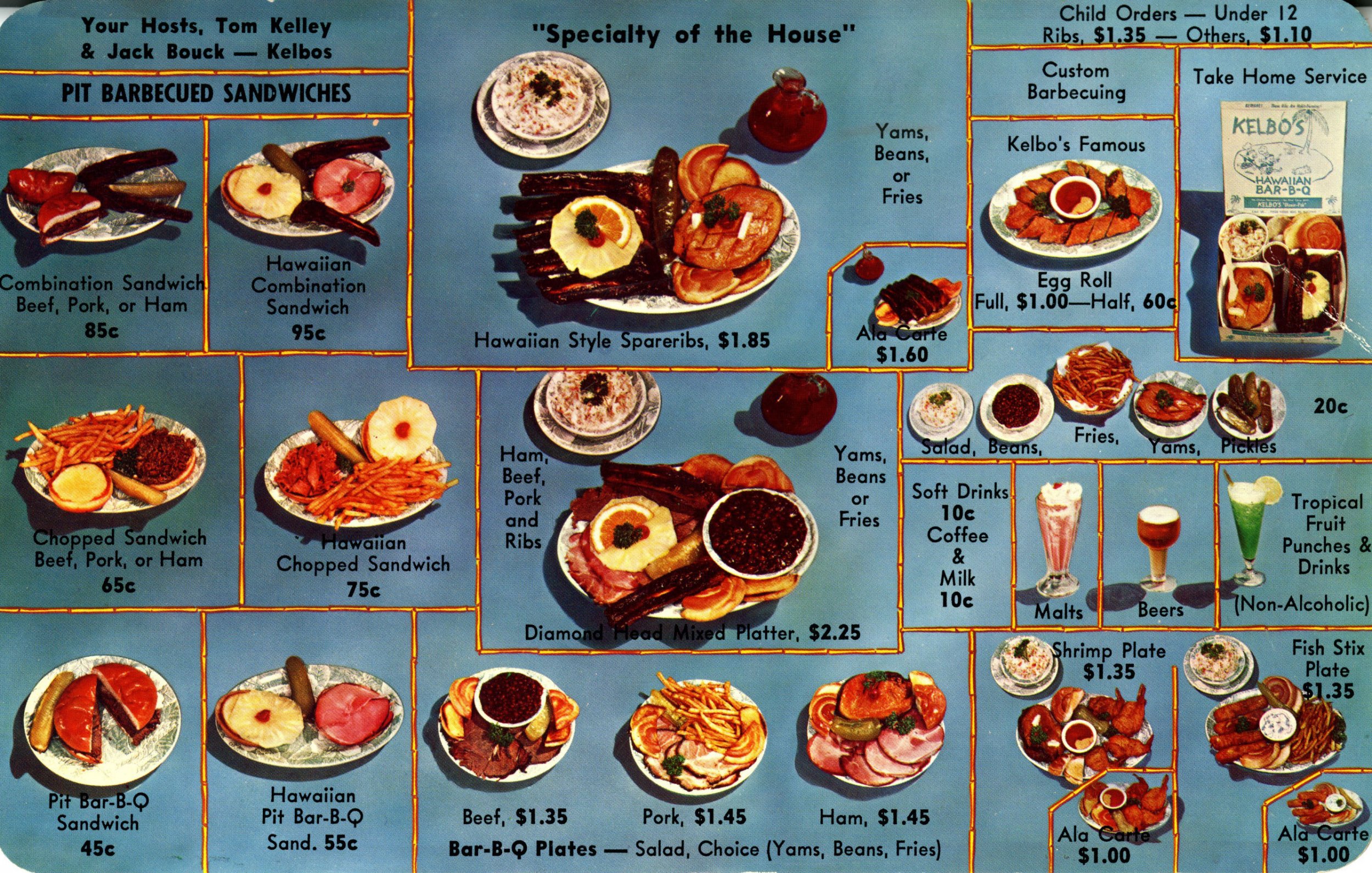 Does fear have a taste? Because that's certainly what the steaming plate of barbacoa roja de chivo in front of me at Guelaguetza, a bustling Oaxacan joint in Los Angeles's Koreatown, seems to be radiating. I must be trembling, because owner Bricia Lopez leans in. "Drizzle some sauce on it," she offers gently. She means goat juice, to be poured over a gargantuan baby goat taco; further proof that the mainstay Mexican joint—which recently received a James Beard American Classics award for its "timeless appeal" and traditional Oaxacan fare—is not for the lily-livered. I oblige, gingerly ladling it on, then take a sensible bite. The slow-cooked meat is sensational: generously spiced and so tender that I imagine during preparation it practically slid off the bone. I even allow the juice to trickle down my chin, caveman-esque, before taking a slug of michelada. Ignoring the rumbles gurgling from my stomach, I prepare myself for another bite.
For the past seven years, I've been strictly vegetarian—hence, this meat mountain shocked my system, leaving me feeling like a straight-edger who'd reached for the needle again. Yet it wasn't the promise of a high that made this vegetarian crack; it was simply the fear of missing out on an abridged food tour of Los Angeles organized by Josh Kun, a cultural studies professor at the University of Southern California's Annenberg School for Communication and Journalism. Given that Kun just wrote To Live and Dine in L.A.—an enticing book about Los Angeles grub, and a rare attempt to document the city's extensive and often (wrongfully) overlooked culinary history—I figured that nixing veggies for journalism would be gravy.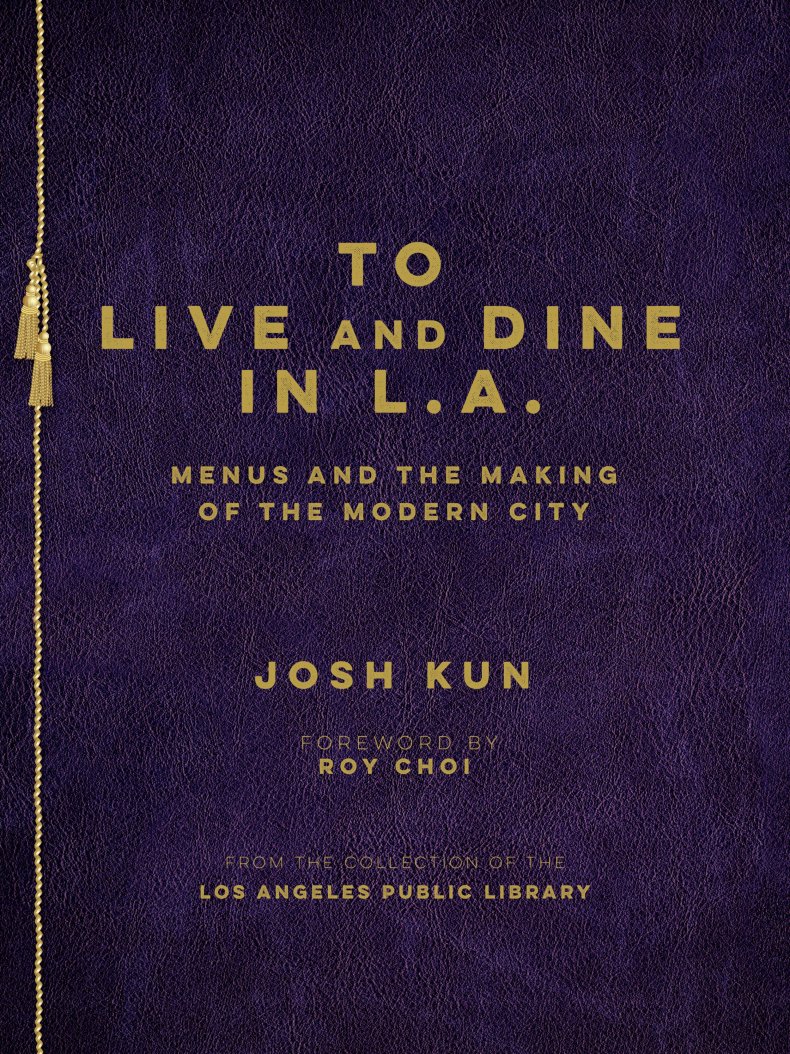 Through displaying photographs of vintage menus, To Live and Dine in L.A. not only celebrates the city's finest diners, drive-ins and dives, but also serves up a critical analysis of the socioeconomic disparity, racism and hunger that often accompany the culinary arts. But since Kun can't possibly arrange for us to sample a bite of each neighborhood in a single day, our brief food tour kicks off downtown, where historians have located L.A.'s first restaurants—at the Bella Union Hotel in 1849 and the first stand-alone joint, The Old American, in 1850. Don't let the name of the latter fool you, though; many of L.A.'s first restaurants predicted the current restaurant fusion craze, featuring Mexican, Chinese and American fare all at once. It's tough to imagine that this glittering center of skyscrapers is where the city's agricultural center flourished early on, at one time boasting so many vineyards that Kun quips, "There are still grapes in this city's crest." It's equally difficult to think that the neighboring foodie haven Grand Central Market, once upon a time the hub for families to purchase fresh produce, now hawks artisan almond-macadamia cappuccinos to über-hip clientele.
Our first stop on the tour is here—specifically, at Wexler's, a self-proclaimed "Jewish soul food deli" serving up neo-comfort grub such as the MacArthur Park (a sandwich dripping with smoked roast beef, Swiss cheese, coleslaw and Russian dressing), while Nate Dogg blasts overhead. Over countertop chocolate egg creams and lox bagels, we chat with owner Micah Wexler, who gave Kun the blessing to use the name "To Live and Dine in LA," after a 2013 culinary series he curated based on L.A. geography. While he wasn't directly involved with the book, he tells Newsweek that he hopes that it will perhaps help to satiate the city's appetite for destruction. "L.A. is all about tearing things down," he says. "Our cultural amnesia is deep."
To try to jog the culture's memory, To Live and Dine in L.A. oozes exquisite photographs of hundreds of vintage L.A.-area restaurant menus—from café staples such as the hat-shaped Brown Derby to banquet menus featuring Albert Einstein as a distinguished guest. The collection is curated from the Los Angeles Central Library's extensive menu archive, boasting 9,000 restaurant menus that were first compiled in the early 1980s by two science librarians.
It's easy to overlook a menu, which is exactly Kun's point. "Menus are stories—stories about the chef, for sure, how they see the world, how they've been shaped, where they're from, where they're at—but also the stories the chef wants to invent and spin for us, the eager readers with napkins on our laps hungry for a trip outside ourselves," he writes.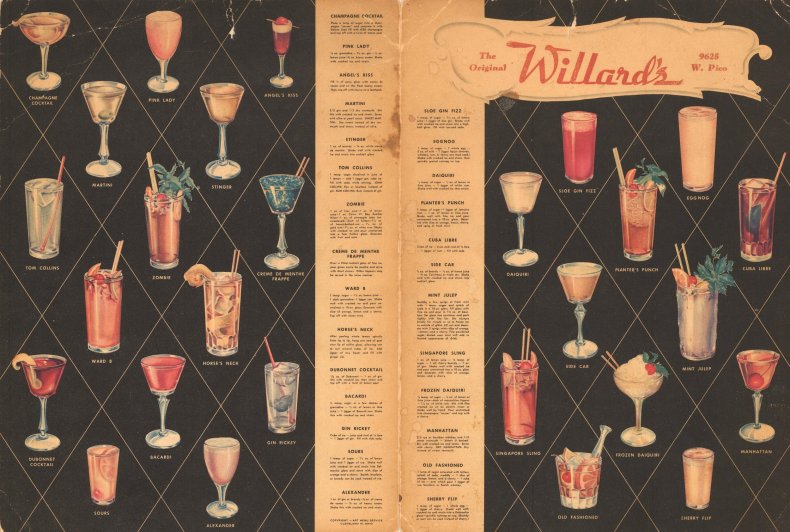 Sure, the pie à la mode and pancakes depicted in these menus are sumptuous to behold, but what makes To Live and Dine in L.A. critical to any diet is its analysis of what stories these menus tell about the city's ever-evolving patterns of cultural migration. For instance, one can see a curious smattering of breakfast selections at Tak's Coffee Shop; alongside the all-American patty melt, the café serves up the likes of Tommy's moco loco, oyako donburi and steak ranchero. It's entirely representative of its surrounding Inglewood, which was at first a hub for Japanese-Americans after World War II and evolved into a predominantly Latino and African-American neighborhood. Tak's chef Chino Bravo started as a dishwasher at another former beloved restaurant in the area, the Holiday Bowl, and learned to cook Japanese and Chinese fare from its chef while learning English. When the Bowl shuttered in 2000, Bravo scooped up those traditional recipes and took them to Tak's, splicing the menu with breakfast staples from his native Mexico to create a fusion as richly mixed-up as L.A.'s populace.
But let's not forget the book's secret ingredients, either: the thoughtful essays from well-regarded chefs and the clever "remixes" of historic menus from the likes of famed baker Nancy Silverton, 2014's winner of the James Beard Foundation's outstanding chef award. Roy Choi, the celebrity-chef owner of L.A.'s esteemed gourmet street food truck Kogi and a food justice activist, served as the book's "spiritual coach" and wrote its foreword. Even Choi was surprised by the menus' reach: "It made me relook at things like chop suey and all the racial implications there," he tells Newsweek. "And how Chinese food has evolved in America, how much the menus were hiding. I know [what's on the menu is] not the food the cooks were eating. What about all the menus we don't see? What was the working class eating at the time?"
Kun's book presents a slice of Los Angeles's fragmented history, tracing how it evolved from sparsely populated farmlands into Tinseltown. But it also unearths important narratives of race, class and gender divides in a city that somehow boasts 25,000 eateries while also earning the title of the United States' "epicenter of hunger" by the Food and Drug Administration for its high rates of food insecurity (1 in 10 Los Angeles area families) and the staggeringly low enrollment rates in the CalFresh food stamps program.
The book's release is accompanied by an exhibit at the downtown Los Angeles Central Library, which features a smattering of the menus in the beefy collection. It's less a museum piece than it is an interactive installation: The menus are set underneath a table, which shape-shifts from a banquet table to lunch counters and is even set with corresponding accoutrements, such as cloth napkins and plastic utensils, respectively. The hope is that given the installation's cohesive design, the menus will gather less dust and spur more conversation. Naturally, the idea came from a menu itself. "On the bottom of its menus, [Jerry's Joint] had a saying: 'That strange place of elbowing,'" Kun says. "I loved that idea that a restaurant was a place where you'd literally rub elbows with somebody who might be a stranger, that could be a place of encounter across culture, gender, class."
Ranging from 1875 through the present, the menus in the L.A. Central Library's collection range from thickly cut Tropicália-themed cards (such as that of King's Tropical Inn, thought to be the city's first themed restaurant), to an intricate fable scene printed on the Pig 'n Whistle, from 1919. Some menus, such as that of Bullock's Tea Room, are actual maps, featuring a detachable postcard portion with that night's 15 special to send family and friends back home—perhaps the first iteration of the now-ubiquitous photo-sharing app Instagram.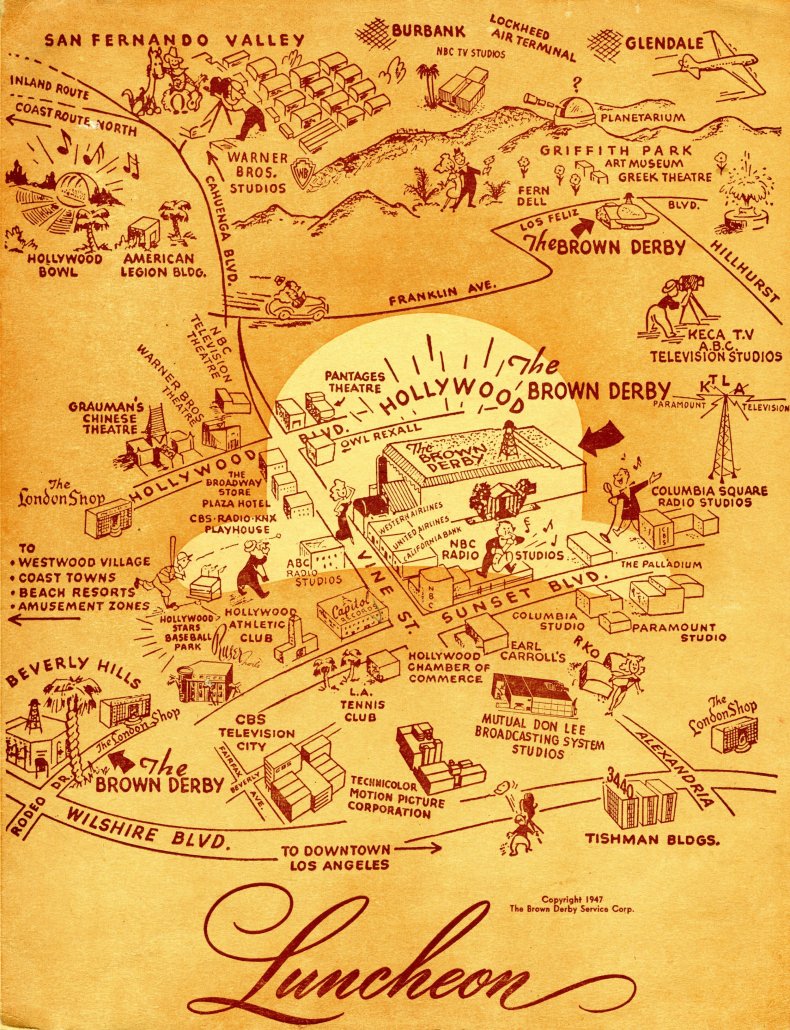 The exhibit opened on June 13 and runs through November, accompanied by live events with celebrity chefs and musicians. Diners from afar can still dig in to the menus on the library's website, where some of L.A.'s most beloved establishments, such as Clifton's Cafeteria, have had their selections digitized.
To chart a world, one must attempt to sniff out its edges. But that's tricky in L.A., whose environs are so vast they spill into canyons, beaches and spidery county lines. So Kun employed an industrious student research volunteer at the University of Southern California to make a digital map with pinpoints marking the location of every menu in the library's collection. Through this, he was able to map out post-war patterns of migration in Los Angeles, what kicked off a shift in food distribution in neighborhoods like Watts, as well as past and present clusters of culinary renaissance.
Absences on the digital map were just as telling, exposing the vast areas of the city known as "food deserts," defined as "parts of the country vapid of fresh fruit, vegetables, and other healthful whole foods, usually found in impoverished areas" by the U.S. Department of Agriculture. The problem of food scarcity starts early, too: nearly 85 percent of all attendees of Los Angeles Unified School District come from food-insecure homes, and the book reiterates that healthy school lunches are of utmost importance. Kun and crew hope that laying this information bare will inspire further movements toward widespread food justice, in lieu of foodie culture's search for the latest fad dessert. "In the foodie world of finding the latest, best doughnut or fascination, we get so caught up," Choi says. "This book tells us a lot about where food is not going as well."
While L.A. gave birth to the juice craze, the cheeseburger, the carhop, cafeteria menus and themed roadside establishments as we know them, the city has long suffered from the lack of a singular culinary identity—to the point where a Los Angeles Times article once desperately pleaded: "Wanted: a dish that will make Los Angeles and California distinctive in the science of cookery." The menus compiled in To Live in Dine in L.A. make for a delectable meditation on how very real problems of impoverishment, hunger and inequality have long bubbled beneath the city's exterior of pink stucco and palm trees.
Which brings us to the aforementioned mom-and-pop joint Guelaguetza, the last stop on our food tour. This famed Oaxacan establishment is known for its twist on mole sauce and an extensive mezcal bar, and it's nestled in the pulsing heart of Koreatown, a mere stone's throw from West Hollywood. This is peak L.A. dining, indeed a strange place of elbowing where entire extended families, hungover groups of friends and afternoon Tinder dates coexist in a harmonious hum of horchata and huevos rancheros. I stare down at Guelaguetza's extensive menu with hungry eyes, all the while clinking glasses of smoky mezcal with a bevy of new friends, sampling smoked cactus and grasshopper, mole-encrusted chicken and other delights. As for dessert? It was flan, and it tasted like something I'd not savored in some time: inspiration.