Carjacking Bear Scared Off by People Screaming in Hilarious Resurfaced Clip
A resurfaced video showing a bear being scared away after it was caught opening the door to a Mercedes has gone viral on Reddit's "Unexpected."
First shared on Instagram and TikTok in 2020, the video was re-posted by u/billubaadshah on Friday. It received more than 51,000 votes and sparked a reaction among viewers.
"Don't f#ck with the Mercedes," the title of the post read.
A black bear is seen walking across a driveway toward a parked Mercedes in North Carolina. It peeks through the window before it opened the door.
A group of people began screaming at the bear from a distance, and the bear stood up on its hind legs to get a better look at where the noise was coming from.
Seemingly confused, the bear slowly backed away from the car on its hind legs before it dropped down on all fours and ran off into the woods.
According to the North Carolina Wildlife Resources Commission, black bears are typically shy toward humans.
If someone comes across a bear, the agency encourages them to remain calm.
"Back away slowly and once you are a safe distance away from the bear, make lots of noise to frighten the bear away," the organization stated.
It is unlikely that a black bear will be aggressive toward humans, but people are urged to be mindful of not interacting with them.
"Frequent human-bear contact can cause bears to become more bold and visible around humans," North Carolina Wildlife said.
Nearly two years later, people are still loving the video.
A Reddit user pointed out that the screams let out by one of the men in the video were similar to those of cartoon character Homer Simpson.
"All I heard was Homer screaming," a commenter wrote. "Chefs kiss."
"Hahaha man I'm dying [right now], this was perfect," another user wrote. "The bear was like 'wth is going on right now.'"
One commenter joked that they would want the man's scream used as a car alarm.
"People just ignore regular alarms, but this would attract attention for sure," they wrote.
This is not the first time a viral video involving a bear has resurfaced and gone viral once again.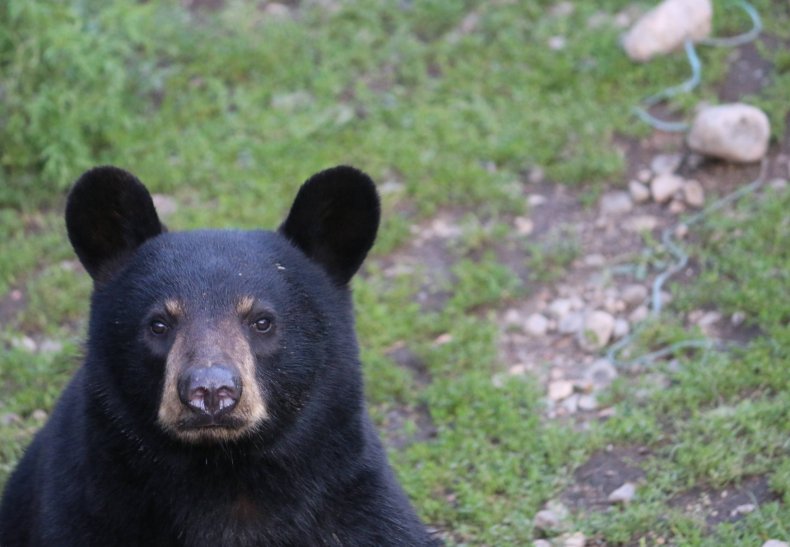 Newsweek previously reported that footage from a Ring doorbell showing a bear cub trying to catch falling snowflakes was recently shared to Reddit's "Awww."
With more than 60,000 votes, commenters shared their delight over the "the happy snowflake dance," that the cub gave as it stood up and reached toward the sky.