Carl Heastie Defends Call to Suspend Cuomo Impeachment Inquiry, Rejects 'Deal' Accusations
New York State Assembly Speaker Carl Heastie has defended the move to cease impeachment proceedings against outgoing Govenor Andrew Cuomo, dismissing accusations that it was part of any sort of "deal" made with Cuomo.
Heastie, a longtime Democrat assemblyman representing New York's 83rd District, made his defense during a Saturday appearance on Spectrum News 1. He also called out accusations specifically from Republicans as "hypocritical."
"There was no deal, I've said that 150 times and I'll make this the 151st time," Heastie said about the accusations made in the wake of his decision on Friday. "And to be quite honest, I think that Republicans are being a little hypocritical. They have never called out Donald Trump. As a matter of fact, there are members who never even called out... Congressman Tom Reed for his actions."
Heastie was referring to Republican Tom Reed, who represents New York's 23rd Congressional District. In March, Reed was accused of sexual misconduct during an interaction with a junior lobbyist in 2017. Reed initially denied the allegations, but later apologized and said the incident could have happened, although he had no memory of it. He also said that he would not be seeking reelection in 2022.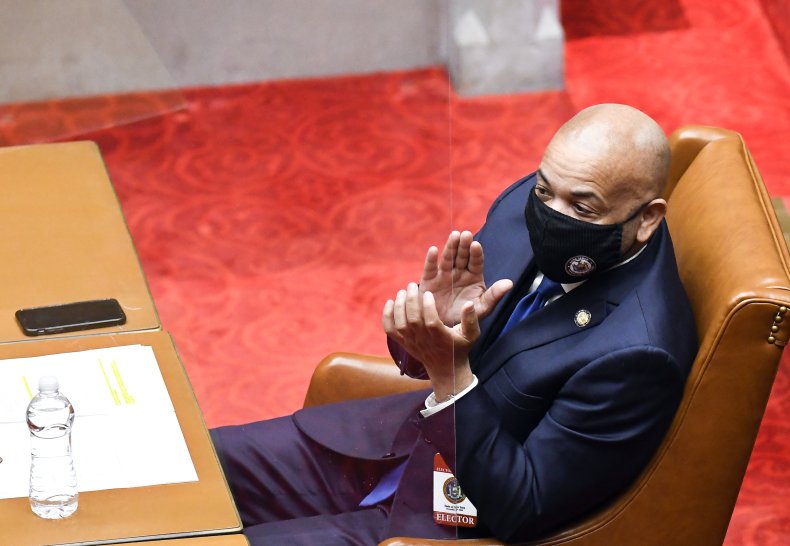 "So, I think the Republicans are being a little hypocritical in trying to accuse me—the first Democratic Assembly Speaker to call for an impeachment inquiry of a Governor of my own party," Heastie said.
Heastie announced on Friday that the inquiry against Cuomo would be ending once the governor officially departs his office later in August. The five-month investigation into the sexual harassment allegations made against Cuomo was said to be nearly complete. A recent report from New York Attorney General Letitia James found these allegations to be credible, and the governor later announced his resignation on Tuesday.
The Assembly's investigation also touched on accusations against Cuomo stemming from potential misuse of state resources in relation to his 2020 book deal and his office's handling of data for nursing home COVID deaths in New York.
Aside from Republicans, Heastie's decision has also been criticized by a number of Democrats in New York. Impeachment proceedings against Cuomo could have potentially led to him being bar from seeking political office in the future.
"I'm heartbroken, I am sickened, and I am disgusted," Assemblywoman Yuh-Line Niou, a Democrat representing New York's 65th District, said in a statement. "The decision to end the impeachment investigation into Governor Cuomo is indefensible... Taxpayers have spent too much money supporting this investigation to have it die in darkness and secrecy."
Lieutenant Governor Kathy Hochul is set to suceed Cuomo on August 24, making her New York's first female governor.