USS Carl Vinson 'Cannot Shoot Down Missiles'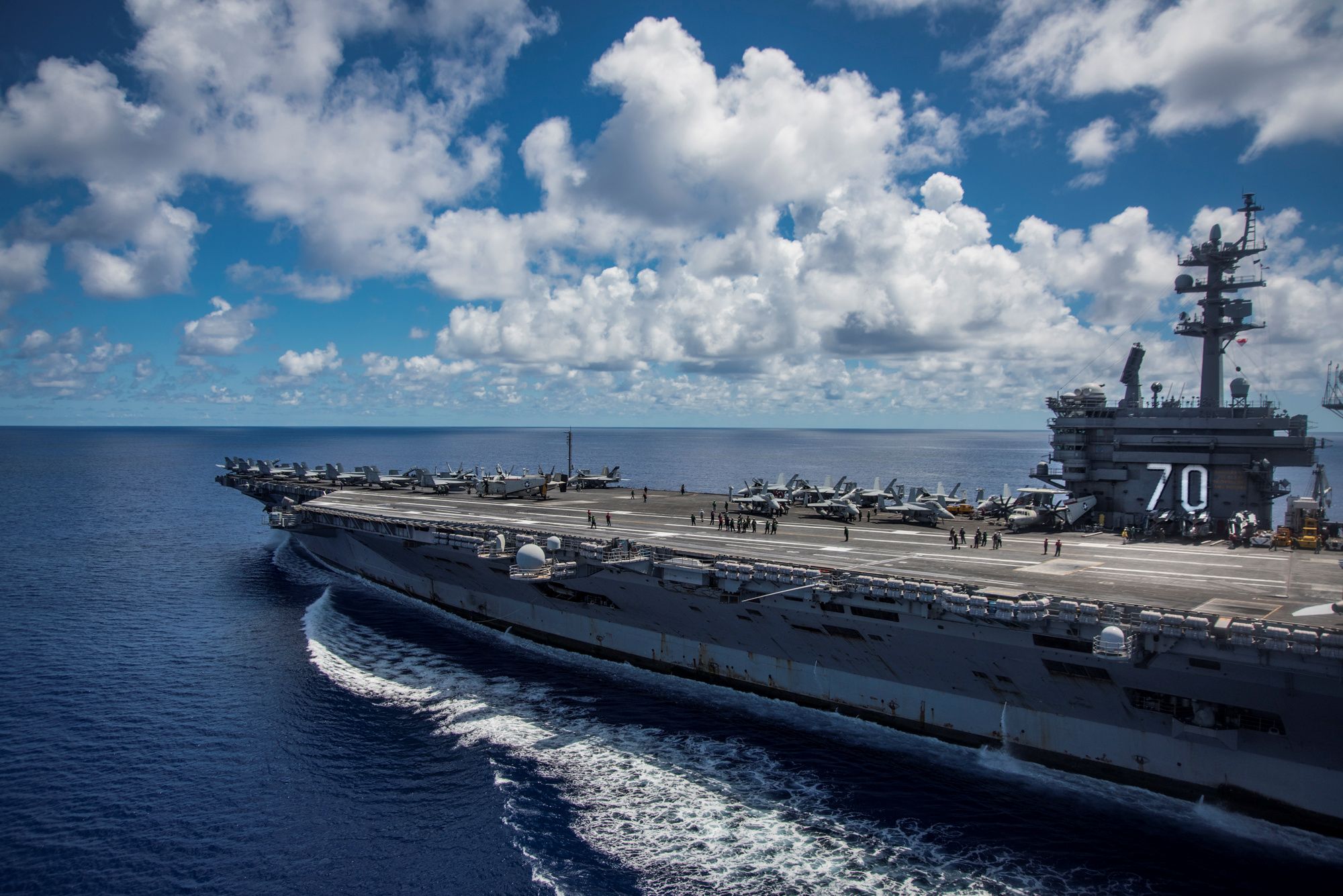 Updated | It weighs 97,000 tons and is equipped with tomahawk missiles, dozens of jets and at least 5,000 American sailors but the USS Carl Vinson appears to have one fatal flaw as it motors toward the Korean Peninsula: It is not capable of shooting down missiles.
The flagship in Donald Trump's American armada is due to arrive in the waters of South Korea at the end of this week as a show of force to North Korea's belligerent dictator Kim Jong Un, who has threatened "all out war" in the face of threats from Washington over its nuclear missile tests.
But while the USS Carl Vinson and the warships traveling alongside it pack some heavy firepower, it has emerged that they are unable to shoot down ballistic missiles, of which Pyongyang is believed to possess between 20 and 120, some of which capable of hitting targets as far away as Scotland, Alaska or Canada.
To take down a missile, the carrier would need to possess an Aegis surveillance system, experts told Bloomberg News Wednesday. It's not just the USS Carl Vinson that lacks that capability, but also South Korea and Japan's largest battleships and the three other American warships , the destroyers USS Wayne E. Meyer and USS Michael Murphy, and the guided-missile cruiser USS Lake Champlain.
But the U.S. is playing the long game in the Korean Peninsula. On Wednesday the first first pieces of the Terminal High Altitude Area Defense (THAAD) anti-missile system arrived in South Korea. It is not yet operational and has been controversial —there were protests when it arrived at the site this week —with China mounting a robust opposition to its installation.
Speaking about the USS Carl Vinson's capabilities (or lack thereof) when it comes to ballistic missiles, a Pentagon spokesperson told Bloomberg News. "We don't discuss specific capabilities of weapons systems. No single capability defends against all threats. Rather it is the employment of integrated, multi-layered land and sea-based systems that provide missile defense."
It is likely that rather than providing a tool that can shoot down missiles heading toward Japan, the U.S., South Korea, Canada or anywhere else within range, the four ships will act as a heavily-armed deterrent. Should war break out, the United States has troops and weaponry nearby, as well as 15 of its own bases dotted around South Korea.
North Korea threatened Wednesday that it had the capability to launch one nuclear missile every six weeks and pictures of Kim Jong Un posing with what the CIA calls 'The Disco Ball', the country's first miniaturized nuclear warhead, were circulated on North Korea media. The 'Disco Ball' is small enough to fit inside a missile.
Previously, despite having the technology to launch nuclear weapons, North Korea had not been able to fit the nuclear weapon into the missile. If North Korea launches another test, it will be its sixth in 11 years. The last three tests generated explosions that The New York Times describes as "Hiroshima sized."
Correction: An earlier version of this story said that armed soldiers were aboard the USS Carl Vinson. This has been changed to sailors. It also said that it was equipped with stealth jets. This has been changed to jets.