USWNT Wins Olympic Bronze as Carli Lloyd Makes History at Tokyo Games
Carli Lloyd made Olympic history as the U.S. Women's National Team defeated Australia to win the bronze medal at the Tokyo 2020 Olympics on Thursday.
The oldest player on the USWNT roster at 39 years of age, Lloyd scored twice to become the national team's top goalscorer in Olympic history with 10 goals. It was a fitting way to mark her 312th international appearance, which made her the second most-capped player in USWNT's history behind only Kristine Lilly.
Megan Rapinoe also netted a brace as the Americans returned to the Olympic podium after a nine-year hiatus to claim their first ever soccer bronze at the games.
"As you can imagine, we've done lots of talking and meetings and hashing it all out and doing the autopsy," Rapinoe told NBC after the game.
"But I felt like we just got to a good place and we're either going to come out and play great or play s****y so just be a bit more free. Trust in ourselves. Trust in each other."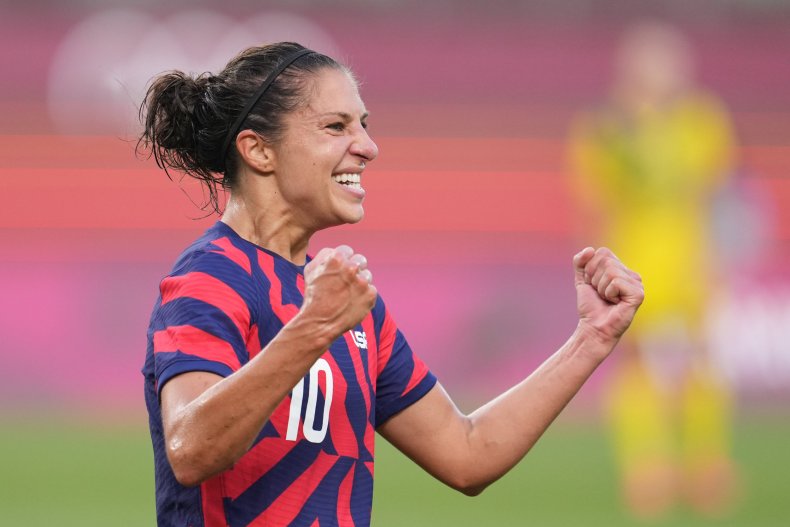 Despite defeat to Canada on Monday, the reigning world champions hit the ground running with Rapinoe opening the scoring with just eight minutes gone.
Sam Kerr became Australia's all-time top Olympic goalscorer when she equalized nine minutes later, before Rapinoe added her second goal of the game to restore the U.S. lead.
Lloyd scored her first just before halftime following some neat work from Lindsey Horan and then added a second shortly after the restart when she capitalized on a mistake of Matildas' defender Alanna Kennedy.
Caitlin Foord pulled one back from Australia minutes later, before Emily Gielnik scored with 90 minutes on the clock to set up a tense finish to the game.
Tokyo will go down as the only Games in which the USWNT has failed to win gold, along with the Sydney Olympics in 2000 and the Rio Olympics five years ago.
At the same time, however, the USWNT has now won six medals in seven Olympic appearances, two more than Germany, which is its closest rival with four medals.
The pre-tournament favorites, the USWNT never lived up to its tag.
The reigning world champions were thrashed 3-0 by Sweden in their opening game, snapping a 44-game unbeaten streak, before bouncing back with a convincing 6-1 drubbing of New Zealand.
A stalemate draw against Australia sealed a spot in the quarterfinals, where Alyssa Naeher saved two penalties in the shootout as the U.S. progressed past the Netherlands.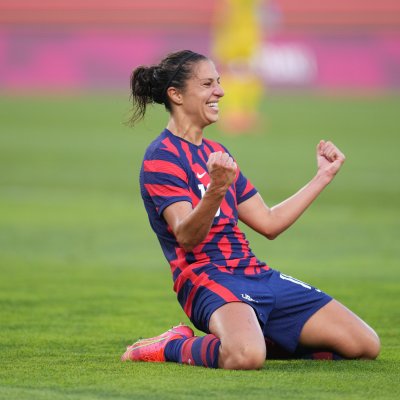 The semifinal against Canada on Monday, however, proved to be a step too far for an ageing group.
"We just didn't have our juice. Making simple mistakes, I think, and overthinking it a little bit," Rapinoe reflected when asked to sum up the tournament.
"Eventually we'll have to do the debrief and figure out why we played five bad games and had one good game in the tournament."
On Friday Canada takes on Sweden in the gold medal match, with the game moved from Tokyo to Yokohama and postponed by nine hours due to heat concerns.
The gold medal match was scheduled to start at 11 a.m. local time on Friday (10 p.m. ET, 7 p.m. PT on Thursday night), but the two teams asked for the game to be postponed.
The game will now kick off at 9 p.m. local time (8 a.m. ET, 5 a.m. PT) and will be played in Yokohama instead of Tokyo, as the delayed kickoff would have clashed it with the track and field program.