Carli Lloyd's Picture Perfect Walk Into Sports History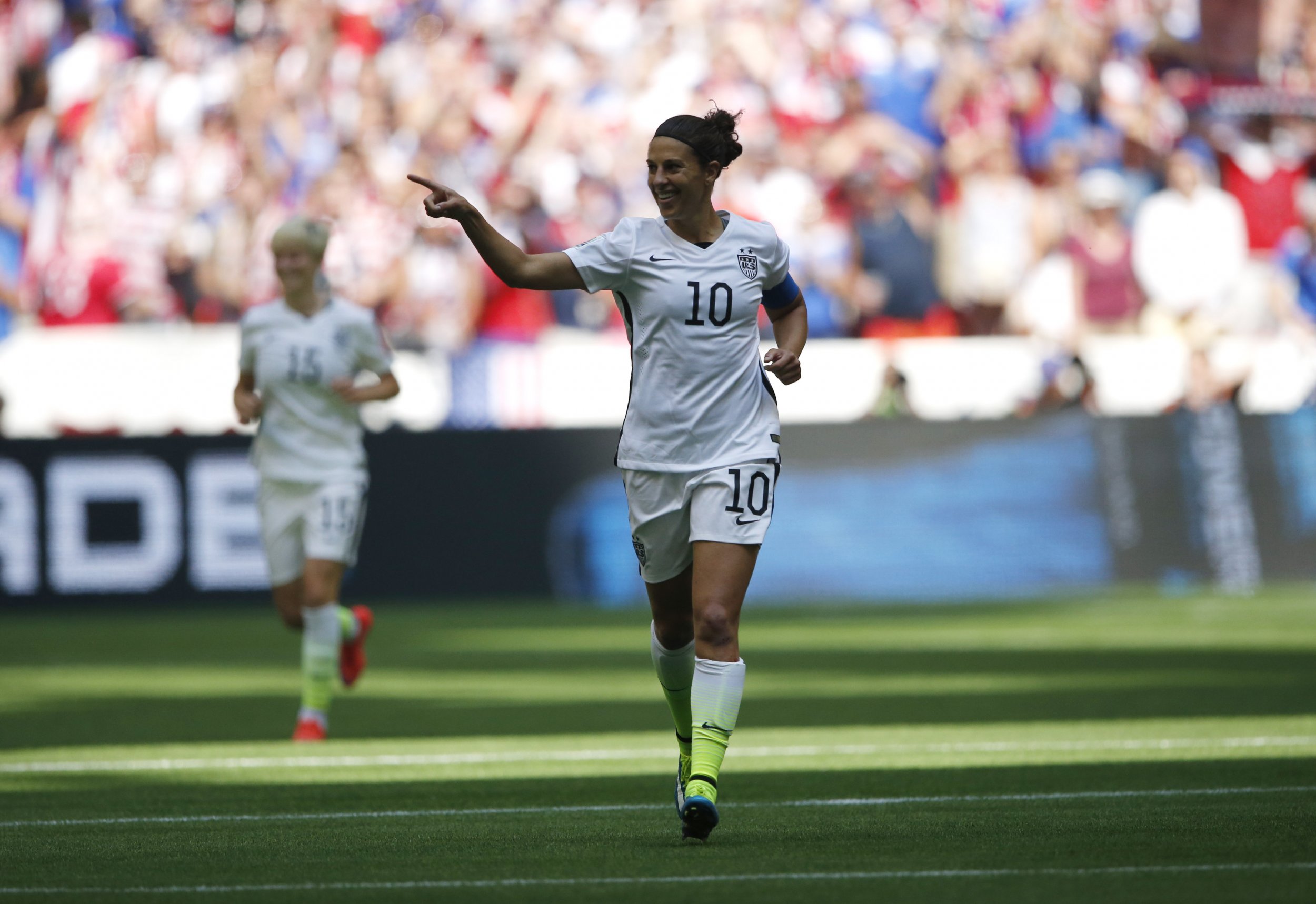 We remember the moments, not the trophies.
What will resonate next year, or at the next Women's World Cup, or even come the next decade, will not be the United States Women's National Team hoisting a third Women's World Cup trophy after Sunday's 5-2 defeat of Japan. What will linger is Abby Wambach's post-match kiss with her wife, an emphatic exclamation point to a summer in which the Supreme Court issued a win for inclusivity. What will be remembered is Carli Lloyd's magnificent midfield strike that put the U.S. women's national team up 4-0 in the first half.
"I just went for it," Lloyd told NBC's Matt Lauer on Monday morning, describing the goal that was in effect a drone strike. Lloyd, a New Jersey native who will turn 33 on July 16, intercepted a pass in the U.S. end of the field, eluded one defender and then, with the ball situated exactly on the midfield stripe, launched a shot into history.
The contest was only 16 minutes old at the moment that Lloyd planted her left foot. The Americans already led 3-0 and Lloyd had already scored two goals. The first came in the third minute following a bit of chicanery on a set piece. As Megan Rapinoe lined up a corner kick, Fox announcer J.P. Dellacamera noted that "the U.S. has on average a two-inch height advantage over Japan."
Perhaps the Japanese were, like Dellacamera, fixated on Rapinoe arcing a rainbow to set up a header. Instead, she fired a line drive that skidded along the artificial turf. Lloyd dove in from the opposite side, untouched, and kicked the entry pass into the net for a 1-0 advantage.
By the time Lloyd, whose late high school coach, Rudi Klobach, had been born in a Nazi concentration camp, intercepted that pass in the 16th minute, the mood in Vancouver was already euphoric. But then Lloyd spotted Japanese goalkeeper Ayumi Kaihori venture too far off her line, i.e., upfield. Without hesitation, on the grandest stage her sport has to offer and before the largest U.S. television audience ever to watch a soccer game, men's or women's, Lloyd attempted the 50-yard shot that no one would dare attempt in a ZogSports coed rec league game.
Listen here to Telemundo legend Andres Cantor's prolonged eruption. And look at this image, taken by Darryl Dyck of the Associated Press, that grandly captures what ABC's Wide World of Sports once described as "the agony of defeat."
When you consider the most iconic sports moments of all time, i.e., the past century, you will note that only sometimes do they coincide with a championship moment itself. This photo of the Team U.S.A. celebrating its "Miracle on Ice," the first such picture to appear on the cover of Sports Illustrated without a caption, took place after the Yanks had won a semifinal game at the 1980 Lake Placid Olympics.
Likewise, few people remember anything about the 1992 NBA Finals other than Michael Jordan's shrug, which followed his sixth three-pointer of a first half in which he scored an NBA Finals-record 35 points in Game 1. Jordan was motioning to NBC's broadcast crew as if to say, "I cannot fathom my greatness, either." Carlton Fisk's Game 6 home run at Fenway Park, a moment that later became a plot point in the Oscar-winning film Good Will Hunting? The Red Sox lost that World Series...but who cares?
Women's sports—correction: women's team sports—have largely been devoid of such iconic snapshot moments. As you read that sentence, you probably thought of this photo from the 1999 Women's World Cup and granted, it is a snapshot of a champion triumphant. But that was 16 years ago.
The greatest female athletes—Nadia Comanec, Martina Navratilova, Dorothy Hamill, Chris Evert, Mary Lou Retton, Florence Griffith-Joyner, Serena Williams—mostly have stood, or at least played, alone. That changed in the 1990s with the advent of the Women's World Cup in 1991 and the WNBA in 1997. While the latter league has never caught the public's imagination as its most ardent supporters have hoped it would, the league remains afloat, if not actually viable.
For a long time now, both women's team sports and the sport of soccer in general have been championed by many in the media as movements to be supported, as opposed to events that are simply worthy at face value. Last summer's World Cup morphed into a heated debate between troglodytes and millennials as to whether soccer had truly "caught on" in the U.S.A. Meanwhile, to listen to a WNBA broadcast is to understand that this sport's cheerleaders are all wearing headsets.
And then along comes a match such as Sunday's Women's World Cup final. Along comes a moment, and suddenly a television audience that is comparable with last January's college football's national semifinals, or Game 6 of this June's NBA Finals, tunes in. Carli Lloyd provided a moment that was worthy of the sheer number of people who witnessed it.
It may have been a transcendent moment in women's sports or in soccer or in both. But what it was, without a doubt, was a transcendent moment in sports. And that's all that mattered.