Carlos Santana Collapses Onstage at Detroit Show, Rushed to Hospital
Legendary guitarist Carlos Santana was rushed to hospital after collapsing on stage during an open-air concert near Detroit, Michigan on Tuesday night, July 5.
The 74-year-old was reportedly halfway through performing his and Chris Stapleton's recent hit "Joy" at the Pine Knob Music Theatre when he became unwell.
He was waving to fans as medical personnel carried him offstage before being taken to a local emergency room.
Concerns for Santana's health were sparked due to the incident but the musician ​​later posted on his Facebook page that he "forgot to eat and drink water" and "so I dehydrated and passed out."
His management confirmed that he passed out due to heat exhaustion and dehydration and said in a statement posted to Facebook that he is now "doing well."
"Carlos was taken to the emergency department at McLaren Clarkston for observation and is doing well," reads the statement on his Facebook page.
Some concert attendees documented the situation with Fox 2 meteorologist Lori Pinson tweeting that the rock icon collapsed about 40 minutes into his set.
"Fans watched in stunned silence as paramedics rushed to the stage to attend to the 74-year-old. A black curtain was put up to shield @CarlosSantana from the audience while medics worked on him," Pinson tweeted.
She added in a later tweet that fans began yelling "Pray for him!" as medics worked assisted him.
Fox 2 Detroit, Roop Raj was also present at the event and tweeted footage of Santana waving as he was taken off stage.
"Good news as we see #CarlosSantana wave as he's being taken off stage," he tweeted.
One concertgoer told CNN: "He had just started a song that was about joy and love. He called for healing for the world. It was during that song that he collapsed."
Despite Santana's recovery following his collapse, his manager announced that an upcoming show planned for July 6 in Burgettstown, Pennsylvania "will be postponed to a later date."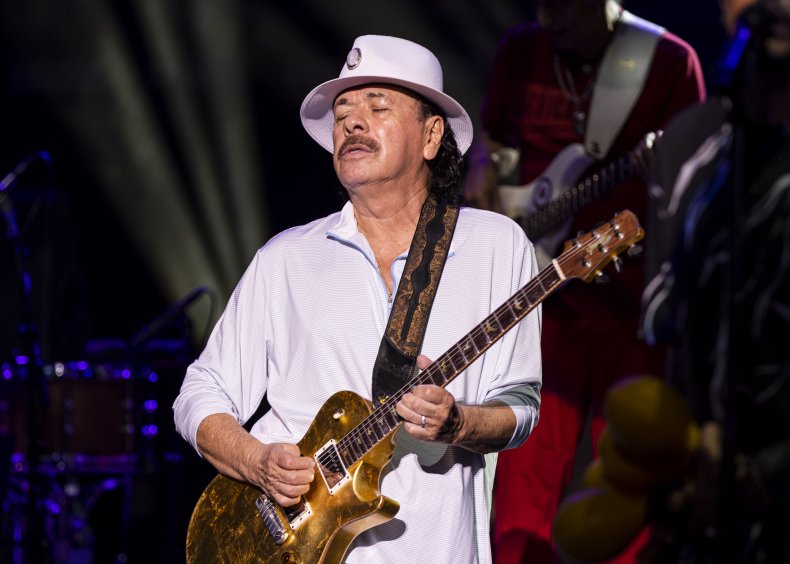 A new date is yet to be confirmed.
Santana is currently on the Miraculous Supernatural 2022 tour with Earth, Wind & Fire to coincide with the release of his 2021 album Blessings and Miracles.
The guitarist underwent a heart procedure last year which saw him forced to cancel several Las Vegas shows planned for December 2021.
"I'm going to be taking time off for a little bit to make sure that I replenish and rest," he said in a video to fans at the time.