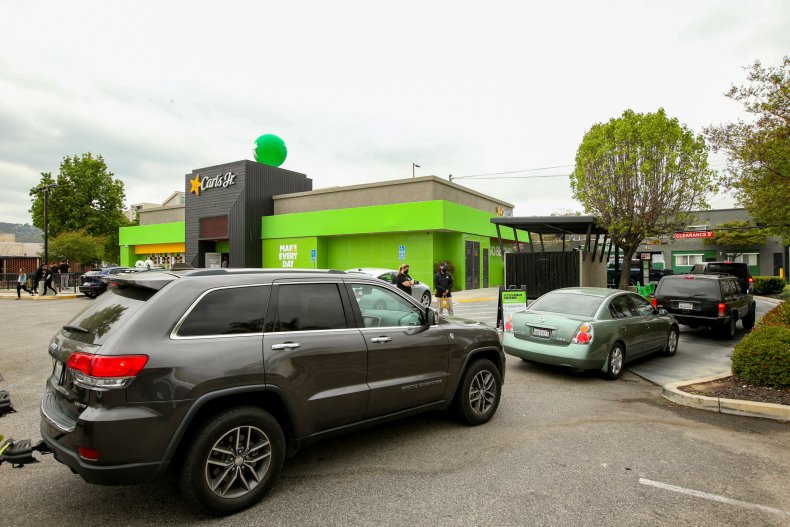 A fast-food worker has been arrested, accused of distributing methamphetamine from a drive-thru window, police said.
In a statement posted to Facebook on Tuesday, police in Skiatook, Oklahoma, said they arrested employee Bryce Francis on the previous day after a customer "found a small baggy of drugs inside their bag." An arrest report obtained by Tulsa Fox affiliate KOKI indicated that the incident occurred at a local Carl's Jr. restaurant. The customer who allegedly discovered the drugs contacted the restaurant's manager, who "gave him fresh food" before police were alerted.
The customer was reportedly on a video call with his girlfriend when the baggy was allegedly discovered inside the food bag. Police responding to the incident said they "learned that the baggy had a crystalline substance inside of it," which later "field tested positive for methamphetamine."
Officers spoke with employees at the restaurant soon after and arrested Francis, charging him with possession of a controlled substance and distribution of a controlled substance within 2,000 feet of a school. The Carl's Jr. restaurant is less than 2,000 feet from Skiatook High School.
"When you go out to eat, please check the food, especially before consuming it or handing it to a child," Skiatook police said on Facebook. "If you encounter anything like described in this incident, please contact us immediately!"
Skiatook police said that the methamphetamine in Monday's incident was put into the customer's bag by mistake, commenting "#wrongbag" when asked by a Facebook user whether Francis "just handed it out."
"We would also like to add ... if you are the person that was SUPPOSE to receive this order, it is waiting for you at the Skiatook Police Department," police wrote in an additional comment. "Just swing on by!"
The post announcing the arrest includes a mugshot of Francis wearing a black shirt that features a graphic reading "#Freedom." Francis was booked into the Osage County Jail at 11:06 p.m. Monday, according to the Osage County Sheriff's Office.
Francis is described as a "former cook" at Carl's Jr. and an "Entrapanuer" on a Facebook page that appears to belong to him. He is also listed as a former student of Skiatook High School.
Carl's Jr. parent company CKE Restaurants Holdings told Newsweek that there were no company-owned Carl's Jr. restaurants in Oklahoma, with the locations instead being owned by franchisees. The manager of the Skiatook location declined comment on the arrest.
Newsweek reached out to the Skiatook Police Department for comment.