Fox News host Tucker Carlson added to his previous comments claiming Supreme Court nominee Ketanji Brown Jackson was picked solely due to her appearance as he mocked the justice hopeful, saying she's really "just a garden-variety white liberal."
Carlson's rant comes on the second day of Jackson's Supreme Court confirmation hearings. If confirmed, Jackson would be the first Black woman to ever serve on the Supreme Court. Jackson's skin color has been a trending topic among the far right.
On his Tuesday night show, Carlson said Jackson has come so far because of the way she looks. He claimed she will not get the proper vetting of a typical Supreme Court justice—suggesting that being Black in America prompts special treatment.
"What they mean when they tell you you're getting a Black Supreme Court justice is that you're getting yet another Democratic Party robot with the same rigid and totally predictable views as your average professional-class white liberal, but who happens to be tanner than Joe Biden," Carlson said.
"So identical, identical to everyone else in power, just a different shade. And the shade, to be fair, does make all the difference," Carlson continued.
Jackson was nominated by President Joe Biden, who on the campaign trail pledged to nominate a Black woman if given the chance. Biden said Jackson is one of the "top legal minds in the entire country" during his State of the Union address, prompting critics to inquire about Jackson's suitability for the role.
"Is she really one of this country's great legal minds?" Carlson asked. "One way to know, one indication would be her LSAT [Law School Admission Test] scores."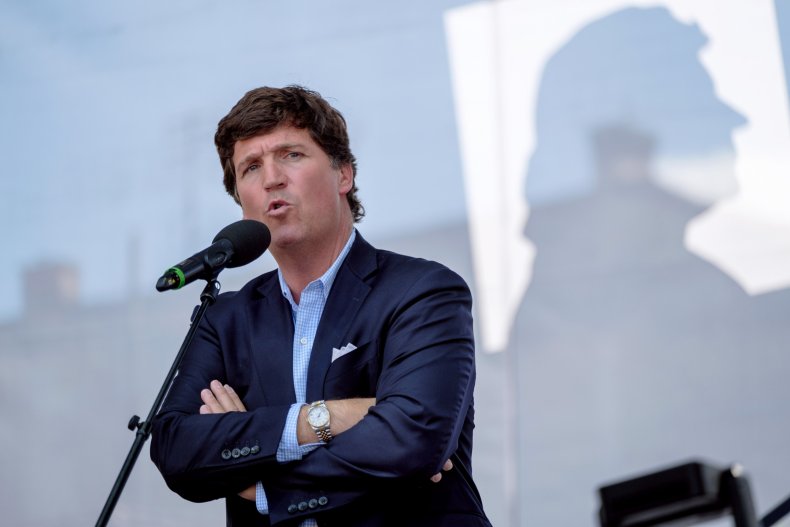 For two weeks now, Carlson has called on Biden to release Jackson's LSAT scores. After calling for her grades, Carlson received backlash on social media.
"Why is Tucker Carlson again demanding to see #JudgeKetanjiBrownJackson [sic] LSAT scores? Same reason Trump demanded Obama's school records," SiriusXM radio host Dean Obeidallah said on Twitter Tuesday. "White supremacists are outraged at Black excellence bc it threatens the myth of white superiority."
The Nation's Elie Mystal said Carlson's questioning happens to black people all the time—being forced to prove themselves to white counterparts who never face the same scrutiny and qualifications.
On Tuesday, Carlson brought up Jackson's LSAT scores once again.
"So how did Ketanji Brown Jackson do on the LSATs? Sorry, you're not allowed to ask because asking is racism," Carlson said.
Newsweek reached out to Fox News for comment.