CNBC Debate Gives Fiorina Another Chance to Rise in Polls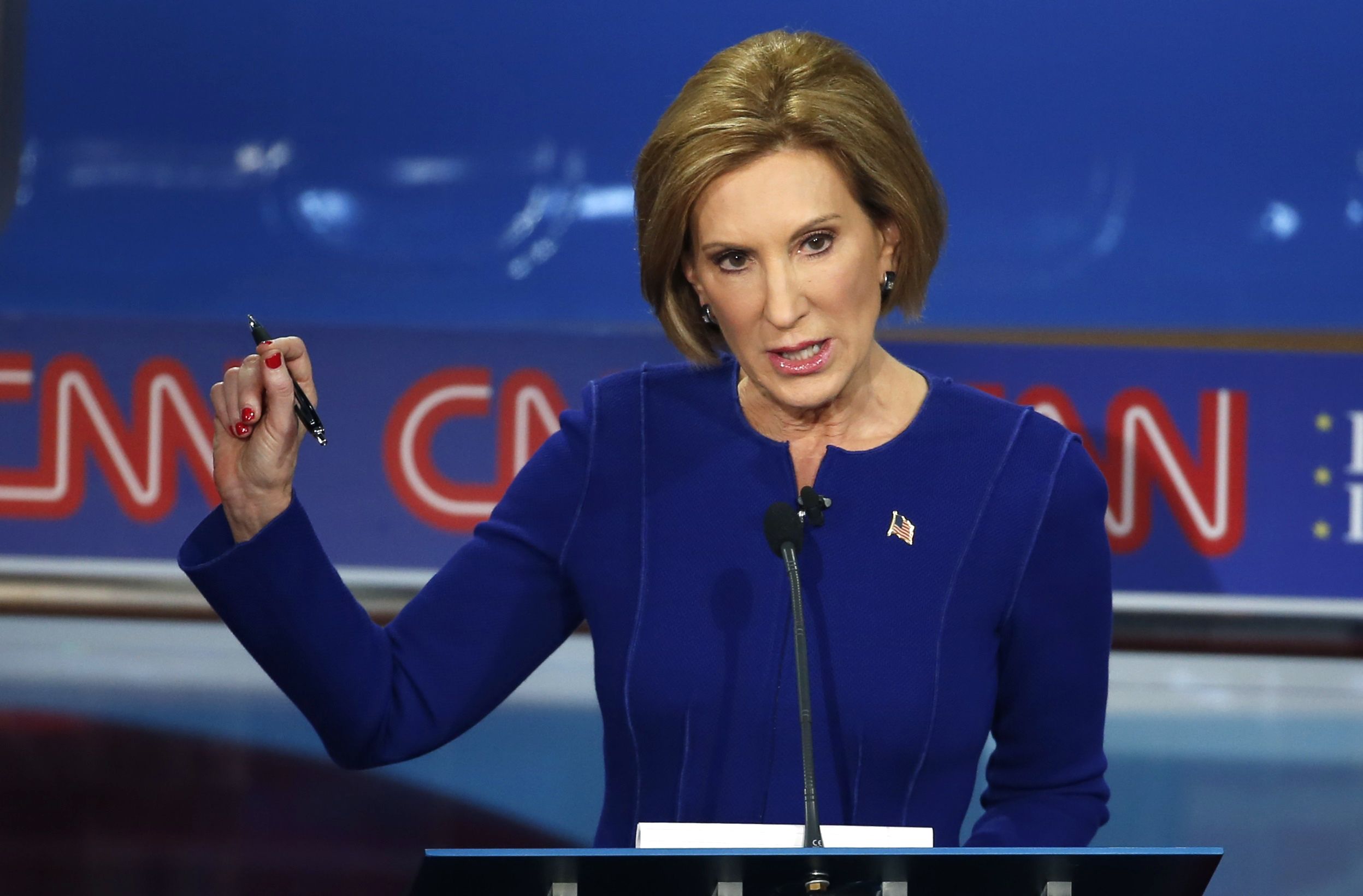 Since her breakout performance in the "happy hour" round of the first Republican debate in early August, Carly Fiorina's presidential campaign has been on a roller-coaster ride, at least as far as polls are concerned. The challenge for the 61-year-old in the third debate is to convert her star turn on stage to more sustainable growth in her support on the ground. Since Wednesday night's showdown is sponsored by the business television network, CNBC, she's likely to have a chance to shine on a bevy of economic issues befitting her corporate background. She's also bound to face scrutiny for he ouster as CEO of Hewlett-Packard in 2005.
Fiorina barely registered among national Republicans through most of the summer, and her low national poll numbers did not qualify her for the main stage at the first debate in Cleveland. She dominated, however, in the undercard debate that featured a handful of low-polling candidates. And it helped her break into the national discussion—jumping from 1 to 2 percent in national polls to anywhere from 5 to 9 percent over the course of August. Then she started to slump again, dropping to the low single digits.
After protesting host CNN's criteria for the second debate, Fiorina edged her way into the prime-time forum on September 16, held at the Ronald Reagan Library in Simi Valley, California. She had some of the night's most memorable lines, shutting down real estate tycoon Donald Trump with a cool retort to his knock on her looks and launching into an impassioned monologue about the sting videos attacking abortion provider Planned Parenthood (though her detailed description of a particular scene did not, in fact, exist in the now infamous videos released by the Center for Medical Progress). Pundits immediately declared her one of the nights winners and her polls again surged. Out of the Simi Valley debate, she climbed as high as 15 percent nationally, trailing only fellow political outsiders Trump and retired neurosurgeon Ben Carson.
Fiorina, however, has struggle to maintain that momentum in the month since. She's dropped back down into single digits in national polls, now holding at 7 percent in the latest New York Times–CBS News survey. It's certainly a jump from where she was this summer, and it places her solidly in the second tier of the 15 Republican candidates still vying for the nomination. But it also points to the tough work campaigns have to do to build a strong national support base—which requires far more than just making a splash on national television. Take Carson, whose debate performances pundits largely panned. Nevertheless, the doctor's fervent band of grassroots backers and the campaign's aggressive outreach in churches, social media and direct mail have helped him take the lead in national polls and in the latest round of fundraising, stunning the political establishment.
National polls, of course, are hardly the end-all, be-all at this point in the campaign. Fiorina bears watching in New Hampshire, the state she's visited the most in the past month. According to state polls there, she's right in the thick of that first-in-the-nation primary race, vying with Florida Senator Marco Rubio, former Florida Governor Jeb Bush and Ohio Governor John Kasich for third place there at the moment, behind Trump and Carson. After the tonight's debate in Boulder, Colorado, Fiorina is zipping over to Iowa for a four-day swing of town hall meetings, rallies, fundraisers and spaghetti dinners. Though she's visited Iowa regularly, she's struggling to gain traction there, mired in a pack of Republican polling in the low single digits.
Fiorina's campaign staffers won't divulge any new strategies they're pursuing to ensure any boost their candidate gets out of the Boulder debate lasts beyond a week or two. But Fiorina, herself, is aware she still has work to do to register with GOP voters.
"If you support me for president of the United States tell everyone you know why," she urged supporters during a live video Q&A on her Facebook page Monday. "I remain the least well-known candidate in this field, and so every time somebody gets out there and says to their friends, to their colleagues to their family, 'Hey, I really like Carly and here's why,' you help me." While that's a bit of an exaggeration—polls show candidates like Kasich, Louisiana Governor Bobby Jindal and even Rubio are equally if not less familiar to Republican voters—Fiorina certainly has room to grow.