Chrysler, Hyundai and Mazda Among Carmakers Still Standing With Trump in Pollution Fight
The car-making industry is divided amid a legal dispute over air pollution standards. On one side sits Donald Trump and on the other, the state of California.
During his presidency, Trump has taken steps to revoke California's ability to establish its own separate emissions standards that go above and beyond federal standards. Some car manufacturers support the effort to the surprise of many, while others are siding with the state.
In November, automaking giant General Motors switched sides, leaving the group in support of Trump, swiftly followed by the Japanese automaker Nissan. Environmental groups are calling on the remaining manufacturers that still oppose California's ability to set its own stricter emissions standards to end their opposition.
The groups named seven other manufacturers – Fiat Chrysler, Hyundai, Kia, Mazda, Mitsubishi, Subaru and Toyota – saying they are still part of the lawsuit in support of the Trump administration.
They make up the "Coalition for Sustainable Automotive Regulation" which also reportedly includes car makers Ferrari, Isuzu, Suzuki, Maserati, McLaren and Aston-Martin, the Associated Press reports.
What is causing the divide?
In 2019, Toyota, General Motors (GM) and a handful of other automakers sided with the Trump administration in the legal fight over California's right to determine its own clean-air standards for greenhouse gas emissions.
The state wants to uphold an Obama-era policy that requires car manufacturers to make vehicles that can hit 54.5 miles per gallon on average by 2025, but Trump wants to ease the standard to 37 miles per gallon—the difference is about six billion tons of carbon dioxide.
On November 24, GM switched their position and indicated support for the state of California and urged other car manufacturers to follow suit. At the time, Toyota said it may also abandon its support of the Trump administration in the lawsuit, but the company has yet to publicly disclose its decision.
It is thought that the Californian legislation would mean car manufacturers fulfill the more stringent regulations across all of their models rather than creating specific vehicles for the Californian market. The coalition of automakers that initially sided with the White House said they would oppose a lawsuit by the Environmental Defense Fund against the Trump administration.
It was a surprise to see Japanese company Toyota, known for its environmental efforts and clean-car production, back Trump's policy. The company said the decision was based on its view that the federal government's authority to set emissions standards should override the state's.
The Trump administration has argued that lowering fuel efficiency standards makes vehicles more affordable and safer since vehicle manufacturers can build heavier vehicles that can better withstand a collision if fuel economy requirements were eased.
Toyota did not respond to a request from Newsweek but previously explained that they joined the group because it favored a single standard across the country. "Given the changing circumstances, we are assessing the situation, but remain committed to our goal of a consistent, unitary set of fuel economy standards applicable in all 50 states," the company said in a statement at the time.
Fiat Chrysler and Mitsubishi deferred comment to the coalition, which said in a statement to Newsweek: "The Coalition for Sustainable Automotive Regulation intervened in this case to promote One National Program, because we believe it is the best way to reduce CO2 emissions while ensuring a range of affordable vehicle choices for our customers and protecting the jobs of thousands of U.S. auto workers.
"We support federal leadership in discussions with all stakeholders to implement One National Program that includes achievable, sustainable year-over-year increases in the fuel efficiency standards."
Mazda told Newsweek: "Mazda has long supported year-over-year fuel economy and greenhouse gas improvements, a position that is not tethered to any administration. We believe we need an incremental approach that will address this important issue and allow for our industry to innovate toward a net-zero carbon future. As we head into 2021, we support federal leadership in discussions with all stakeholders to implement one national standard."
Kia offered "no comment at this time" while Hyundai told Newsweek: "We have nothing further on this at this point." The South Korean company did however noticeably reference President-elect Joe Biden in its response, saying: "Hyundai is committed to zero-emission mobility—with a full line up of EVs [electric vehicles] and a commitment to sell one million EVs by 2025. We look forward to working with the Biden Administration to achieve clean, sustainable mobility solutions."
Subaru did not respond to Newsweek's request for comment prior to publication. Ferrari, Isuzu, Suzuki, Maserati, McLaren and Aston-Martin have all been approached.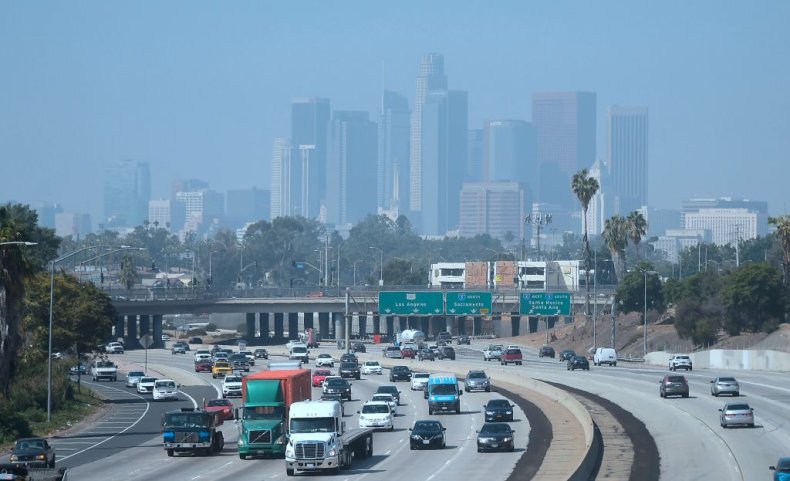 Among the companies backing California are BMW, Ford, Volvo, Volkswagen and Honda. Democrat California Governor Gavin Newsom recently goaded Toyota for siding with Trump - comparing the brand to Ford, which backed the state from the start.
"@Ford led the way over a year ago and joined CA and 26 other states to shape the future of transportation and reduce greenhouse gas emissions. Last month @GM joined us. @Toyota—where are you?? It's never the wrong time to do the right thing," Newsom tweeted.
Leaders of environmental groups the Sierra Club, Environmental Defense Fund, National Resources Defense Council, and Union of Concerned Scientists issued a statement calling on all automakers to end support of the lawsuit seeking to strip California of its Clean Air Act waiver.
"We respectfully request that you immediately withdraw from litigation against the vital U.S. and state clean cars program," the groups said. "We also ask that you publicly commit to provide leadership in supporting the next generation of clean car standards to help eliminate the array of climate, nitrogen oxides and particulate pollution from new motor vehicles by 2035 while creating new high-quality jobs."
Ford has reportedly nudged other automakers to back a deal with California, according to Reuters. None of the automakers on the Trump administration side have yet reversed course.
Why does California want to set its own clean-air rules?
California's emissions standards are among the toughest in the U.S., requiring automakers to install additional emission control devices on their vehicles in order to sell them in the state.
The state has set its own emission standards since 1966, in an effort to combat worsening smog in the crowded Los Angeles Metro Area from millions of vehicles. California's notorious bumper-to-bumper traffic on its freeways is the state's main source of greenhouse gases and air pollution.
The latest data from the California Air Resources Board for 2018 showed that statewide greenhouse gas emissions were 425.3 million metric tons, compared to 424.5 million metric tons in 2017. That remains six million metric tons below the 2020 target. Despite the general rise, transportation emissions declined 1.5 million metric tons between 2017 and 2018, the first such decline since 2013.
In 2019, former coal industry lobbyist Andrew Wheeler became the Trump administration's Environmental Protection Agency (EPA) Administrator and critics argue that since then, rules and regulations have been systematically rolled back, including efforts to loosen restrictions on harmful pollutants and reduce the role of climate scientists in the agency's policymaking processes across industries.
The EPA chief ridiculed Newsom days after he signed the executive order banning the sale of new gas-powered vehicles by 2035. Wheeler wrote a letter questioning how California could power millions of electric vehicles as it has "a record of rolling blackouts", the Associated Press reports.
Where does it all end?
The incoming Biden administration is expected to withdraw the fight against California's Clean Air Act waiver, allowing it to set its own emissions rules, and continue mandating sales of zero-emission vehicles from mainstream automakers.
In July 2019, Ford, Honda, Volkswagen and BMW struck a voluntary agreement with California on reducing vehicle emissions that is less stringent than rules previously adopted under President Barack Obama but still higher than the Trump administration's planned rollback. Ford urged other automakers to back the California framework as a way to move forward.
Biden has made boosting electric vehicle adoption in the U.S. a top priority. His administration is pledging to spend billions of dollars to add 550,000 electric vehicle charging stations to encourage drivers to purchase them. In September, California announced that it would end sales of new gasoline vehicles by 2035.
The president-elect has also made clear that he supports new federal tax credits for purchases of electric vehicles and retrofitting factories for their production. GM switched sides on the California issue on the day that the Biden administration's transition formally started.
In a statement on December 4, Nissan announced that it too is withdrawing from the litigation but said in a statement that it hoped "the auto industry, the Biden administration and California can deliver a common-sense set of national standards".
The fight with California over fuel economy and emissions is part of a broader effort by the Trump Administration to scale back Obama-era rules. Campaigners see the lawsuit as an attempt to hastily rollback environmental protections before Biden's inauguration in January 2021.
"The Trump administration spent four years assaulting every protection for our air, water, lands, wildlife and climate," said Jill Tauber, vice-president of litigation at Earthjustice, a non-profit law organization.
Earthjustice joined nine leading national environmental organizations earlier this year in condemning the Trump administration's "unprecedented assault on our environment". "Donald Trump has been the worst president for our environment in history," the group said.