Carmelo Anthony to Lakers? LeBron James Wants Los Angeles to Bring in Former All-Star: Report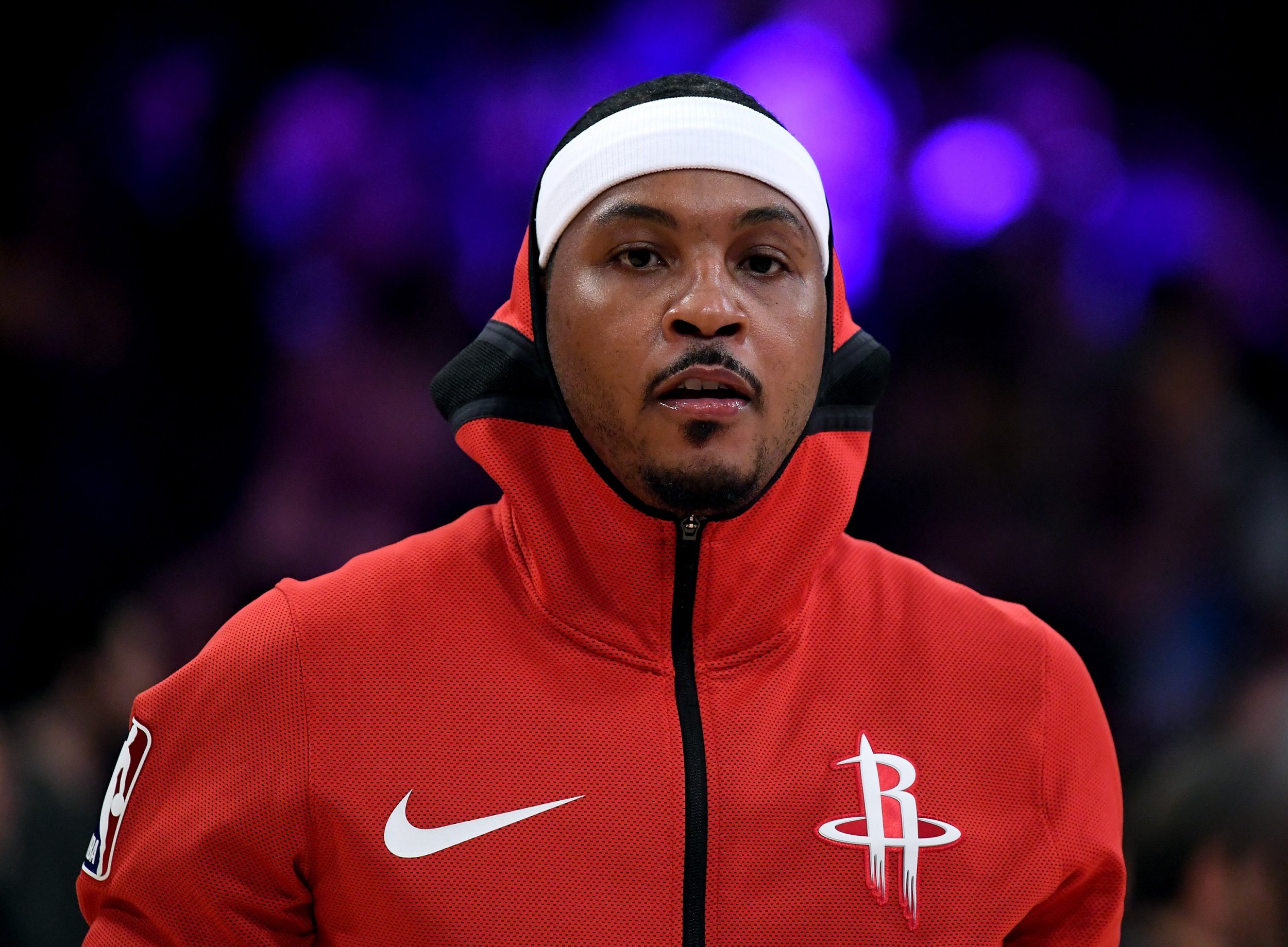 Los Angeles Lakers star LeBron James reportedly wants his team to sign longtime friend and former All-Star Carmelo Anthony.
James reportedly believes that Anthony could provide the young Lakers roster with another veteran presence while the team battles through injuries, according to The Athletic's Joe Vardon.
Per Vardon:
"LeBron James would like to get Carmelo Anthony to Los Angeles with him on the Lakers, a league source told The Athletic.

"Anthony, 34, is estranged from the Houston Rockets – still on their payroll for the league-minimum $2.4 million but gone from the team after the two sides decided he was not a fit after just 10 games. He can't be traded until at least Dec. 15, and sources said there had been no request made by James to Lakers president Magic Johnson or general manager Rob Pelinka to make a deal for his friend. Nor would there be."
Anthony was released by the Houston Rockets after 10 regular season games last month. League sources told ESPN that Anthony's reps gathered information from NBA front offices and both sides were privately expressing surprise at how quickly the Rockets are reportedly looking to end their partnership with the veteran forward prior to the move.
Anthony, who signed with Houston this past Summer, was away from the team during his final few games with the Rockets, although the organization previously claimed he has an illness.
The 10-time All-Star appeared in only 10 games during his first season with the team before head coach Mike D'Antoni announced his decision to give rookie Gary Clark a more prominent role in the Rockets' rotation, which will limit Anthony's playing time.
The 34-year-old was reportedly still eager to contribute for Houston, despite rumors of the team looking to part ways with him, sources told ESPN on Monday.
Anthony chose to take on a smaller role in order to join the Rockets -- who finished with the best regular season record in the Western Conference last year -- rather than take on a more prominent role elsewhere.
Houston's sudden disinterest in keeping the veteran forward has forced potential suitors to search for information and answers on how to proceed with signing him. The Rockets have struggled during their first month of the season and still look to contend for a title after being eliminated in Game 7 of the Western Conference Finals.
Anthony's play was inconsistent through his first 20 games, but he still managed to have a 28-point performance during a road win against the Brooklyn Nets on Nov. 2 and back-to-back 24- and 22-point games in late October losses against the Los Angeles Clippers and Utah Jazz.
However, the former All-Star's defensive play has been lackluster, although that's been the case in recent years, so it's still surprising that Houston is looking to part ways so quickly.
"We've been extremely happy with his approach," Rockets general manager Daryl Morey told reporters on Sunday despite reports of the team wanting to part ways with Anthony. "Every reason we've brought him here, he's followed."
Several general managers and coaches confirmed to ESPN that they've held discussions about whether adding the former All-Star could help their teams at the time of his release.